I'm sure you've heard of Max Hoffman, legendary Austrian-American initial importer of Porsche cars to the United States, successful agitator for the Speedster concept directly with Porsche, for the Gullwing Mercedes 300SL concept with Mercedes, and primary importer of many other automotive brands to the US. Oddly, aside from his induction in the Automotive Hall of Fame in 2003, of course, his legacy has been largely uncelebrated. Until now.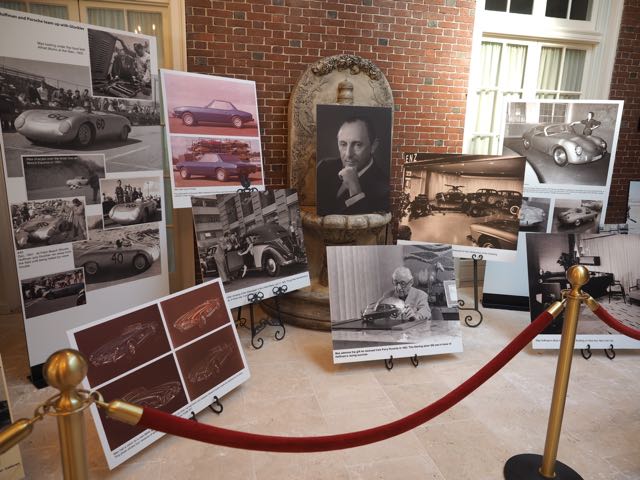 On Sunday, October 1, 2017, organizers created an event called "Driven to America", held at the Max Hoffman Center in Muttontown, NY to celebrate Mr. Hoffman's mark on Porsche, specifically via the air-cooled rendition of our iconic marque. Being the first event of this sort, it was hard to know what to expect. Would it be the East Coast Luftgekuhlt? Or would it be a history-oriented cars-and-coffee type of event that required some of us to buy hotel rooms? Would it be a mind-blowing assembly of automotive hardware or a tepid collection of familiar models? There were no reliable predictions. But hopes were high.
I had a family event in CT Saturday evening, so I knew I'd be at least headed in the right direction to make it to Long Island. But it was still going to be a logistical challenge. Josh P., who you know from his stellar Luftgekuhlt article, was headed down to experience this and I desperately wanted to join him this time, after castigating myself for missing the big trip to LA. I cleared my plan with my better half – I would attend the event with my 10yo son while she attended to our daughter back in RI (no mean feat due to the iron will of my 7yo). I booked a room in Syosset, NY so we could roll in Saturday night from CT and be up early for Sunday's show.
When I went to register for the show, I had to select the car I was bringing to secure a spot – but the selections allowed only cars from between 1953 and 1998 – the air-cooled cars – to be chosen. I had planned to bring my water-cooled 997. Suddenly that was not an option. I'd have to dig deeper into my automotive bag of tricks. My only air-cooled car, a '73 914 1.7 in Phoenix Rally Red (orange, with German humor applied), had been in storage for almost a full year. I had no idea what state it would be in after that. But, of course, I'd pull it out and drive it 350 miles in a weekend. Why wouldn't I? I called my car storage facility and they got my car sprung and ready, meaning they started it and put some air in the tires. I decided an oil change and general look-over at German Motors in Providence would be prudent. Dennis, the lead mechanic there, was a huge help as usual. Overall the car didn't need much – a miraculous thing in a 44-year-old car.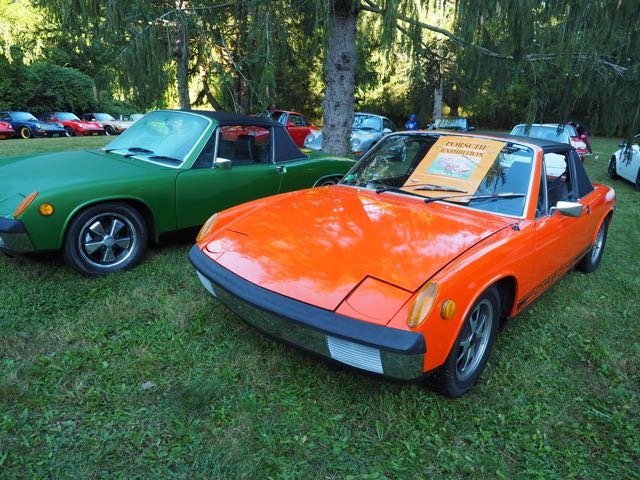 The drive to CT was pleasant enough. Not much foliage yet, but the rolling hills of northeastern CT are fun enough as is. The party at my sister's house in West Hartford was lovely. My 17yo nephew drove his '68 Dodge – good guy. So we got a good picture with him and my stepfather, who formerly owned a lovely little Jaguar E-type in British racing green.
My son and I calculated a 10pm ETA in Syosset and hit the road from CT. Traffic was pretty light and soon enough we crossed the Throg's Neck (we called it "Frog's Breath" as kids) Bridge and soon were on the LIE. Just before 10pm we rolled into the lovely Comfort Inn.
The morning alarm was unwelcome but we got moving along and packed up. After a quick bite at the hotel, we fired up the cold, sleepy 914 again. No problem. Wow. It was 11 minutes to get to the site according to Waze. Only, Waze actually took us to a golf course nearby first. A lovely early 911 targa was just as lost with us there and we worked together to get the correct extra mile down the road to the Max Hoffman Center. As we rolled in, we got into a line of phenomenal cars, mostly old 911's. In an early taste of NY attitude, the guy in front of us couldn't be bothered to wait in line and waved insistently that he should be let through immediately even though there was no room for him to get by. Gotta love NY.
We quickly got parked up on the "promenade" next to a green 914-6 and remained one of two 914's at the event for some time. Two more eventually showed up but one quickly left, seemingly after not getting an instant offer for the full $97k asking price posted in it's window.
It was not even 8am yet and there were a decent number of show cars on display. The weather was a bit chilly and stiff in the shadows. But the DJ was squeezing as many decibels out of his system as it seemingly would allow, perhaps in an attempt to heighten the festive feeling. It was difficult to converse at first. My son and I surveyed the cars near us – many of the G-bodied cars and 993s in every imaginable hue, Josh and Nicole's among them. Then we moved closer to the house and found an odd pairing of a lovely 930 in silver in front of a Porsche Diesel Junior tractor in red. Both were pristine and highly visual feasts for the eyes. I struggled to conceptualize the juxtaposition but enjoyed the view just the same. After passing a few lovely 356's standing at attention guarding the rear "great lawn" we found the heart of the show.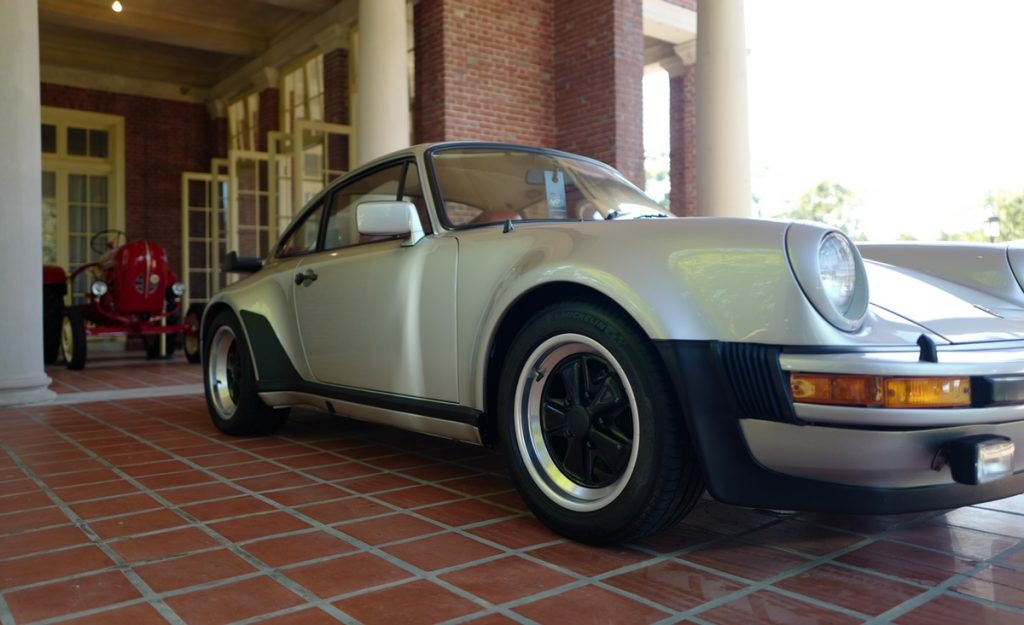 There was an oddly-bright, blue pool set in the center of the "great lawn" with two plastic swans swimming on the light breezes. Around this pool were the treasures. A row of silver and chalk and red 356s of all sorts. Speedsters in abundance. A couple of Continentals. Racing cars – a 917, 910-014 which came third overall in the 1967 Targa Florio with Vic Elford and Jochen Neerpasch at the helm, , 908, 993's and 964s. Sprinkled among them was a red 959, Singer re-imagined 911, g-Programm 911s, brightly colored 70's Carreras, and a lawn of 993 Turbo S's, flachblau's, and simply lovely air cooled machines. Two purple ones. Different shades of purple even.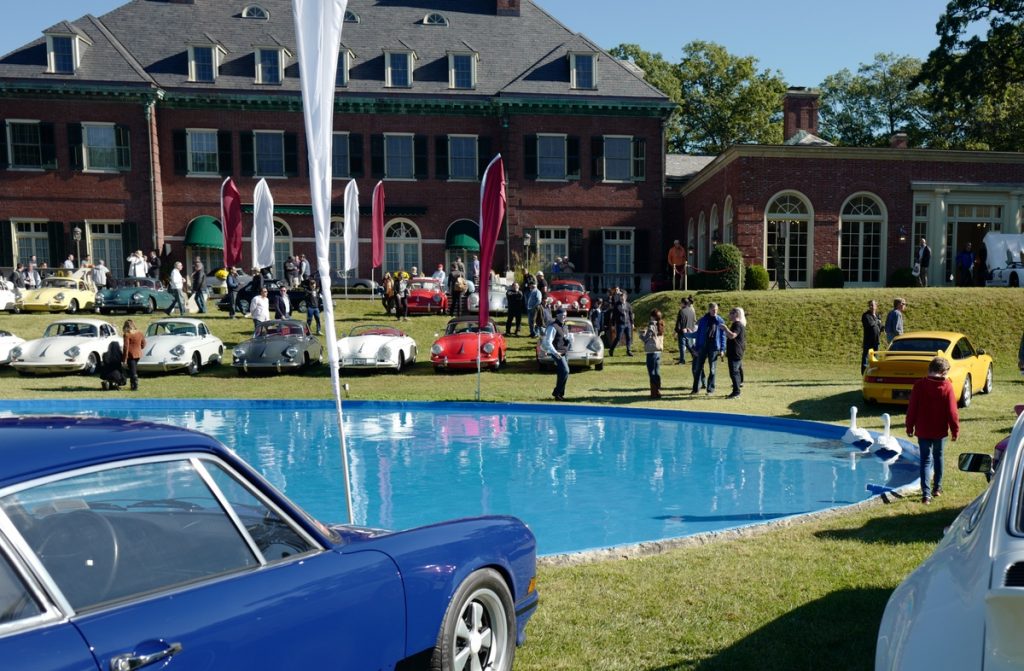 With the spectacular house behind them, the funny, oval pool inhabited by faux fowl, and the variegated car colors, it was a picture of marketing triumph.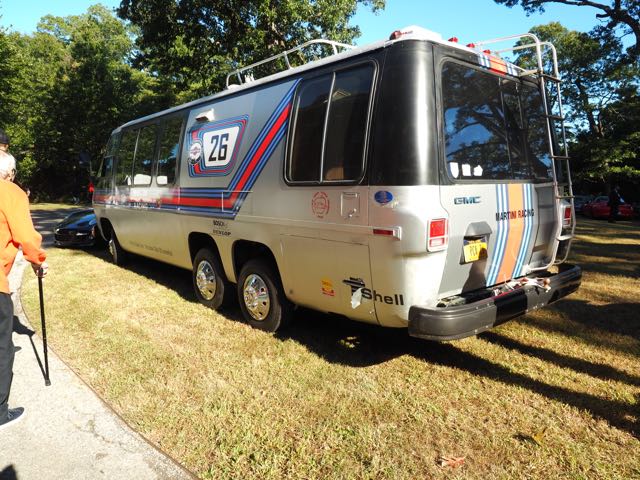 As the day wound on, we made our way to the "Porsche parking" right in front of the house to see the Metro NY Martini-livery motorhome surrounded by 997 GT2 RS's, 997 GT3 RS's, and plenty of 991's, GT4's, some 944's, and Caymans, Boxsters, and even some 718s. This area filled quickly. Parked right outside the entry to the house was a 991 GT3, a 918 Spyder, and a Maclaren. That area soon swapped the Maclaren for another 918 that then again traded spots for a different Maclaren. Lamborghini Huracan's had to go park in the cheap seats as there was no room for their types.
There was a nice display of pictures of the Max Hoffman showroom in Manhattan and of Mr. Hoffman himself. He was very successful but had no children to pass his legacy on. He left his estate to his wife. When she passed, the money went to his secretary. She decided to buy and restore the estate that is now known as the Max Hoffman Estate, even though he really had nothing to do with the property in his lifetime.
As we planned our route home and made final preparations for the drive, we ran across Magnus Walker who had just arrived at the show. I showed him the way to "the good ones" and he wisely replied, "they are all good ones." True, that. I let him know that if he saw a humble, little 914 that it was ours and said our goodbyes. After use of the facilities we made it back toward our car and Magnus hadn't made it too far, so we asked him for a photo and again thanked him. We packed our items and Magnus again was near. He came by to check out our car and we had a good chat. My son showed Magnus his picture with Jay Leno and Magnus was shocked that Jay wasn't in his usual denim uniform enough to ask where the photo was taken. It was fun to tell him about the Audrain Museum in Newport and their unique preservation mission. You might think celebrities to be moving all too quickly through life, but Magnus even noticed my Racemark steering wheel and commented on my Porsche Design watch as we parted. His eye is very astute, indeed. My brief encounter with him was a strong indication to me that he's good people.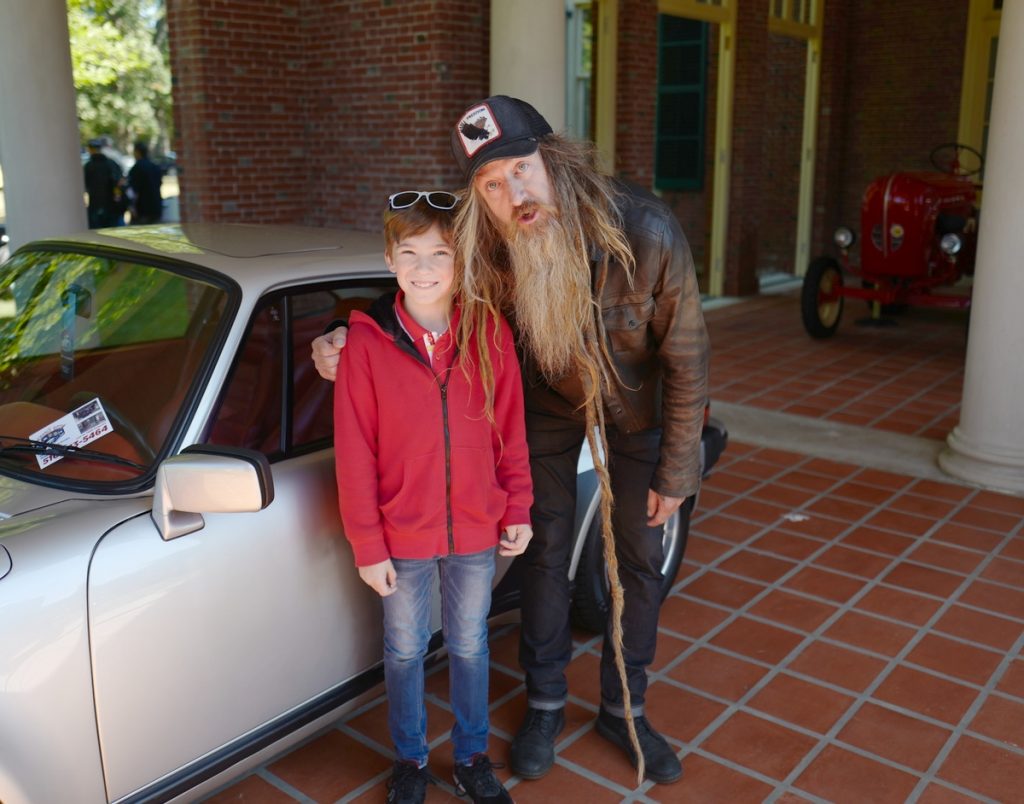 We checked the ferry schedule and realized it was a no-go based on timing, so we again trundled down the LIE and over the Throg's Neck, basking in a perfect fall New England day. The traffic on 95 all the way up the CT shore and into RI was pleasantly merciful most of the way. Traveling in an open (or targa-topped car, in our case) is a special way to travel. You get to use a sense that usually lies dormant – smell. Olfactory awareness is a highly underrated enjoyment in life. As we passed through New Haven, first we smelled the salt of the ocean as it crept up close to the highway. Then we got a good dose of the cooking meats and frying dough from the food trucks lining the waterfront park. It ended with a chemical and sharp smell of propane before we could even visually spot the large, white cylindrical storage tanks at the east end of the city. Many towns offered interesting scents for us to analyze, comment on, and laugh about. My son napped for a bit of the ride with the lulling sound of a flat-four, wind, and road noise ensuring a constantly soothing thrum in his ears. I looked over hoping to remember that image for the rest of my life.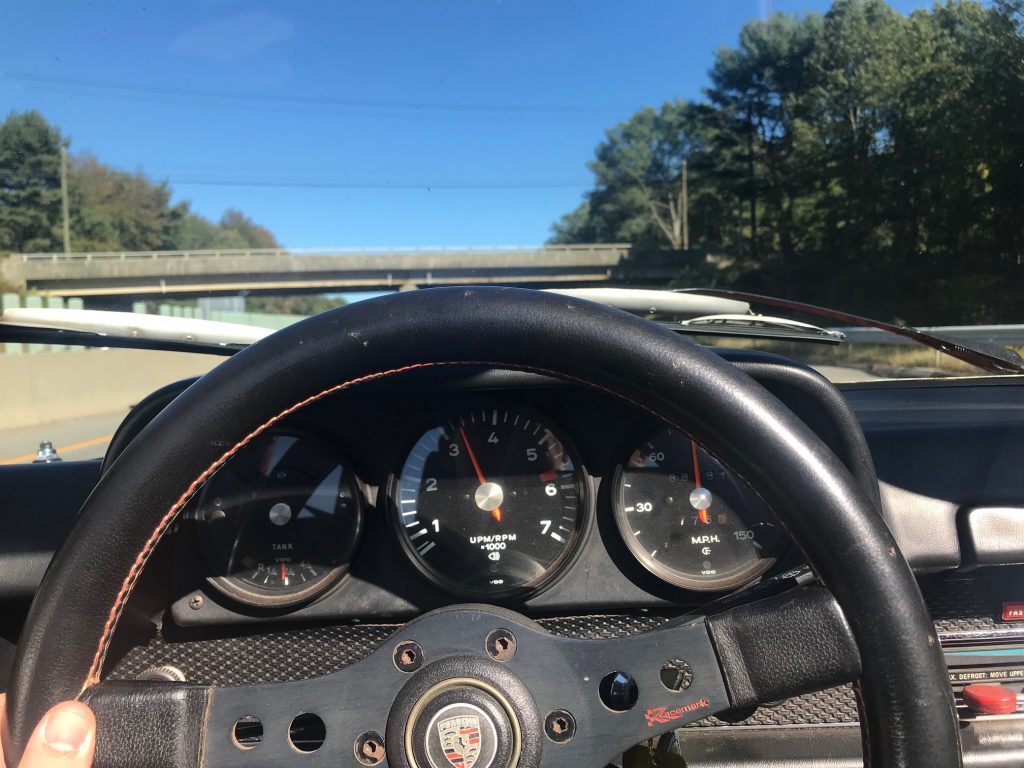 We made it home just before dinner after three and a half hours of driving and two hundred miles. All that from a car that sat, waiting patiently for a full year just to feel the fall sunlight upon her bonnet. She isn't fast. She isn't easy to drive. But she is the only thing worth driving on days like that. Hat's off to you, Max, for a job well done.
We wholeheartedly thank David Jacobson, owner of Collector Car Showcase and organizer of this whole event. Special thanks too to our neighbor region – Metro NY PCA – for staffing the event with a small army of friendly volunteers. I met Dan, the president of Metro NY, just after he had met Magnus and he was very friendly and helpful. And thanks to Chuck Bernstein, VP of Metro NY, for letting us know who helped pull it all together!