Fun in Pit Row at Lime Rock
NER will have its first ever Summer Party on Saturday July 21st. You can thank region Past President Kristin Larson for championing this event. Kristin fondly recalls attending NNJR Summer Parties with her family (and note that Kristin, her brother Scott and parents Rick and Laurel Townsend – and even Dave Berman – were the 2016 winner of the PCA National Family of the Year Award).
Our party is a family event and will be at the German American Club in Walpole and will include a BBQ, German beer, a band (not Oom-pah-pah), a People's Choice Concours and games for kids and adults acting like kids. One of the planned activities is an autocross where each participant will have to compete on the same (quite small and aptly named "Stoked") bicycle – there will be classes by age and gender (no classes by displacement).
In order to promote the event and check out the equipment, we did some testing in pit row at Lime Rock during the social hour at NCR's LRP Fun Days. The first runs confirmed that leaving the training wheels on would not work (they bent on tighter turns). It was also determined that while the application of alcoholic beverages (the track was cold!) enhanced participation, it did not improve performance. Ultimately the fastest time was turned by Dino Alterio of Sudbury.
The fastest woman was Amriel Lucier. Steven Lefebvre (Scruffy), who is usually top dog at NER autocrosses in his GT3RS, was far from it on "Stoked".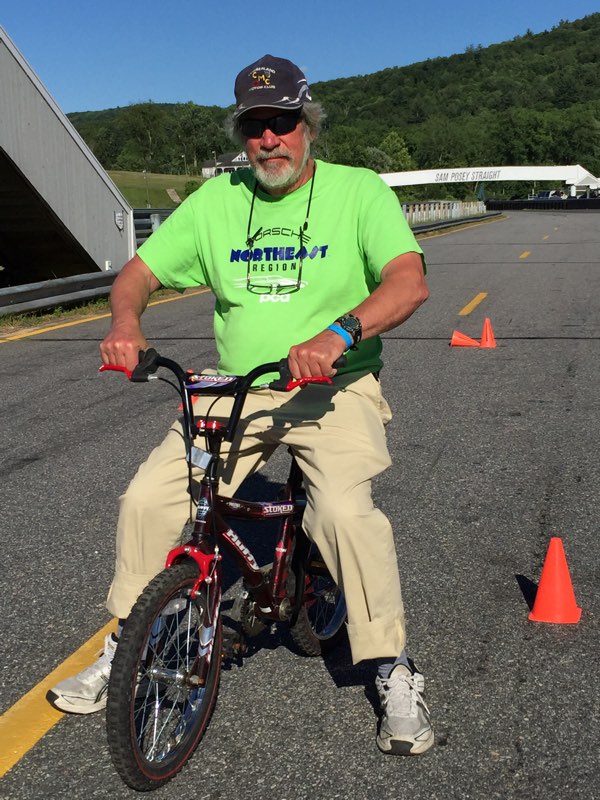 Unfortunately there was one casualty as NCR DE Registrar John Lussier had a bad crash and damaged shoulder, knee, and pride.
So we hope to see you on July 21st. You will NOT be required to participate in the bike autocross but you'd better have fun! Visit the event page for details and sign up information.