Sunday morning was busy, preparing for the Porsches and Coffee and saying goodbye to our two sons and their families.  Along with beach time, going out to dinners and lunches, attending polo matches and visiting Newport's attractions such as the aquarium, tea at Marble House, and then "the shopping", my 4 year old grandson and our 13 year old granddaughter were thoroughly engaged throughout their stay with us.
Also, these past couple of weeks, working from a bicycle map provided by Paul Soares, Rosemary and I have spent numerous hours in the car verifying  the route for the Bob Dow memorial run in October.  Little Compton was the most challenging because of the lack of posted street signs. In Portsmouth a street became a rutted path that was posted "Not a Thruway".
We had a great turnout, about 60 Porsches, along with many new faces and interesting cars and stories.
The first owner I interviewed was Denise Marcello, along with her husband Michael.  Most enthusiastic, this was her first Porsche; previously she wheeled Audie's and Hummers.  Asked why a Porsche, she relied "because I love them".  On her first drive she said  "It's mine!"  She has safely driven 120 MPH and loves the sound, especially when in sport mode. I encouraged her to join the PCA to gain more of the Porsche experience.  I discussed the orientation of the Porsche logo, pointing to the valve stem, saying that I use a snap ring removal tool (the two pins at around 90 degrees, which fit into the two holes in the cap for easy rotation.
Jarett Hurteau really got my attention when he arrived in a Leaf Green 1983 911, outfitted with "mudder" tires. With the exception of the very fine paint work, Jarrett has prepared this car for off the road racing.  Working under the banner of Revenant Motorsports, he began in 2019 and just completed all the work for a customer.  The engine is a two plug, short stroke 3.2, along with all elephant suspension components. Located in North Kingstown, this seems to be a guy for you to complete your Porsche wish list.
Elizabeth Henderson seemed excited to show her Dad's 1992 964 Red Targa Carrera 2, which he bought new.  With just 44 k miles it sat in a barn in Ontario for seven years until she recently retrieved it.  Since she had it refreshed she has logged about 300 miles.  She said that when she drove it for the first time she felt like a teenager.  She has become a Porsche enthusiast, joining the PCA in March.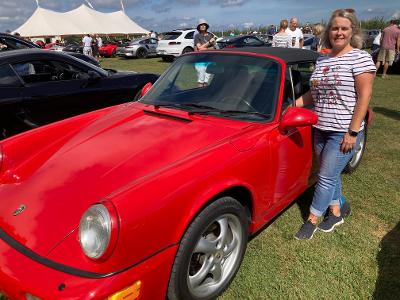 Troy Demelo parked his recently completed two-year restoration of his Tangerine 1973 911T. With the exception of the extraordinary paint work, all new rubber seals properly installed, refurbished window frames,, and interior, this old timer is a show winner.  About 10 years ago Troy purchased his first Porsche, a 944.  He may have said that he also currently owns a 991 and a 997. I overheard  him discussing the restoration when he tore down the seats to the springs when he refurbished the interior.  Unless I can get another opportunity to compare Jarett and Troy's work; it is my opinion that they are tied for quality work.  Asked why Porsches, Troy replied "I like the people".  From our discussion about the restoration, he said that he will ask the painter if the bottom corner window drains were cleaned out.
Saving the fastest for last is John Buckley's metallic silver 2019 GT3 RS.  Heavily optioned this GT3 has carbon fiber brakes, sport bucket seats and front lift.  This is his fourth 911. His first Porsche was a new 1987 911.  John likes Porsches because of the fun factor.  So far the fastest he has gone in a Porsche was about 150 MPH in a 91 Carrera 4.  When I approach that speed in my 996 the nose gets light.
Just a reminder:  Due to a conflict with Sweet Berry in September due to their very busy apple picking month, our September SoBo will take place on September 11, off of route 24 at the LongPlex Family & Sports Center, 300 Industrial Way, Tiverton, RI 02878.  Our designated parking lot is past the entrance on the right and up a slight hill located on the left.  No fee required and food and coffee is available, as well as games and clean restrooms.
And, as always, for any SoBo related questions, please email me at: [email protected]
Rog Slocum
127 Center Ave.
Middletown, RI 02842
e-mail: [email protected]