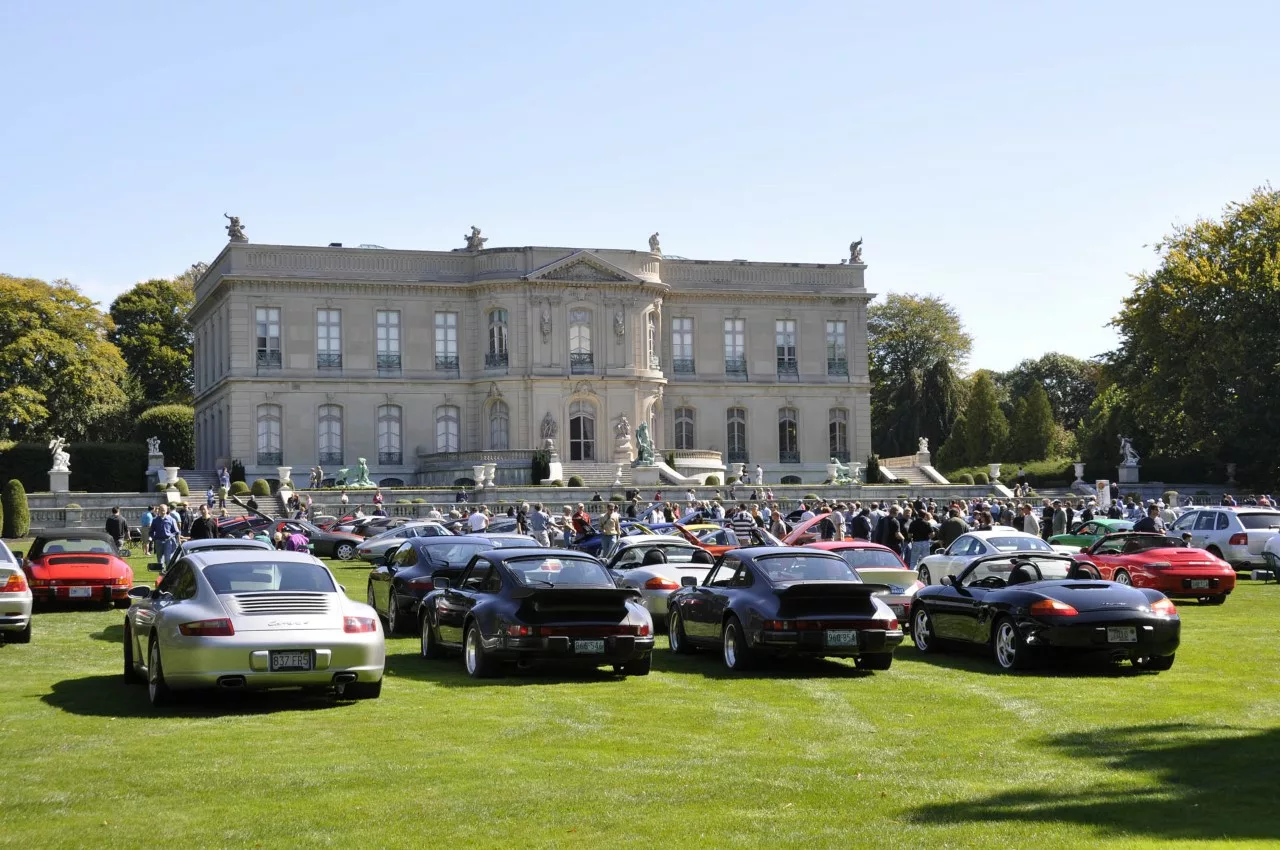 The NER Concours 2023 Has Been Cancelled Due to Rain
The 2023 NER Concours was to be held 9:00am to 1:00pm on Saturday, September 30 Saturday, October 7 on the back lawn of The Elms property, 367 Bellevue Avenue, Newport, RI during the Audrain Motor Week and Concours – but it is cancelled due to weather. We apologize for the inconvenience and look forward to seeing you on October 6, 2024.
Prior information –
Concours entrants will have a choice between objective points-based Full classes and Werks classes where the history and stories behind Porsches are weighed by judges in a mostly subjective manner. Advanced Concours entrant registration opens July 1st and will be $40, with day of the Concours registration, if available, $60. Registration is only required for those entering cars in the concours competition.
Rare and interesting cars will be spotlighted. All Porsches and spectators are welcome. Cayennes, Macans and Panameras are especially invited – with few entrants; there is a good chance to win a trophy! Special glass trophies will be awarded to class winners and runners-up.
This year's Concours will feature the following ten judged classes:
Classes (in each of the two categories – Fully Judged, "Werks-style Judging")
356
914, 914-6
911, 912 65-73
911, 912 74-89
964/993
996/997
991/992
Boxster/Cayman
924/944/968/928
Macan/Cayenne/Panamera/Taycan
The Full and Werks categories continue as last year. A Winner's class was added to the Full category last year. The purpose of the Winner's class was to encourage greater participation in all classes. The Winner's class was composed of all first-place finishers in 2021, irrespective of Porsche vintage or model. Because of judging modifications in 2022 due to inclement weather conditions, the Winner's class is suspended for 2023. It is planned to be re-implemented in 2024.
Saturday, October 7, is the Concours alternative date, in case of inclement weather. Parking on The Elms lawn by entrants or spectators will be permitted until 6:00 pm the day of the Concours so that attendees may visit other Motor Week activities. Spectator parking at The Elms will be for Porsches only for $30, on a first come basis. Parking for non-Porsches will not be available at The Elms.
Advanced Concours entrant registration is recommended, entrant spaces are limited to 120. Registration is scheduled to open July 1. Information and the schedule of Audrain Motor Week activities can be found at www.audrainconcours.com.A portion of the event proceeds go to support NER's charity, Homes for Our Troops.
For full information, please visit the Concours Activity page.
Our 2023 Concours sponsors include Porsche Warwick, our major sponsor; South Shore Autoworks, Quonset Motor Sport; and Grenon's of Newport – Rare watches and Jewelry; and Revenant Motorsports – auto repair, restoration, and modification. Please see their displays at the Concours for information and special offerings. Unique sponsor awards will also be given during the awards ceremony to their selection of Concours entrants.
Event advance registration WILL END at 3PM on 10/4/2023 – please register your entries by that date to ensure space and to allow time for us to prepare for your arrival. Cars may be entered on the event day before 9am if space is available but we highly recommend pre-registering as space is limited and this event is well attended. There is no registration for Porsche Spectator Parking.  Porsche parking will be provided on a first-come, first-serve basis at the Concours starting at 8:00 am for $30.  Porsche parking on the grounds will be permitted until 6:00 pm.
Spectators driving Porsches will be parked on the lawn around the Concours field.  Porsches will be parked so that they can leave the lawn at any time without difficulty.
Entrants may arrive

starting at 8:00 am. 

Any entrant, not a volunteer, who shows up prior to

8:00 am

will not be parked on the lawn

until 8:00 am

. 

Early entrants should be asked to move so that they do not interfere with the parking queues.
The schedule for the Concours reflects the commencement of judging
at 10:00 am
, at which time all Concours preparation must cease.  The awards ceremony is scheduled for
12:30 pm
. 
Porsches, entrant and spectator, may be left on the lawn
until 6:00 pm. 
 The Elms gates will be locked
at 6:00 pm
and Porsches not removed before then will not be accessible until the following day.  This also applies to vehicles parked in the non-Porsche lot off Bellevue Court.
The Elms will be open to the public
at 10:00 am to 5:00 pm on Saturday
.  Our rental of the lawn does not include a ticket to view the inside of The Elms.  Information about The Elms and ticket prices can be obtained at
https://www.newportmansions.org/explore/the-elms
.