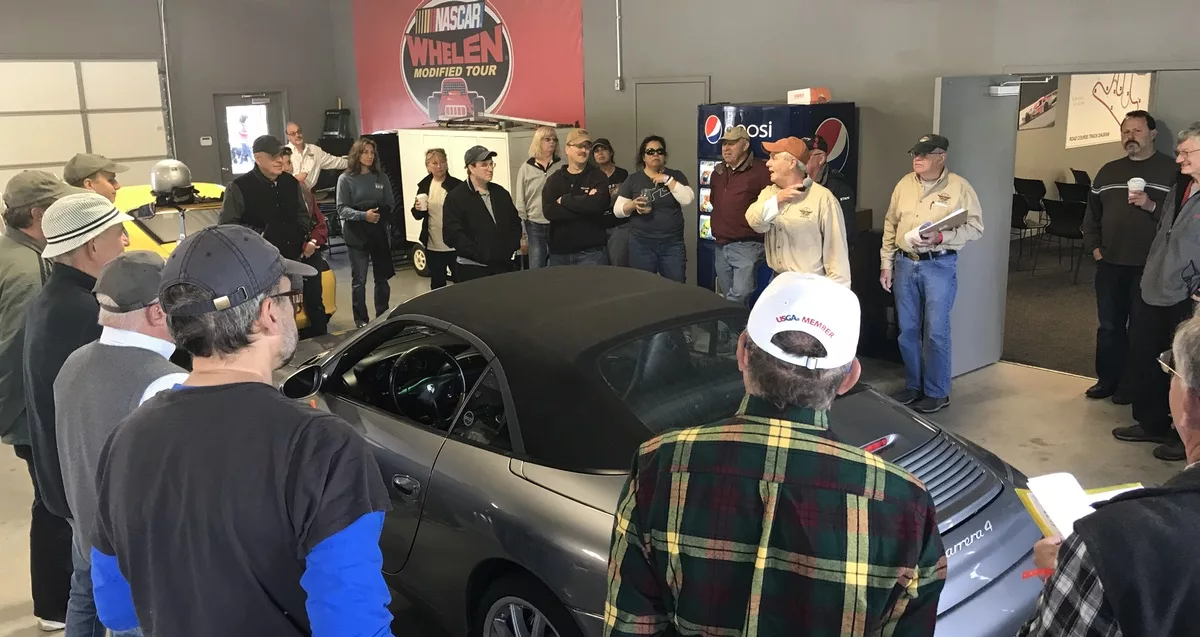 We are back at Thompson Speedway Motorsports Park May 26, 27 & 28!
For our first DE event of the season we visit the rejuvenated road course at Thompson Speedway Motorsports Park. The course offers tricky pavement changes, challenging turns, and a long straight where some see impressive speeds. This is a great, technical track for tuning up our early-season skills. Friday will be an Advanced Day open to solo drivers only (Blue, White, Black and Red run groups). Saturday and Sunday will include a full DE for drivers in all run groups with special classes and exercises planned for our beginning drivers on Saturday.
PCA National Instructor Training (NIT): The Northeast Region and North Country Region of the Porsche Club of America are hosting a PCA National Instructor Training (NIT) event in conjunction with an advanced driver day and HPDE weekend at Thompson Motorsport Speedway, May 26 – 28, 2023. The training event is on Friday the 26th of May and will be run as an Instructor School and Advanced Solo Day.  Saturday and Sunday will be run as a standard HPDE.
The National Instructor Training is intended for:
Existing instructors who are not yet listed on the PCA Instructor National database.
Qualified Instructor candidates who would like to be listed on the national instructor database when they do become an instructor (must have at least four (4) HPDE solo days in the Black run group and currently be enrolled in either NER, NCR, or CVR Instructor Development Program (IDP).
Current PCA or Motorsport Safety Foundation (MSF) Level 2 instructors wanting to be listed by both organizations.
Experienced drivers who are considering whether or not to become an instructor may attend the school as "observers". You may participate in all classes and exercises (as space allows) but will not be Candidates.
Solo (Blue, White, Black and Red run groups) drivers, not participating in the Instructor School, may enjoy the day with a lot of track time when the Candidates are not on the track.
ALL Participants in the NIT:
Please note that Mentors will be driving Candidates' cars for all school exercises and their cars must have equal seats and seat belts/harnesses for 2 occupants.  The School is heavy on role playing and classroom participation. We will alternate between role playing on and off the track, with lots of track time.
Candidates will learn the art of teaching high performance driving as well as converse with experienced driving Instructors. Instructors can practice and sharpen skills in a small group setting.
Candidates successfully completing the course will be eligible for National PCA HPDE Instructor Corps Membership. Only a limited number of Candidates will be accepted.
Further information will be provided by the NER Instructor Development team between registration and the event date.  Questions? Email [email protected]
Garage Reservations: Reservations for garages at Thompson are made directly with the track. You can access their reservation system here. Simply select the date(s) you are interested in and proceed from there (you may have to check back if the garages haven't been released yet for our event). Garage spaces are $40? per day and you will have to go through this process for each day you want a garage.
Camping: Camping is available again this year Thursday thru Saturday nights. Fires are allowed only in designated camping areas and must be in containers designed for that purpose. Small home grills, hibachis and small gas grills are permitted in the paddocks if operated in a safe manner.
Social: There will be a social followed by a catered dinner when the track day ends on Saturday, May 27th. The menu includes:
     Green Salad
     Chicken Marsala
     Penne alla Vodka
     Roasted Potatoes
     Green Beans
     Rolls and Butter
     Ice Cream
Tickets for the dinner are $35 per person and are available through ClubReg when you registered for the event. Drivers can purchase tickets for family and guests. Please order dinner tickets in ClubReg so we have an accurate count of the number of people attending the dinner. If you missed the opportunity to purchase tickets you have until the 22nd to contact me and I will try to help you out.
Registration for this event and for the NIT is open at Club Registration.
Event Information: