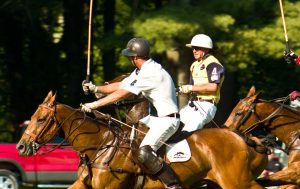 On Sunday, August 16th, NER invites you once again to enjoy a Polo match at Myopia Hunt Club in Hamilton, MA.  Watch as the two and four legged athletes compete for the Porsche Cup!  We'll have exclusive field side parking assigned to NER members where you can relax, check out each other's cars, have a great view of the match, and enjoy some food and refreshments with fellow club members. This year, we will be judging the most exotic, creative, (and delicious) food creations, so get your culinary creativity going and break out the crystal and china to impress the judges and your friends.  We also have our "Bachelor class" for those who eat on the run.
Some background for non-polo aficionados:  Myopia Polo holds the distinction of being the oldest active polo club in America. One of five charter members of the United States Polo Association in 1891, except for two wartime hiatuses, club players have competed on summer Sundays on the original Gibney Field (named after what was Gibney Farm) since the first game in 1887.
Gibney Field was the scene of the first formal intercollegiate game, with Harvard playing Yale in 1907. It has hosted the U.S. Senior Championship, the equivalent of what is now the U.S. Open championship. Polo scenes from the 1967 movie classic 'The Thomas Crown Affair' with Steve McQueen were shot on the site.
The Porsche Cup is part of the Forbes Cup series which was initially regarded as the New England Championship of polo, played between Fairfield, CT and Myopia. Recently, the Forbes Cup tournament has been played at an 8 goal level, meaning that the handicaps of all players on each team can not exceed 8 goals. The Forbes Cup is one of Myopia's most prestigious tournaments, and professional players from across the United States and Argentina will be on Gibney Field to battle it out on August 11th for the Porsche Cup.
Polo is one of the few sports requiring active spectator participation. During the match, after the third and sixth chukka, you can walk off your picnic and help maintain the field by replacing the divots on the field kicked up by the ponies. Following the match, the crowd is invited to join the awards ceremony at the center of the field. Admission can be paid at the gate and is $10 per car.  Plan to bring your own food and refreshments.
NER will have its own designated parking area for tailgating and socializing. New this year the good folks at Myopia have made a separate field available to us for support vehicles (i.e. non-Porsches) Gates open at 1:30 and Match Time is 3:00 PM.  In order to reserve our parking area, we need to let the folks at Myopia know how many of us there will be.
Please register for this event below.
Questions; Steve Ross at [email protected]