What's your name and where do you reside?
My name is Matthew Keefe, and I live in Framingham, Mass.
What's your first Porsche experience ?
"It's actually different than most. A few years back, I worked on a mobile app (Matt's a professional software developer) called "Cayman Code" for the launch of the 981 Cayman." 
"The app was pretty cool – designed so that Cayman owners could learn about their car. Porsche partnered with Patrick Dempsey and other drivers and celebrities. They pushed it hard to owners but never fully promoted it to a younger, broader audience."
"There was a leaderboard for Porsche owners to measure (and compete on) acceleration, slalom, etc.." (And the lawyers agreed to this?!) *Laughs*
"The score was nebulous. We took out G-force because that would've been a big no-no.
Anyway, I tested the app in my BMW M3, and I couldn't compete with the top scores. Some of it was driver ability at the time, but it opened my eyes to the car's capability."
What's your history with PCA and New England?
The GT4 is Matt's first Porsche. He did a ride and drive with Porsche Westwood a couple years back – they brought a GT4 on a trailer along with the then-current 991.1 911. "That was the moment I knew I really had to get one." 
Winter driving:
"Right now, (the GT4) is kinda my daily driver, though I may not need to drive every day." Matt also has a low-mile 05 Acura TL (40k miles – hang on to that future BringATrailer classic!) to transport the kids, but if he needs to run an errand, "I take the Porsche because it's fun! That's why I put the snow tires on the car. I want to drive it in the winter!"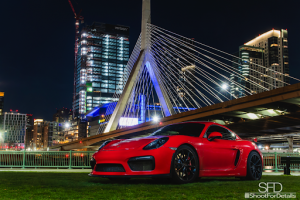 Did you ever have a moment that wasn't so fun?
"Yes." Matt describes in carbon-crunching detail an instance with a high-side after a big storm – he became a plow in his cul de sac at the expense of the front splitter. "Porsche considers it a wear item." 
That wasn't enough to turn him off, though! "I put it in reverse and rocked my way out. Being a manual car, it is more difficult to "creep." (this was the 2nd time he had driven the GT4 in the snow!) If this happened out on the street, it would've been a different situation. 
"This gave me an extra thought of "do I need to go?" before I grab the keys in bad conditions. But I still wanna drive it in the winter and have fun. If it were a classic, I'd feel differently, but I bought the car to drive."
Most fun driving moments (winter/non-winter)?
Winter – "definitely snowy parking lot shenanigans." *Laughs* "If you haven't enjoyed a couple, are you really from New England?"
Track days are a hobby, too – Matt's GT4 has already made the rounds at local favorites. "So far – Thompson, Club Motorsports NH, and Palmer. For me, the biggest adventure was actually getting the car. My son and I flew to CO (Porsche Colorado Springs) and drove the car home 700mi a day. Right before COVID – we didn't know what was gonna happen. I'm thankful we got the opportunity – if we knew what was gonna happen, we might not have gone."
How are you keeping busy beyond cars this winter?
"Outside of cars, I'm spending more time with the kids! 
I've also gotten more into sim racing – been doing iRacing with friends and family across the country." Matt upgraded his sim rig setup and just found out about sanctioned groups. (Psst – check out PCA Sim Racing!) "It's fun to drive tracks I haven't visited in person yet."
Favorite and least favorite parts of winter?
 "I'm actually more of a spring and fall guy. Winter sports with friends and family in a normal year."
Matt enjoys detailing cars – a hobby he can't enjoy to the fullest with below-freezing temps.
"I'm falling back on the ceramic coating a bit. Learned that we're all washing our cars with reclaimed, salty water in the winter – ouch!" 
What are the best and worst cars you've driven in the snow?
"The worst was hands-down my first car, 2001 Jetta. I once went straight – into a snowbank – when trying to turn (below the speed limit.) My then-girlfriend, now-wife wasn't too impressed!" She got past it.
The best? "Hands down GT4. My M3 got stuck a couple times, even on snow tires. GT4 – not sure if it's the weight distribution or the tires, but it hasn't quit."
Well said, Matt. We're glad you're staying safe and making the most of quarantine in your Guards Red GT4. If you'd like to keep up with Matt's adventures, be sure to follow him on YouTube and Instagram!
https://www.instagram.com/red_gt4/
Are you ready for Spring? Write to us at [email protected] and let us know how you've been making the best of winter, and what you're looking forward to as we thaw out.