When we left the Omni Mount Washington Resort last April, we all hoped that Covid-19 would be in the rearview mirror by the time this year's Ramble rolled around.  Unfortunately, this 36th edition of the New England Ramble was still a little smaller than normal, but it definitely had all the social aspects Ramblers have come to expect.
Our 2022 overall sponsor was once again European Performance Engineering (EPE) of Natick, and Porsche of Warwick was our returning sponsor for Friday night's Welcome Reception.
With nearly 160 Porsches in the parking lot, it was clear that PCA had arrived!  As usual, there were lots of returning Ramblers, many having participated 10, 15, or even 20 times.  However, I'm thrilled to report there were over 70 first-timers, nearly 25% of all attendees, quite a few had yet to sprout any gray hairs.  Concern that you'll be the only newbies should prevent anyone from attending the Ramble.  We pride ourselves on making everyone feel at ease and welcome.
As has become our custom, Carol & I arrived on Wednesday to begin preparations for the Ramble.  Thankfully, upon completion of the final run through of the route, road construction hadn't required any last minute adjustments to the directions as has occasionally been the case in the past.  Many thanks to Peter & Sandra Moll for their help in refining the directions and contributing to a reformatting that made them more user-friendly.
One of the few positive impacts of the pandemic was the shift to having everyone sign electronic waivers for the event when they register.  As a result, we were able to distribute the event packets to people when they checked into the hotel, and there was no need to queue up in registration lines Saturday morning before enjoying the continental breakfast.
On Friday evening, the Welcome Reception was in the Rose Island Ballroom.  Unfortunately, the wind was whipping up the waves and also the table cloths on the terrace, so the outdoors wasn't all the welcoming.  That certainly didn't stop people from enjoying the water views while they enjoyed passed hors d'oeuvres.  There was plenty of schmoozing going on by lots of enthusiastic Ramblers, happy to start another driving season with their fellow PCA'ers.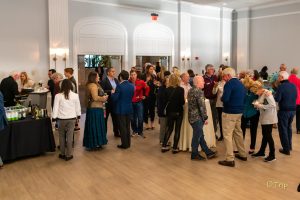 The Saturday morning meeting for drivers, navigators, and passengers made it abundantly clear that Autocross and DE track events are the appropriate venues to wring out all the performance the wizards of Weissach have built into your Porsche.  The Ramble is an organized, but not regimented, scenic drive to be accomplished within the strictures of all traffic laws.  As I shared with the group, I go out of my way to find roads where it will be challenging and enjoyable to drive at the posted speed limit.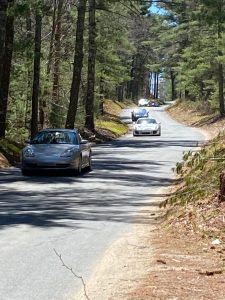 Peter and Sandra Moll took the lead as the first of 160 or so Porsches (yes, there are a few other marques represented at the Ramble) pulled onto the causeway connecting Goat Island to the mainland.  It's worth mentioning that NER has a waiver from National that allows us not to drive in a convoy.  You can feel free to stop as you like for a pitstop or to enjoy a photogenic location, and then pick back up on the tour when another "pod" of Porsches rolls by.  Mark Shane and Aya Mantsur-Shane served as our sweepers, and even if they should pass you by, you have the directions to continue on the route at your own pace.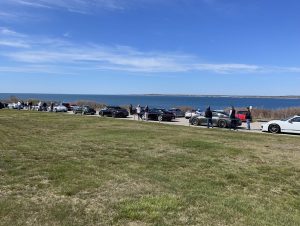 Speaking of the directions, we conducted a small beta test using smartphone, app-based, turn-by-turn directions.  Thanks to Nick Shanos and Lance Johnson for their assistance, and Peter Moll and Larry Levin for their feedback.  After evaluating the experience, we're moving forward with plans to introduce this navigational option to all Ramblers.  We hope this will offer an enjoyable alternative to those who find paper-based directions cumbersome or confusing.
After the 3+ drive from Gurney's Resort to the Valley Country Club in Warwick for lunch, quite a few cabriolets were driving top down – including a couple of 356's, 911's of various vintages, and several Boxsters.  Judging from the number of return visits to the buffet line, one would surmise that people enjoyed the food!  Kudos to the staff for keeping the buffet fresh and full throughout the 2+ hour lunch service.  At the end of this interlude to refresh and refill, it was time to embark on the return trip.
After some relaxation time, maybe a massage or visit to the spa, or perhaps poking around Newport, it was time to spruce up for Saturday night's festive dinner.  The cocktail hour commenced at 6:30 p.m., with everyone moving into the Grand Ballroom for dinner at 7:30.  I finished my brief remarks before the main course was served, and along with comments relating to the events of the day, I was glad to report that our Safety Chair, Don Kelly, had no incidents to report back to National PCA.
As I surveyed the room, it was a joy to see so many smiling faces and animated conversations.  I was struck by how comfortable and normal things felt.  People were enjoying each other's company and sharing their experiences.  Carol and I were glad to have the opportunity to spend time with Kirk and Lorraine Pickell, and share what had transpired in our lives since the last Ramble.
Before hitting the road on Sunday morning, a full breakfast buffet was served, providing the opportunity to bid a fond farewell to new and old Ramble friends.  I heard time and again from Ramblers how much they look forward to re-connecting with people at the Ramble each year.
To get a more complete idea of what it looks like to participate in the Ramble, click this link to view 300+ pictures curated by Larry Levin: https://nerpca.smugmug.com/2022/2022-04-29-2002-NER-PCA-Ramble/n-XgfxvP
If this article has piqued your interest, then be sure to mark April 28 – 30, 2023 on your calendars when we'll be rambling from The Otesaga Resort in Cooperstown, NY.  It's barely 8 months until registration opens on Wednesday January 18.  Hope to see you there!
Submission: Dennis Fried with images by Dennis & Others
Dennis can be reached at [email protected]