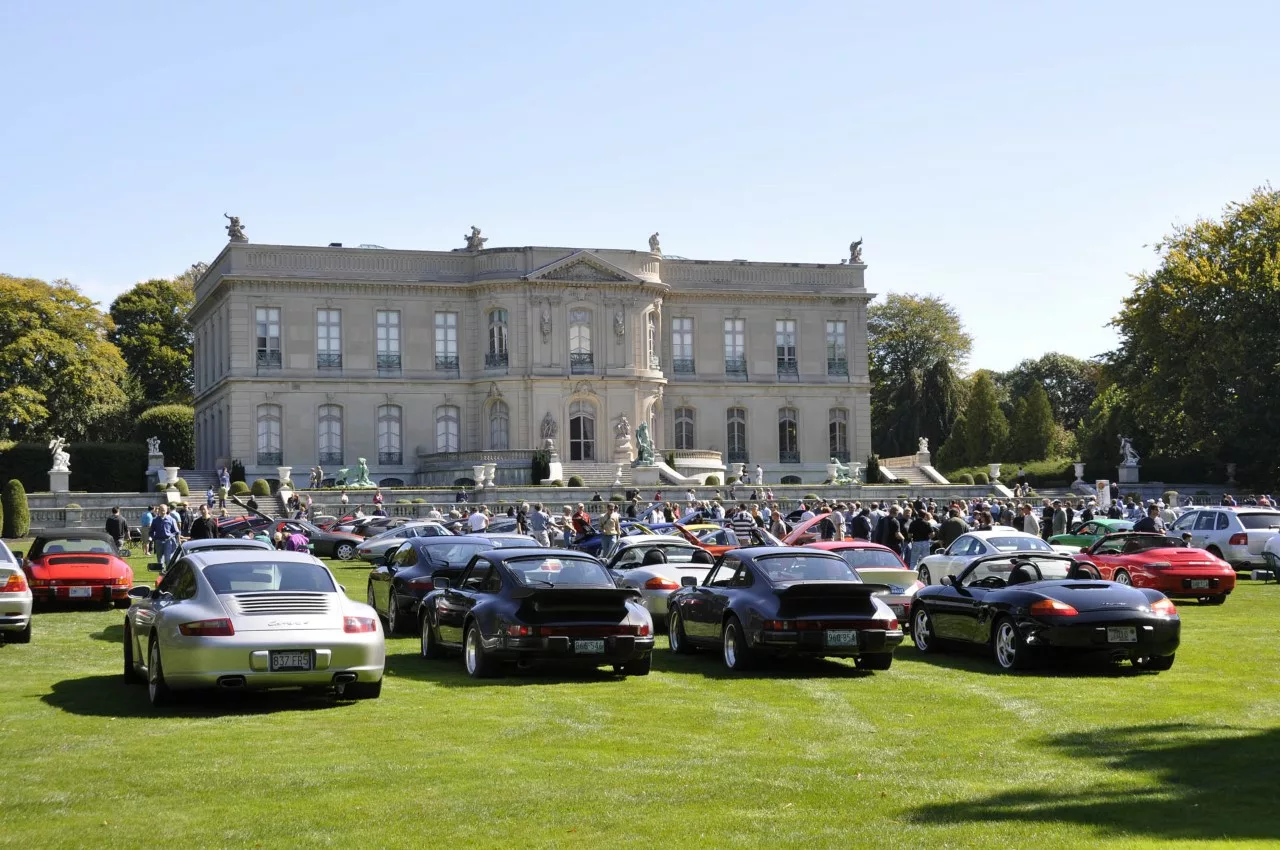 NER Concours 2022 Registration Now Open
The 2022 NER Concours d'Elegance is being held at one of the great mansions in Newport during a very exciting time for the motoring community in New England. The NER Concours will be held on October 1, 2021 on the lawn of the Elms Mansion on beautiful Bellevue Avenue. Our lead sponsor for 2022 is Porsche Warwick, following their tremendous support in 2019 and 2021. Other sponsors include South Shore Autoworks and many other friends of NER. This year's event will again be held in conjunction with the activities of Audrain's Newport Concours & Motor Week. Additional information on all the week's activities can be obtained at audrainconcours.com.
Our Concours format will follow the same as last year. There will be two categories of judging: Werks Judging and Full Judging. The Full category will use traditional objective, numerical judging sheets, examining Porsche exteriors, interiors, storage compartments, engine compartments (where viewable), and wheels/wheel wells.
After a successful launch in 2019, Werks Judging will be continued again this year. PCA has been organizing Werks Reunion events at the Monterey and Amelia Island car weeks for several years now. Participants in Werks Reunion events still prepare their cars for the concours, but unlike traditional Full Concours or Parade style judging, Werks considers not only the appearance but also the history of entrant Porsches, their usage by owners, and overall aesthetic appeal. By combining both subjective and objective elements, Werks judging creates a somewhat more relaxed environment and encourages participation by a wide variety of interesting Porsches. At Werks Reunions in Monterey and Amelia Island, you'll find everything from highly authentic restored cars, Le Mans winning race cars, outlaw & hot rod style Porsche builds, and unique original cars. If you've displayed in "top-only" in the past, we think Werks is the category for you.
When participating in a Concours event, it can be a bit of an adjustment to get used to having judges checking over your car in detail. But be assured that this event is a learning process for everyone. The in-depth judging is as much to admire the details of each model in a way that rarely gets done as it is to be critical. At the core, it is a great car show where people are encouraged to spend a little extra time giving their cars the loving care we all want to spend on them.
As a layer of enjoyment that's very exciting for New England, we are holding our event in the middle of a major world-class car event held right in Newport. Have you ever wanted to attend the Pebble Beach Concours in Monterey and attend their Motor Week? Well, now we have that same type of event here in Newport! There will be four days of amazing car activities of all kinds.
There will be a non-stop four days of car-themed entertainment and education. The whole weekend culminates with the main Audrain Concours event on Sunday, held at the Breakers, where some of the world's most prized cars will compete. Hopefully, this provides a small taste of the level of automotive events that will be taking place in Newport during that week. And we'll be right in the middle of it!
Advanced registration for Judged Porsches is highly recommended. We anticipate many more participants this year, given the success of the Werks judging class in addition to our usual Full category. The fact that our NER Concours will coincide with the Newport Car Week will also be a factor. Given the location at the Elms in the heart of the Motor Week activities, with limited parking nearby, we will have only so much space for participant and Porsche spectator cars. Only 125 Porsches can be accepted in either the Judged or Spectator areas, for a total of 250 Porsches. Day of the event fees, if space remains available, will be $60 for Judged and $30 for Spectator Porsches. There is no advanced registration for Porsche spectator parking. It will be on a first come, first serve basis on the day of the Concours as long as space allows. entrant and spectator Porsches may be left on the lawn until 6:00 pm. 
We hope you will add the Concours event to your busy schedule and come enjoy the day (or the full extended weekend) in Newport for what will be an amazing experience.
The Concours classes for the two categories (Full and Werks) are as follows: (adjusted as necessary based on entrants)
Classes (in each of the two categories – Fully Judged, "Werks-style Judging")
356
914, 914-6
911, 912 65-73
911, 912 74-89
964/993
996/997
991/992
Boxster/Cayman
924/944/968/928
Macan/Cayenne/Panamera/Taycan
Prior-Year-Winners (Full only)
The Full and Werks judged categories continue as last year, with the addition of a winner's class to the Full category. The purpose of the winner's class is to encourage greater participation in all classes.  The winner's class will be composed of all first-place finishers in 2021, irrespective of Porsche vintage or model. First place finishers in 2021 Full classes, if entered in 2022, will be required to compete in a winner's class. This will be a one-year requirement and 2021 class winners will be eligible to compete in their normal class in 2023. 
The 2022 event will feature ten judged classes (plus prior-year-winners for Full category) with awards going to the top three (3) scored cars in each class. For full information, please visit the Concours Activity page.
Our 2022 Concours sponsors include Porsche Warwick, our major sponsor; South Shore Autoworks, Quonset Motor Sport; and Grenon's of Newport – Rare watches and Jewelry; and Revenant Motorsports – auto repair, restoration, and modification. Please see their displays at the Concours for information and special offerings. Unique sponsor awards will also be given during the awards ceremony to their selection of Concours entrants.
Event advance registration ENDS at 3PM on 9/28/2022 – please register your entries by that date to ensure space and to allow time for us to prepare for your arrival. Cars may be entered on the event day before 9am if space is available but we highly recommend pre-registering as space is limited and this event is well attended. There is no registration for Porsche Spectator Parking.  Parking will be provided on a first-come, first-serve basis at the Concours starting at 8:00 am for $30.  Parking on the grounds will be permitted until 6:00 pm.
Spectators driving Porsches will be parked on the lawn around the Concours field.  Porsches will be parked so that they can leave the lawn at any time without difficulty.  Non-Porsches will be directed to park in the grass lot off Bellevue Court.
Entrants may arrive

starting at 8:00 am. 

Any entrant, not a volunteer, who shows up prior to

8:00 am

will not be parked on the lawn

until 8:00 am

. 

Early entrants should be asked to move so that they do not interfere with the parking queues.
A food truck will be at the Concours.  Coffee and breakfast items will be available for purchase. 
The schedule for the Concours reflects the commencement of judging
at 10:00 am
, at which time all Concours preparation must cease.  The awards ceremony is scheduled for
12:30 pm
. 
Porsches, entrant and spectator, may be left on the lawn
until 6:00 pm
!  The Elms gates will be locked
at 6:00 pm
and Porsches not removed before then will not be accessible until the following day.  This also applies to vehicles parked in the non-Porsche lot off Bellevue Court.
The Elms will be open to the public
at 10:00 am to 5:00 pm on Saturday
.  Our rental of the lawn does not include a ticket to view the inside of The Elms.  Information about The Elms and ticket prices can be obtained at
https://www.newportmansions.org/explore/the-elms
.