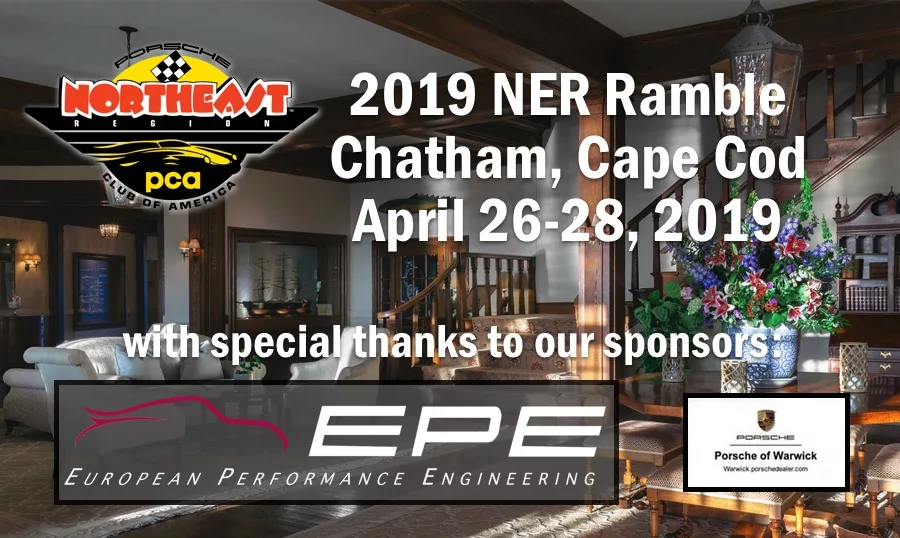 35th Annual New England Ramble
April 26 – April 28, 2019 Chatham Bars Inn in Chatham, MA
Registration Opens Wednesday January 23, 2019
What is NER's Annual Spring Ramble? The best way to start the driving season! 150+ Porsches (some Ramblers do drive vehicles other than Porsches), good friends, good food and a weekend at a top-notch resort hotel. You'll arrive Friday (or earlier at our attractive rate), and begin your social and partying activities before the serious driving commences on Saturday morning.
This year's 35th edition will be a little different. Usually, we primarily drive on 2-lane country roads in rural New England and upstate New York. This year will be more of a Cape Cod travelogue. Come experience secluded roads and scenic vistas that you never knew were there as we traverse the entirety of Cape Cod from Provincetown to Woods Hole.
Our Overall Event Sponsor is once again European Performance Engineering in Natick, MA. Give these talented folks a call at (508) 651-1316 for anything from an oil change to a full street-to-track conversion. Or visit their website at www.epe.com.
On Friday from 6:00–7:15 p.m., see old friends and meet some new PCA'ers at the Welcome Reception – sponsored by Porsche of Warwick. We'll be at the Beach House serving complimentary hors d'oeuvres and snacks along with a cash bar. So please stop by, pick up your name badge, and say hello before you head out for dinner on your own. There are lots of great restaurants in Chatham and surrounding towns (reservations are recommended) offering various cuisines and price points, or you can choose to eat on the property at The Sacred Cod tavern, or Stars Restaurant for finer dining. Since Stars has limited opening hours outside the summer season, call the Concierge Desk at (508) 945-0096 to book reservations.
On Saturday morning, registration will be open from 7:00–8:30 a.m. in the Monomoy Meeting House, with continental breakfast continuing until 9:30 a.m. The mandatory drivers and passengers safety and route briefing will convene at 8:35 a.m., after which drivers will head out on a navigational, directions-based tour exploring the Lower and Outer Cape all the way to Provincetown, concluding at our lunch destination in Yarmouth, MA.
Following the buffet lunch, you'll embark from our Mid-Cape lunch stop and experience the Upper Cape on another navigational, directions-based tour. Your afternoon drive will pass thru secluded and beautiful residential neighborhoods, enjoying lots of twisty roads, and seeing bodies of water large and small as we wind our way back to the Chatham Bars Inn. Or, if you prefer to return sooner to begin your partying, get a massage (request your 15% discount at the Spa), hike, shop, or whatever, simply take the more direct route that will also be provided.
For anyone joining us for the first time – a hearty welcome. Your registration packet will include a detailed route to and from our lunch stop, that my wife Carol and I have travelled many times, revising and correcting along the way. Unlike most PCA tours, we drive on our own (not as a convoy) though usually you'll find yourself part of a multi-car pod. Make a pit stop, or pull off to take a photo when you want, and pick up the next pod coming down the road. Want to spend time with some different Porsche models of varying configurations and colors? Just pull off and join the next pod to come along. However, if you decide to take an extended off-route excursion and the sweeper car passes you by, you will have "officially" left the tour for insurance purposes.
At 6:00 p.m. Saturday evening, we'll meet for cocktails and hors d'oeuvres in the South Lounge (next to the lobby), followed by a plated dinner in Stars Restaurant (which will be closed to the public) that begins at 7:30 p.m., and more socializing on your own after dinner. From 7:30–10:00 a.m. Sunday morning, a full, hot, buffet breakfast will be served in Stars Restaurant, after which you're on your own again to head home, or stay longer and enjoy the charms of Cape Cod.
Remember, this is a Tour, and we expect you to follow all the laws and regulations pertaining to the public roadways we'll be traveling. We'll be on many narrow, 2-lane roads, so please give pedestrians and bicyclers a wide berth. If you have the urge to exercise your Porsche more fully, we would highly recommend attending one of the many Driver's Education or Autocross events hosted by the Northeast Region. Imprudent or dangerous driving behavior will not be tolerated during the Ramble.
The Friday rate is for your room only and includes all taxes and fees. Subject to availability, this same rate applies for 3 pre & post Ramble nights should you wish to extend your stay.
The Saturday Package Rate includes your room, Saturday cocktail hour with hors d'oeuvres (cash bar after you've used your 1 drink ticket/person), Saturday night dinner (jackets for men), Sunday morning hot breakfast buffet, and all service charges, gratuities and taxes.
The resort fee is included in the room rate and includes free wireless internet, the fitness center, complimentary coffee and newspapers in the lobby, and parking.
Your registration fee covers the Friday Welcome Reception with hors d'oeuvres and snacks (cash bar), Saturday's continental breakfast, Saturday's lunch, your 2019 commemorative Ramble pin, magnetic plastic name badges, and the other costs incurred in organizing and running the Ramble.
Unless you like being on a waitlist, register for one of the 150 rooms in our block as soon as you receive your registration confirmation. Check-in is 4:00 p.m. and check-out is 11:00 a.m.
Unlike recent Rambles, the Chatham Bars Inn has various buildings and picturesque cottages spread around their property, with only 40 rooms available in the Main Inn. A description of the accommodations and a property map can be seen at https://www.chathambarsinn.com/rooms-suites/
Property View Rooms
Single
Double
Friday
$243.97
$243.97
Saturday with Meals Package
$389.86
$543.94
Ocean View Rooms
Single
Double
Friday
$274.86
$274.86
Saturday with Meals Package
$420.75
$574.83
Only 18 of these rooms are available on a first come/first served basis.
Suites (some with ocean views)
Single
Double
Friday
$298.93
$298.93
Saturday with Meals Package
$444.82

$598.90

Only 35 suites are available on a first come/first served basis.
Anyone not staying at the Chatham Bars Inn on Saturday night, will need to pay NER directly for the meals package. Should that occur, Dennis will change your registration amount to account for the meals package of $162.48/person which you will then remit thru www.clubregistration.net.
While this layout is a little more spread out than we're used to, it does offer some advantages. For example, those of you who look forward to spending quality time with Ramble friends can choose upgraded rooms and inquire with reservations staff about sharing a cottage with those friends.
REGISTRATION will again be ONLINE at ClubRegistration.net
You can find the event by going to www.clubregistration.net, logging in (see #2 below to "Create Account"), and then click on "Search for Events", highlighting "Find Event" on the drop-down menu. On the left side near the top of the page, you'll see a box that invites you to "Enter keywords", enter the word "Ramble" into this box and then click on the "Search…" button.
If you have never used www.clubregistration.net, you will need to create an account. Clicking on "Create Account" on the home page will take you to the "New Account Setup" screen where you will be asked to select a Username and Password as well as enter your First Name and Last Name. After making these entries, click "Create". This will take you to the "Profile" page where you will enter your personal information. Once you have completed your "Profile", click on "Update" (at the bottom left of the screen) to save your information. Please enter an email address that you check frequently.
After you've completed #2 above, you'll be taken to the Vehicles Page, where you should enter your information. Once you have "Saved" your vehicle information, click on "My Account" at the top of the page, and highlight "Edit Memberships" in the drop down menu. Enter "PCA", your "Region/Chapter" (we are Northeast), your "Membership Number", and click "Add".
The registration fee is $70 per person, and is fully refundable through March 1 (less a $10 administrative fee), and 50% refundable until April 1. There will be no registration refunds for cancellations after April 1.
You will be asked for a 1 night deposit at the time your book with the Chatham Bars Inn. Your deposit is refundable if your reservation is cancelled at least 7 days before your arrival date. If you find it necessary to cancel your room, please do so as early as possible, to enable people on their waitlist to enjoy a room at the hotel. Full hotel reservation information and procedures will be provided when you receive your confirmation email from www.clubregitration.net.
Please do not call the Chatham Bars Inn to make your reservation before you have registered online and received your confirmation email. We will be matching registrations against the hotel-supplied rooming list on a weekly basis, and those registered will receive priority within our room block. A room reserved without an event registration is not guaranteed. We expect to fill up our room block at the hotel, so please make your reservations with the Chatham Bars Inn promptly after you receive your registration confirmation to avoid disappointment.
If you have any questions about online registration, or anything else about the Ramble, call Dennis Friedman at (781) 258-8855 between 8:30 a.m. and 10:00 p.m. or email him at [email protected]