June 8th marks 70 years (!!) of our favorite brand of automobiles. It has been named "Sportscar Together" day -#SportscarTogether (use tag on FB, IG, and Twitter). From Porsche –
"The first vehicle to bear the Porsche name was registered on June 8, 1948: It was the 356 "No.1" Roadster. This is the day on which the Porsche brand was born. The Type 356 turned Ferry Porsche's dream of a sports car into a reality. "His vision at that time embodied all of the values that still define the brand to this day", said Oliver Blume, Chairman of the Executive Board of Porsche AG, at yesterday's New Year Reception at the Porsche Museum. Representatives from the state of Baden-Württemberg as well as from the city of Stuttgart and the worlds of politics, economics and society, joined Porsche to celebrate the beginning of its anniversary year with the slogan "70 years of the Porsche sports car".
"Tradition is a commitment. Without our tradition and without our core values, we would not be where we are today", explained Blume. "We plan to uphold the standard of technical excellence set by Ferry Porsche well into the future. Intelligent dynamic mobility has a great future ahead of it. And we have the solid technological expertise, creative employees and unique team spirit to be involved. We have what it takes to ensure that the Porsche brand continues to fascinate – even in another 70 years."
Locally, there will be celebrations at most dealerships.
Our friends at Porsche of Norwell are planning a fun time –
On Saturday June 9th we will be having a small cars and coffee get together here at the dealership to celebrate Porsche's 70th anniversary. We would love to have you here as well as your cars! Everyone at PCA is invited!

The get together will run from 8am-11am or until everyone leaves. We are not on a strict schedule so if we go over 11am that is not an issue.

We will have coffee and pastries for everyone and I will be selling specific 70th anniversary gear from Porsche as well as the normal Porsche drivers selection catalogue.

Samples of special 70th birthday merchandise that will be for sale.

We want this to be a really laid back event for everyone to just get together, hang out, talk and check out some cool cars.

Sales will also be open so if anyone is interested in a new vehicle, we would love to help out and show you our inventory!
Our friends at Porsche of Warwick will be hosting an event at their store on June 9. This event will be in partnership with the Audrain Automobile Museum, making it even more spectacular. Details: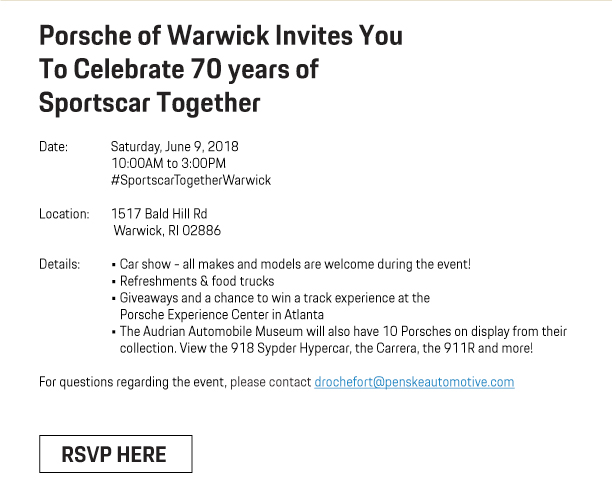 If you're up NCR way, our friends at Porsche of Stratham will do lunch, refreshments, music, giveaways, coupons, Porsche Forza Motorsport Racing Games and more. To register, visit http://porscheofstratham/events or call 855-446-6717