On Sunday, April 23, 2017, NER was delighted to have Brian Redman, legendary racing driver, come visit and share his history with us. He talked about how he got started – which was enough to make a DE safety chair squeamish. He was amazingly modest about his early career, saying things like, "the car barely held together and was a few seconds per lap slower than the leader and the rear wheel nut came loose, but I didn't want to pit since it was a sprint race…and the wheel didn't come off and got better…and I won the race!" Clearly his talent for speed must have been incredible. He drove for Carl Haas, Ferrari, Porsche, and loved his Lola's.
Hearing about his two huge shunts was a vivid reminder of how unsafe motor racing was back then. He described crashing and knowing his right arm was crushed with a compound fracture – that didn't heal correctly and eventually had to be glued together using some extra bone from his hip. And his big fiery wreck at the Targa Florio was chilling. How he made it out of that, no one will ever know since they didn't even find him and medivac him out for 45 minutes! And it took race organizers and his team many hours to find the small hospital that received him for treatment.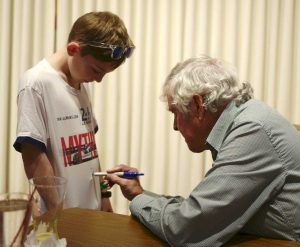 He regaled us with tales of racing with and against Mario Andretti, David Hobbes, Jacky Ickx – all the great and familiar names. Many of us purchased copies of his book, "Daring Drivers, Deadly Tracks" and had them signed for us by Brian. Brian even came out and signed a few of our cars – my 997 Targa with Brumos livery, a lovely BMW CSL, and Ron Savenor's Ford GT – signing on the side opposite Carroll Shelby, of course!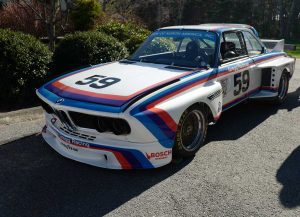 About the 1970 Porsche 917: "The car had a tendency to break in half. And I didn't care for that."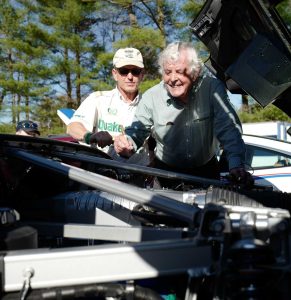 It was a great event and many familiar NER faces were present. Thanks to Glenn Champagne for setting it up. And thanks to Tom Tate for bringing his lovely Martini-livery 911 (and allowing my son to sit in it!). Thanks to all who were able to attend.