I truly love driver-focused Porsches. My cars wear scars from the road proudly. I love patina. It's funny to have to make a distinction between Porsches because most people might say that all Porsches are driver-focused. And I wouldn't completely disagree.
But the legends in the Porsche world still raise their heads above and beyond the others. There is a reason, beyond just scarcity, that the 2.7 RS commands so much attention and investment. It's about distilling the Porsche DNA down to it's essence. While I'm not comparing the new 911T to the 2.7 RS – or any of the RS models, frankly – it still warms the cockles to see Porsche put out a model that is supposed to evoke the simpler, lightweight ethos of the 911T. First introduced in 1968, the 911T was the entry-level model. No frills. Just drive.
How does this model evoke that history? Well, it has the engine from the base 911 – and at 370 hp, it's certainly not going to feel slow. And from there, many things are removed. It has lightweight glass for the side and rear windows, fabric interior door straps (door handles must be really heavy?), a deleted infotainment system, and removed rear seats (you can have the radio and back seats back if you want to add weight back). To make it sporting and justify a bump in price over the base car, it gets PASM (Porsche's active suspension system), the sports exhaust (which all the turbo cars needs, it seems), and Sport Chrono package. The suspension is reported to be lower than the basic Carrera by 0.8 inches. And it comes with a manual, of course. You can have a PDK as an option, too, I suppose.
Is it a baby 911R? Not really, but I'd have this one over an R. It's a car that you can use all the time and not worry about as much. Your Hagerty bill will be way cheaper as well. I like the interior back-to-basics look. It is definitely aping a bit of the classic look that everyone is fawning over right now, due in no small part to Singer's influence, not to mention our friends behind Luftgekuhlt.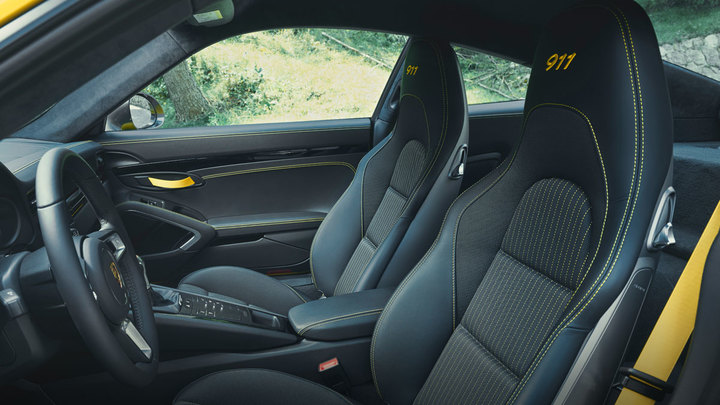 Personally I like the thinking behind the car and would love to see it slim down even more. But the cost of magnesium roofs and unobtanium wiper stalks to get there is probably pushing things back toward 911R prices. This might be the most distilled version we'll see for now. And, generally, I like what I see.