On the Road Again:
 I love road trips, road trips to anywhere, driving anything. Of course, my idea of driving anything is on the upper part of the scale. Sunny days and dry roads are certainly best, but I do like racing in the rain, and so wet pavement is fun too. I will even drive when I don't have to, which brings me to this month's column.
 A good friend recently had a water leak in the sunroof of his 2013 911 C4S, and so he asked his insurance company to cover the damage and cost of repair, which was going to run into four figures. They said it was covered and sent an appraiser out to take a look. To his surprise (and mine), they totaled the car and sent him a check for more than he'd paid just a few months before. He loved the car, so he quickly found another at a dealer in Indianapolis, IN, and bought it. The trouble was that delivery looked like a month away due to shipping schedules, COVID, Holidays, etc. I told him that he should just hop a plane to Indy and drive it back. The new owner said that he falls asleep on a drive to the Cape and didn't want to go that route. I still have Rob's C4S in my garage, so I know where all the buttons are and love driving it, so I volunteered to go get it. It was a PDK car with less than 10k on the clock and looked brand new.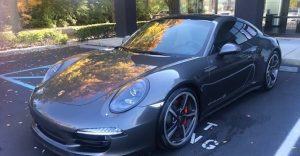 The nice part about long trips alone is that you can drive any way you want at any speed that's safe. There's nobody to stomp on the floor or grab the chicken bar when a high-speed inside pass is a little close. I've had a lot of experience passing cars on two-lane roads in underpowered cars. While in college, my brother and I delivered Tupperware to dealers in a 50 hp VW bus in the Frederick/ Hagerstown MD area from DC. In the hills of western Maryland, the trick was to drive foot to the floor approaching a passing zone and a slower car. If the way was clear, the pass was easy; if it wasn't clear, you hit the drum brakes hard. Modern cars are rockets compared to that old bus, but it's still best to take a run at a car rather than just pull out and pull the trigger. Most people aren't good at estimating closing speeds of oncoming traffic, so they just stay in line and follow the bumper in front of them. Not me; I love the challenge. Passengers tend to have a little different view. No passenger, no drama.
 I had looked at the Waze route, and based upon the morning flight out and the departure time from the dealership, I figured that Erie, PA was a good place to stop for the night. That was about half way of the 1000 mile drive. I'd never been to Erie, PA, and was surprised to see that it was on Lake Erie. I could be a tourist.
There was a day when that would have been a one-day drive in a VW Beetle. While at Univ of MD, I had a classmate that lived in Miami. I was invited to visit (OK, meet her parents) one summer, so I got in my 36 hp Beetle and drove down Rt 95 before the Interstate was completed. With a top speed of 72 mph and a speed limit of 25 mph in every little town in between, it was a 20-hour trip. Didn't seem like a big deal at the time. I made that run twice before she transferred back to Florida State. I don't remember whatever happened to her, but I sure remember those rides.
 Indiana and Ohio turned out to be a lot flatter with a lot more open space than I expected. It was late Fall, and all the fields lay empty after harvest, which made it look somewhat abandoned.
 The sightline was very good, and between Waze pointing out the Highway Patrol cars and the Valentine One whistling a warning from time to time, I was almost invisible. Except for the cars around me.
As anyone knows, driving a modern Porsche at anything close to their cruising speed attracts drivers in other cars that think they can keep up.  Speed limits in the Midwest tend to be higher than the back east, and packs of cars travel at 80-85 or about ten mph over the posted limit.
 My travel method tends to be to pass groups of cars slowly, like 5-10 mph faster than they're going. So nobody picks up the phone. I then pull back in the right lane and promptly disappear. Triple digits are just a couple of upshifts away, and I don't have to lift until I approach the next group. Of course, there are always a few that pull out as I'm going away and try to keep up. They can catch me when I slow up, but usually, the distance is too great, and they give up.
There were two guys in Ohio that thought they would just follow me, so they just put their foot down and held it there. Bad move. A 20-year-old Mustang and a ratty minivan were easily doing 100 mph together when they crested a slight rise in the road trying to make up the space between us. I had already lifted, dropped down two gears (no brake lights) because Mr. Valentine was singing my song. They went by me with about a 30 mph speed difference as one of Ohio's finest pulled out of the median strip to say hello. He got his quota that day, I'm sure. I just motored on down the road.
The trip was very smooth, the C4S got almost 27 mpg, even with my driving, and I got to see part of the US that I hadn't seen before. At home, I introduced the new kid to Rob's C4S, and they got along great, but it was a short meeting because the new owner came right over and scooped it up. I barely had time to clean the brake pad dust off the rims.

Another road trip just a few weeks later was just as much fun as I decided to rent a Porsche instead of a Camry for my December trip to FL. Because of COVID, the car rental companies started selling their fleets back in 2020 when rentals dropped like a stone. Now that the vaccine is widely available and people are beginning to travel again, there is a shortage of rental cars from the big names. That means higher rental prices as orders for replacement cars are not being filled due to a shortage of chips in the assembly process. With Corollas up to almost $200/day, I started looking elsewhere. There is an APP (of course) that can be used to rent cars from their owners. I was looking at a half-priced Nissan when a side banner suggested I might want to look at exotic cars for my trip. As I scrolled down, what popped up among the Lambos and Ferraris but listings for Porsches. There were Boxsters and Macans but what caught my eye was a white 2013 911. The cost was only about 30% more than a grocery grabber from Hertz and with more than enough miles allowed to get to Sebring and back. I spoke with the owner, who is a PCA guy, and he left the car at the airport in a parking garage with a lockbox holding the key and a SunPass in the window. I had emailed the photo of my 991, and I think he knew I would be a good customer. It couldn't have been better.
The 911 was a PDK car with the same expresso interior as my Turbo S, and while it wasn't nearly as fast, it was every bit as much fun. It even had the 20″ rims that I like. The Valentine One had passed through the TSA scanners without a problem, and with WAZE on the phone, I was invisible while driving again. I stayed a couple of days at my daughter's new house in Orlando, and it really improved the neighborhood. The SunPass saved me the $50/day that rental companies charge, and the total tolls for the week that hit my credit card were only $38. The drop-off was easy as the owner met me at the airport before my flight, and after a short chat, we seemed like longtime friends. Car guys are car guys. Until the rental car shortage is over, I will be looking at TURO for interesting rides. They are all over the US.    
I just love road trips.  
-Tom Tate