The Holidays were over and Arizona was calling my name. There is nothing like a crowd under a tent with an open bar to set record numbers for car values. Barrett Jackson is the Big Dog in that space in terms of sheer numbers of cars and they have been dipping into the Porsche ranks the last few years. Gooding & Co skipped Scottsdale this year to expand their offerings at their Amelia Island event in March and it seemed that many of the Pcars didn't want to wait. There were over 100 Porsches offered with more than 40 911's. Most were late model water pumpers but there were a few notable air cooled cars.  The biggest number went to a 2005 Carrera GT with only 3300 miles on it. The car was originally black but the seller wanted a red one so he had the car disassembled, painted red and then reassembled.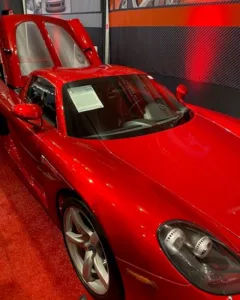 A color change didn't seem to hurt the value as it brought $1.595 million. Right behind it was a low mileage '97 911 Turbo S that brought over $600k and a '18 GT2-RS that was close at $577k. The boys all voted for the 911R as the one that they wanted to drive home and a bidder with $445k in his pocket agreed. There was even a '68 911 that got the Singer treatment (but not by Singer) that was a great package and pulled in $220k.
I wasn't that surprised by the prices, everything is more these days, even my Social Security check. I was surprised to find such a list of super cars at Barrett Jackson, the home of Hot Rods and Corvettes.
Even more surprises were in store at the RM Auction. Top Porsche dog was a 959 that brought in $1.682 million with a '93 Turbo S lightweight close behind at $962k and a '94 Turbo S for $830k. Big numbers for old cars that can't be driven to work every day. It does look like we'll have more people chasing fewer car as the years roll by and that means higher prices every year. If you don't have the Porsche of your dreams in the garage yet you really don't  have a lot of time to get it. That's what I told everyone at the PCA Annual Dinner in 1971 too.
The auctions were a lot of fun but I wanted to see a bit of the old west too so I borrowed Robs diesel BMW X5 and headed toward New Mexico on the old Rt 66. Driving to Gallup, NM I spotted a landmark that I remembered seeing from the back seat of a Studebaker on the way to Columbia MO from LA for Christmas at the Grandparents.
The Wigwam Motel is in Holdbrook, AZ and was constructed using concrete Native American Tee Pees for travelers rooms that could be seen for miles. It was still standing and while they didn't leave the light on for me, they did park an examples of '50's cars in front of each unit.
My parents always drove straight through without stopping on those 3 day runs and another landmark that we couldn't stop to see was the Painted Desert and Petrified Forest National Park. I always pictured it as a field of dead trees with different colored piles of sand piled up like a kid at the beach would do. Gas stations along the way did have clear glass bottles in their windows for sale (buy dirt?) with levels of different colored sand so we did have an idea what was over the hill.
 Of course it was a lot more than that and looked like a small Grand Canyon with trees that had been turned to stone. There are a number of scenic viewing spots and a Visitors Center where your tax dollars are a hard at work. A short history lesson showed the path of the trees started 215 million years ago (Maybe with Raquel Welsh? RIP) in what is now South America. I can understand while my Dad would never stop there, we would lose at least ½ day.
Most of the road is now Rt 40 but there are some sections that used to be the old two lane Rt 66 and are marked off with plaques to show what the road to the  west looked like 70 years ago. Certainly worth the trip, especially if you have a diesel in the family that gets 34 mpg and rolls steady at 100 mph
– Tom Tate