Update: The Earl Bamber Racing Porsche 911 GT3 R #912 takes the win at Bathurst! A fitting way to retire this generation of car!
Original: Yes, Sunday will be a huge event! We'll be able to watch the finish of the Liqui-Moly Bathurst 12 Hour race streamed live from Mount Panorama in Australia! In addition to another large event happening in Australia that will be contested later that day. But this is probably the most exciting endurance race of the year and it comes very early in the season up here, whetting our appetites for an amazing year to come on track.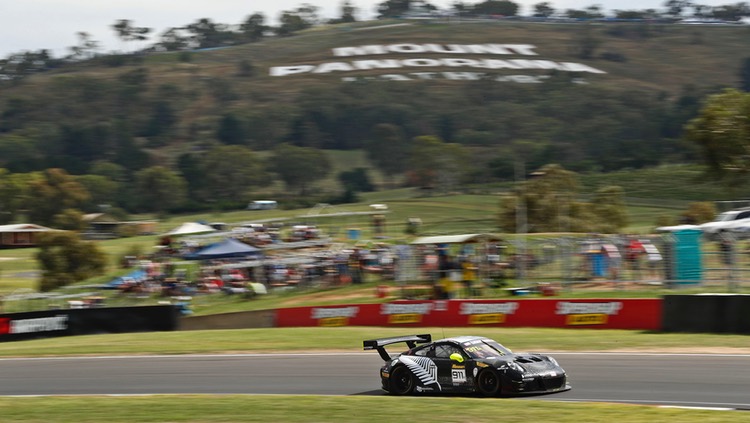 What makes it awesome? If you've not yet seen the elevation at Mount Panorama, where have you been? Watching the cars come down one of the longest downhill straights in the world – Con Rod Straight – doing 200mph often side-by-side, well, it's about as good as it gets. Being an endurance race, you've got driver changes, fuel calculation, tires to manage, brakes overheating, lots of incidents – the top of the hill has some nasty concrete barriers very close to the edges of the track where some tight racing occurs, and some highly variable weather. It almost always rains a few times during the race – just enough to keep it very interesting. Many of the top GTLM drivers compete and you often see some unique cars like the Marc 1 – a V8 Ford Focus. This is the land that gave us Holden (RIP) of course.
Porsche will field two GT3 R cars via Earl Bamber Racing, numbered 911 and 912, naturally. Two additional GT3 R's will race for Black Swan Racing and Competition Motorsports/McElrea Racing. Good luck, Porsche!!
The race starts at 1:45pm EST and ends at 1:45am EST on Sunday. Plenty of time to nap before seeing the Pats win another Superbowl!