I remember being told that I was never going to find anything unless I kept looking. Like many of us in the car hobby, I am always looking.  I'm looking at parts, projects and cars but not to buy anything specific but to keep up to date on the value of things. Every now and then I'll see something that peaks my interest enough to actually go look but it doesn't happen often.
Last weekend I spotted a 914  for sale that wasn't far away and the Facebook ad didn't have much information but there were a couple of photos that didn't look bad. There was no year given but because it had the large rubber bumpers on it I knew that it was a '75 or '6. The hook for me was the statement that it was a running driving car and it was priced less than a 991 10k mile service.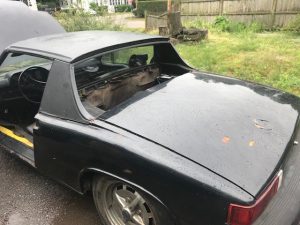 I contacted the seller by text and got an address a couple of towns away so I set a time to go take a look. I drove to the address given to discover there was no house with the number I was given. I pulled over to text the seller who quickly responded with a house number of 141 not 41. Who doesn't know their home address? Mistakes happen, right? Not a good sign. I was told later that it was the sellers uncle house so he didn't know the number. OK, I'll buy that.
The car was black in the photos but close inspection (actually I didn't have to be that close, maybe 50 feet?) revealed that the black was covering a car that started life in  yellow.  And the black was losing its grip in a lot of places.  Strike one.  A quick look at the rear panel not shown in the ad  told me that the car was a 1.8 l not the coveted 2.0 l  engine. Strike two.
After looking at the interior, that was rather tattered, I reached down to pull the engine cover release. It was seized and wouldn't move. I've seen them hard to pull or broken and flapping but never frozen.  The seller, a nice clean cut young fellow, saw my problem and quickly stepped over to help. He just reached over the roll bar and grabbed the edge of the engine cover and lifted  the whole thing up and out of the way. It was just laying there, not bolted to anything.

The first thing that jumped out at me was the big four barrel carburetor sitting in the middle of the engine. Strike three. I said something about  the missing fuel injection system and the seller asked me when Porsche went to fuel injection on the 914. This seller was not alive when this car was built and this rat was probably the only one he had ever seen. All 914's ever built used fuel injection and that was over 50 years ago. Think about that. Very advanced back in the day.  He did start it up and it actually  sounded decent  but this game was already over for me and I wished him well with the sale.   This car was not going to follow me home.
The fact is that the days of finding projects and putting them back together are long since gone for me. I never learned to weld, even after a 10 week welding class, but I had found a real craftsman who could fix anything. If he couldn't fix it he could make another one. But he got married, closed his shop and traded his hobby in for a real job with benefits and coverage for his family. The wise thing to do.
My painting skills consisted of popping the top off a rattle can from Walmart and giving a hanging part a steady, even coat of paint.  But I found a fellow that was a real car guy and could have painted the Mona Lisa with a spray gun. He was the only guy I ever knew that loved painting a black car and really was a master at it. Everyone else complained from the start to prepare you for a poor result. But he retired after way too many years of breathing filler dust and paint fumes. I did recently check on two shops that I used years ago but one only does insurance work and the other is under new management. If I had a car that needed paint I'd have to sell it in primer, not the best way to raise the value of a project.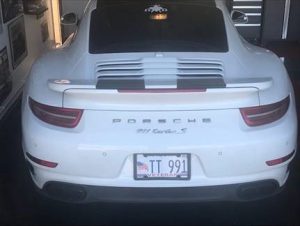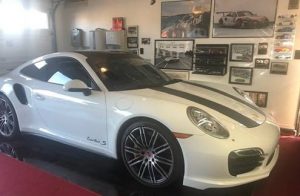 As my last few columns have indicated, I am attempting to move into the next century, with the help of son, Rob, and many younger club members. Rob located a 2015 991 Turbo S  in Las Vegas that checked all the right boxes. It was white with an expresso interior and had the glass sunroof that I preferred and center lock delete. It was very similar to the C4S in my garage except it is faster. So now he has my car in AZ and I have his car in MA.
I told him that  would meet him In St Louis to swap cars but so far no date. The kids threw a birthday party for me and a few friends at Lake Tahoe this month and that was the perfect time to test drive the Turbo. A sales job wasn't needed to get one of the Grandsons to make the 8 hr drive up to the lake to deliver it and I got to do 4 days of test drives. The car is a rocket and really to my taste with a few stickers that Rob and the boys applied. The car is right at home following a line of traffic up a slow two lane road but show it a space and it can leap past campers and 18 wheelers with ease. The AC laughs at 110 degree temps and the satellite radio never skips a beat. The PDK gearbox is faster that any driver and my left foot stays planted on the floor. An amazing device for high speed travel that I never imagined the I would ride in, let alone own. Strange how things work out. It will be tough to leave it in AZ until transport can be set up.
There was another mission that I had while out west. Between Lake Tahoe and Las Vegas in the California Sierra mountains is the place where my father used to take us trout fishing in the '50's. It was called Mammoth Mt. and that was before there were any ski lifts to be found. I always wanted to return to see if it was as I remembered when I was 10 years old. We stayed in the miners bunkhouses at a closed gold mine and each day hiked up the mountain to one of three lakes to fish.
There are campsites on the one mile road off the highway now and the trailhead right is where the cabins still stand or at least pieces of them. The bunkhouses were a little smaller than I remembered and the hike was a lot harder that I recall but otherwise the smell of the pines and the view of the lake was exactly the same. It's nice to know that even in the new century some things just never change.
KTF