Since it took us multiple days to travel from our home in the Boston Metro West area to Asheville, NC, Linda and I knew that the return trip was never going to be a single day-long grind.  Remember this is a vacation and we are almost 1000 miles from home.  
We don't have to get home right away.  We don't need to get up for work the next day. Oh, the joys of being older. And retired.  So, our plan was to take our time and "meander" home at a leisurely pace.  Three days ought to do it.  However, if something catches our fancy on the way, well…. let's pull over and give it a shot.  
The keeper of the reservations (Linda) had NOT secured any accommodations for the return trip.  We would take things as they came, working one day at a time.  So, as we begin heading back on Friday the 18th. the general goal is to return to Roanoke by about 2pm.  A distance of about 245 miles if we take the Interstates.  We still wanted to visit the Virginia Museum of Transportation, so if we arrived by 2pm we would have 3 hours and then we could check into a room.  
Looking back on it now, this was a mistake.  A long spell of highway driving in a modern era Porsche 911, while comfortable is certainly not challenging.  Interstates 26 North and then 81 North from Asheville to Roanoke are your typical multi-lane divided roads.  Smooth, wide and somewhat boring.  
Only 2 things stood out for me during this 245-mile trek.  
One was the hills of West Virginia, which is called the Mountain State for good reason.  We were in WV for perhaps 50 miles and most of it was up and down some rather steep inclines.  As we would be coming DOWN a grade, I would look across the divide and see the big 18 wheelers with black smoke belching from their exhaust stacks as they lumbered UP the rising road ahead.  Since Linda and I manage a bit of towing with our motorhome and race car trailer I could sympathize with the drivers of those big rigs as they struggled to make the crest of the next hill. 
The second thing that impressed me was the efficiency of the Porsche vis a vi-gas mileage… MPG.  Most of today we were cruising at about 75-80 MPH and we averaged 30.9 Miles per Gallon in our trusty Miss P.  Here is a car that can probably top 130 MPH and yet if one treats it with a certain amount of restraint it can rival the mileage of many econo-box machines.  Pretty amazing if you ask me.  
So why was this day of travel a mistake? 
Because once again my bone headed decision to hurry back to Roanoke was silly.  What we SHOULD have done is take advantage of the nice weather (it was a beautiful day) and retrace our path on the Blue Ridge Mountain Parkway.  We had not been able to see ANYTHING on our south bound journey from Roanoke to Asheville due to the rain, sleet and fog. (Refer to Part 7).  Here was an opportunity to correct that error.  
Instead, we invested 4.5 hours blasting up the Interstate to Roanoke to visit another museum that in retrospect was not worth the effort.   Granted, we DID NOT know this when we headed out.  But still, had I stopped to think (and perhaps consulted the other half of this traveling duo) maybe we would have (should have) altered our plans.  If we had changed things up, the time… and driving pleasure… would have been spent cruising northbound on the Blue Ridge, enjoying the mountain vistas and crossing the Lynn Cove Viaduct.  Rather than that we drove 245 miles on the Interstate. 
Not a very smart decision.  Sometimes my stubborn streak gets the better of me.  And yes, the old saying "hindsight is 20-20" certainly applies in this case.  
After a night at the most expensive Hilton Hotel we encountered on the trip (a result of NOT booking rooms well in advance by the way) we were back on the road Saturday morning heading for our next way point of Harrisburg, Pennsylvania.  
Refer back now to paragraph 2 above… "If something catches our fancy along the way…."  So it was to be. 
We are cruising at about 70 MPH today on Interstate 81 North.  Our average MPG is 31.5… a direct result of traveling at 70 MPH as opposed to yesterday's 75-80 MPH.  Along the way we see a sign for the George C. Marshall Museum & Library which is in Lexington, VA.   I am a big World War II buff so immediately pipe up… "Linda, what do you think about that place?  George Marshall was Chief of Staff of the Army during World War II and later was Secretary of State.  He was the author of the Marshall Plan after the war.  That might be interesting.  We have time to stop.  Any thoughts?" 
The exit is maybe 2 miles ahead.  Linda has to act fast!  Out comes the handy I-Phone (what did we ever do without GPS and i-Phones???).  She looks it up.  "It's closed for renovations.  Will not open till sometime in the fall."  I think "Bummer".  Yet I have a sense Linda is thinking "well I certainly dodged a bullet on that one."  (Pun intended).  
Continuing on for no more than 15 minutes we see another sign.  This one is for the Woodrow Wilson birthplace in Staunton, Virginia.  Linda sees the sign first and I can tell she is somewhat excited.  The phone is in her hand instantly and she begins reading out the features of the site.  "It's open today.  $15 admission.  There is a museum and a gift shop and they have a house tour.  It's only about 7 miles off the highway at the next exit.  The pictures on the website are really stunning. I think we should do it".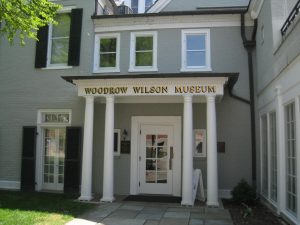 Without a moment's hesitation the decision is made.  When you have no set plan for the day and only 300 or so miles to cover, you can take things as they come.  And today what has come up was the Woodrow Wilson Museum.  
Staunton, Virginia is a quaint, quiet, well-kept small southern town.  It is the home of Mary Baldwin University but more importantly Staunton is the birthplace of Woodrow Wilson, the 28th President of the United States.  
Linda opted for the house tour as well as the museum.  I was attracted to the museum and spent a good deal of time studying Mr. Wilson's early years and his rise to political prominence.  Also, since I am always attracted to any type of automobile, I invest a decent chunk of time studying the 1919 Pierce Arrow Presidential Limousine.  This vehicle was built in Buffalo NY, yet the driver sits on the RIGHT side of the car.  For an American car this is rather weird for sure.  
All in all we spent almost 3 hours exploring this well thought out homage to a man who tried, unsuccessfully, to change the world.  In our opinion it was time well spent. 
Our final day was just a matter of 'putting in the miles'.  Eventually you always have to get back home.  Traveling north through eastern Pennsylvania (along some very rough concrete sections of roads), into New Jersey and then finally retracing our tracks across the Tappan Zee (now Mario Como) Bridge and up through Connecticut.   Day 13 was the longest day, distance wise, at 420 total miles.  
Linda keeps rather accurate records.  We traveled a total of 2,289 miles, passed through 11 states and collected 43 of 50 license plates. 
The only tags we did NOT see were Hawaii (understandable) Idaho, Missouri, Montana, Nebraska, Wyoming and North Dakota.  By the way Linda and I refer to that last state as GFND (God Forsaken North Dakota) because in all the years we have been playing the license plate game we have only seen North Dakota once.  We both surmise that the people of North Dakota really LOVE their state and thus they don't venture far from their borders.  
Maybe one day we will take another road trip out that way and perhaps prove that our theory is wrong.  If we ever do make such a journey, we hope that it will be in our trusty Miss. P.  Our most recent exploits have shown that a 911 Porsche really is a great vehicle for exploring Southern Roads and Museums.  
By Ray Boyer