It was about 8:45 AM and I knew we were at the right place because Larry Levin, NER's PCA photographer, was already there. Larry is the often-credited photographer for our on-line magazine and website.
Mistakenly, the website posting of our 11 September starting time was changed from 10 to 9 AM, making for a long morning (numerous Porsches arrived after 10 AM with the total around 50 Porsches.)
This was the first time we held our Porsches and Coffee at the LongPlex facility. Sweet Berry could not accommodate us in September due to apple picking crowds. When asked, LongPlex received positive remarks. The coffee was tasty; breakfast was offered. Sorry, no donuts or pastries.
The first proud Porsche owner I spoke with was Bob Gauvin with his 2003 Red Carrera. This 996 six speed, showing just 55K miles is Bob's first Porsche, saying that it was a retirement gift. Bob and I share our first purchase of a sports car, the Subeam Alpine. Bob's Porsche purchase was because of Jay Leno's recommendation on his TV show. On his first drive Bob said he was a bit apprehensive because the car was so quick. This 996 is very original, well above average; headlights still look new.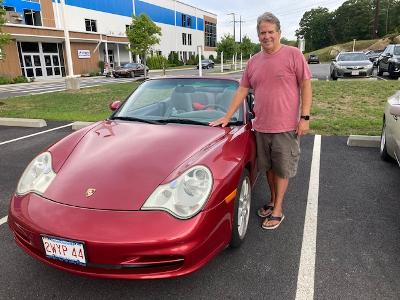 Next for an interview was Rick Competiello with his 2013 Agate Grey 911S Cab (991.1) with Porsche Sport Exhaust. A PCA member since 2009, his first Porsche was a Cayman S. Rick said "Born and raised in Stuttgart Germany, as a child I always saw Porsches;" he added: "Porsches are designed by engineers." Unlike the Cayman, the 911's jump seats are nice for his two girls.
Jon and Nicole Smith parked their 1998 Zenith Blue Metallic (Grey Interior), Stuttgart built Boxster. (The "S" on the VIN denotes Stuttgart) rather than Finland). Jon said, " I purchased the car in 2012 from my friend and proposed to my wife in the car. He drives the car every day and puts snow tires on in the winter. Jon added the color-matching hardtop in 2020. Currently they own four additional Porsches.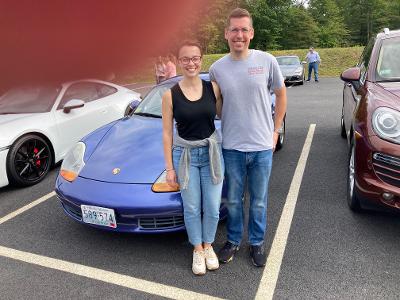 Rick Abisla arrived in his 1991 Midnight Blue Metallic C2 Cab. This well cared for Porsche showing 89,916 miles was bought off of a lease when it was three years old in 1994. Rick's first Porsche was a Boxster (968). As a kid he had a MG Midget. Asked what he likes about his Porsche, he replied, "it is the stickability, handling."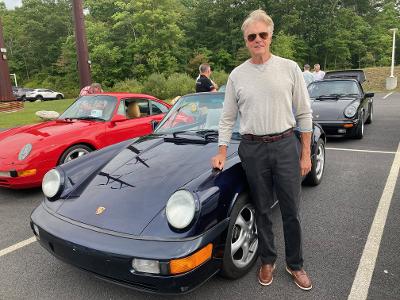 Don and Jody arrived in their first Porsche. Two years ago, they purchased this Artic Silver Tiptronic 2003 C4S. Hard to believe they found this well-above average-maintained car on Craig's List (had 48k miles at purchase); they are the third owner. As a kid with a paper route, Don saw a 356 Porsche and he knew that's what he wanted to have. On his first drive he realized that the C4S was fast. Jody says, "love everything about the car."
The final SoBo this season is scheduled for 9 October (9 to11 AM)** at Sweet Berry Farm, 915 Mitchell's Ln, Middletown, RI. The event as always is FREE, and no pre-registration is necessary. The only requirement to park on the grass is your Porsche. A Porsche logo sign should be in place directing you to the parking area. Sweet Berry Farm is child friendly, encouraging small children to enjoy a working farm, so when entering and exiting, drive carefully.
** Cars may be leaving before 11 AM to participate in the Bob Dow memorial drive.
Rog Slocum
127 Center Ave.
Middletown, RI 02842
e-mail: [email protected]