15 August 2021 South of Boston (SoBo) Porsches and Coffee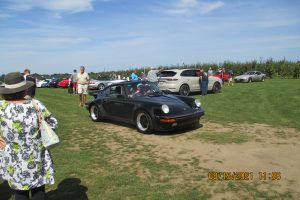 Before I discuss some of the Porsches, I want to mention a couple of items:  one is June's coffee, where I interviewed Edmund Williams with his yellow 2000 911.  In retrospect, I may have overlooked that it was a GT3.  Hopefully, Edmund will return, and we can further discuss his highly desired Porsche.
The second item is the electrifying of cars in general.  Whether they become a permanent fixture or not, they are here, and today I interviewed owners of a hybrid Cayenne as well as a Taycan Turbo S.
Three generations posed in front of their 1974 911 Targa.  Charles Exley Sr.  purchased the Targa (a yellow B6) in 1977 from a car collection with about 15k miles.  Currently, the Targa is showing 36k.  The 91-year-old Senior Exley has passed the driving baton to his son and grandson. Charles jr. seems to have taken an interest in maintaining the car for his son Charles 3rd.  The eye-catching Targa appears solid and original but a bit tired.
Lou DeRiennzo was an early arrival with his Cayenne Turbo S E-Hybrid. A 4-liter Turbocharged V8, this big beast has the GO.  Lou chose a cashmere beige metallic exterior, a club leather interior in truffle and Cohiba brown, with black walnut trim, making it a very appealing look.  The battery is in the trunk floor area and is not easily accessible.  When the battery power expires (around 32 miles), an audio notification is provided.  On just the battery, the max speed is about 83 MPH.  This is Lou's second hybrid; previously, he had a 2011 Cayenne hybrid.   
Gregory Dantas arrived in his graphite metallic 2020 Taycan Turbo S.  The Bordeaux red interior certainly adds much bling to the car.  To me, the car appears shorter than a Panamera but wider.  This is Gregory's first Porsche, and his wife likes it as well.  On a full charge, the range is 280 miles.  One of the options was a rear bench seat, so as a family car, it can seat all four of his kids.  He says it feels like driving an S-class Mercedes.  There are two charging ports on either side of the front fenders; the right side is for rapid charge, and the left for home charge. I was surprised that a sunroof is not an available option.
Barry Bixby's pristine 87 928 S4; it is the nicest original 928 I have ever seen at our coffees.  With a dark blue exterior and linen-colored interior, this untouched 928 with a manual transmission shows 68k miles.  Purchased this year in March, it was found by word of mouth.  The car was located in Colorado; he is the third owner.  Barry has been in the Porsche business and certainly has a keen eye when it comes to finding Porsches. Asked if he considered selling, he replied "38k".
The next SoBo is scheduled for 19 September (10-Noon) at Sweet Berry Farm, 915 Mitchell's Ln, Middletown, RI. The event as always is FREE, and no pre-registration is necessary. The only requirement to park on the grass is your Porsche. A Porsche logo sign should be in place directing you to the parking area.  Sweet Berry Farm is child friendly, encouraging small children to enjoy a working farm, so when entering and exiting, drive carefully. And, as always, for any SoBo related questions, please email me at:  [email protected]
Rog Slocum