For 2017: The North Shore Driving Tour, September 10, 2017
As New Englanders, we know mid-September is one of the best times of the year – the weather is still (usually) summer-like, but the summer crowds have largely dissipated. So why not join some of your fellow NER members on a self-guided driving tour of the lovely North Shore of Boston, Cape Ann, and the Essex coastal plain areas?
We'll meet at Cummings Center in Beverly, MA on Route 62 (Exit 22 off of Route 128), have a brief driver's meeting at 9:45am, and be on the road around 10:00am. Our route is approximately 60 miles, and should take us about two hours, with normal traffic conditions and a short rest stop. We'll be generally following the Essex Coastal Scenic Byway route and take Routes 127, 127A, 133 and 1A through the North Shore towns of Beverly, Manchester-By-The-Sea, Gloucester, Rockport, Essex, Ipswich, Rowley – ending up in historic Newburyport where the Merrimack River ends its long journey and meets the Atlantic Ocean.
In Newburyport, we will dine at Michael's Harborside restaurant on a scrumptious luncheon menu in a private room overlooking the busy harbor. No advance payment is required, and separate checks will be issued for each party.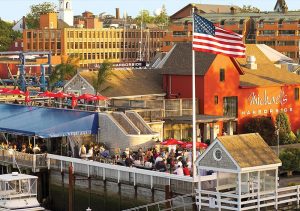 Please register online using the booking feature below, and please be aware our dining room has a capacity of around 40-50 people – so registering early is highly recommended. Don't miss this great opportunity to get out in your Porsche and enjoy the views and the company of NER members. And remember, it's not just the cars …. it's the people!
If you have any questions please email one of the tour organizers Gary Cooper or Tony Miniscalco
[bbp-single-forum id=6308]