This Sunday's 1st Annual Italian Wine & Food Pairing at Alta Strada in Wellesley was a huge success! Chef Tim Reading prepared fantastic dishes and Claudio Andreani, US Brand Ambassador for Folonari wines, shared his knowledge and passion for the Folonari brand and wines. If you weren't able to join us, be on the lookout for more of these events so you can experience "la dolce vita"!
Here's the full story courtesy of Glenn Champagne:
"After fielding many requests for a wine tasting, NER finally was able to hold its first annual "Italian Wine & Food Pairing" on Sunday August 6th at Alta Strada in Wellesley Massachusetts.

Alta Strada, a Michael Schlow restaurant, is the "dream restaurant" that chef/owner Michael Schlow had been planning for a long time. The hallmark of the restaurant is to be attentive, intelligent, offer without hesitation friendly service, serve delicious authentic Italian food at reasonable prices.

The REAL genesis behind the creation of Alta Strada was to make a restaurant that locals would call their OWN and be casual and approachable enough that everyone could eat there on a regular basis. Since Betty and I have standing reservations for every Friday night, I think he nailed it!

The two stars of the luncheon Chef Tim Reading and US Brand Ambassador Claudio Andreani of Folonari Wines, were at the top of their game. Chef Tim and Claudio shared their respective knowledge and passion with each course.

The three-course luncheon was quickly upgraded to a four course luncheon, additions included two signature appetizers, grilled octopus with poached potatoes, shaved red onion, tomatoes with fresh herbs which included a side of crunchy lamb meatballs which sit a on top of a spicy tomato basil sauce.

The first course started with Grilled lemon & herb chicken with arugula salad and paired with Tenute del Cabreo La PietraChardonnay di Toscana IGT. Followed by corn tortelli with shallots, mushrooms, and grana padano, paired with a Tenuta di Nozzole Chianti Riserva DOCG.

Desert was soon followed by a decadent, yet light and scrumptious dark chocolate cake served with maraschino cherries and freshly made whipped cream served with a glass of Tenuta la Fuga Brunello di Montalcino DOCG.

The resourceful staff at Alta Strada showcased their creativity by securing – legally – all nine parking spots in front of the restaurant. This made for an impressive start to our afternoon of delicious food and set the tone for our spectacular wine adventure."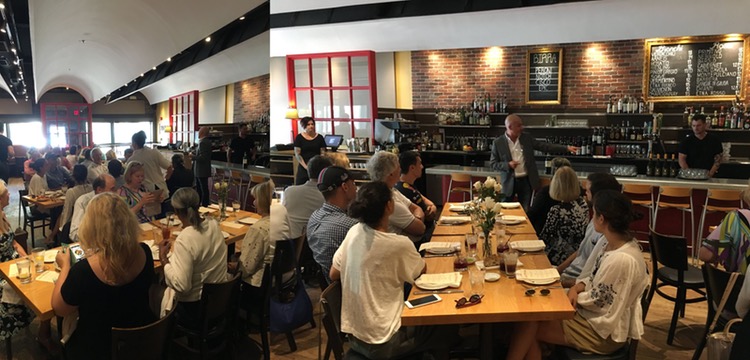 Coincidentally, it also happened to fall on the same day as the "Tutto Italiano" car show at Larz Anderson in Brookline! So enjoy some photos from that event as well. There were more Ferraris and Lamborghinis than you could shake a stick at…but also Alfas, Fiats, even a Pagani. But the real spectacle were the people. Just like being in Italy, it's the people that are most interesting. Peter Bourassa was there with his "Was Red" Ferrari that is about to drive across country to Pebble Beach. The weather was beautiful and the everything was very colorful!