Catskill Mountain Tour
 Perfect weekend weather, a German resort in the New York Catskill mountains, a group of friends and a Porsche 356, what could be better? The event was set up to run every other year in the same manner as the Helen GA event down south. It was ready to go in 2020 but put on hold as Covid 19 blanked out our schedule. We finally got the all clear this year and 68 people with 38 Porsches (including a 968, 914, Cayenne) arrived on a Thurs afternoon. We had many of our southern Tub owners attend, one from Sebring FL in a Speedster (1400 miles) and 6 others from FL and GA.
Riedlbauer's Resort has been in the town of Round Top, NY since the 1930's, with the current family running the program since 1978. The rooms are basic (there is a TV but no Fridge) and the buildings are well kept (think Dirty Dancing ), and there is a terrific bar with a huge German Mug collection.
Meals are part of the package so you don't have to chase food every day. With all the driving and exploring we did we missed a few meals but breakfast was waiting every morning and one of the dinners we had was a terrific of German dish called Jagerschnitzel). The last night had a BBQ outside under cover with fire pits all around.
 The first group tour was to one of the original round barns left in NY. Tour books made sure that we saw as much of the countryside as possible and that was lovely. Some of these roads look like they came from the north GA mountains.
We had lunch as a group at a local Grange Hall (remember those?) put together by Paul and Sybil Margaritis. Terrific food under a tent by a small stream. A great time.
On Sat after breakfast, we drove over to Unobtainium Inc in Ravena NY  a company owned by Adam and Matt  Wright who supply used parts to our little band of drivers that we can't get anywhere else. Hence, the company name. They supplied the standard coffee and donuts/bagels that were definitely not German.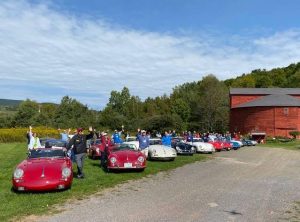 Then on to Reinbeck for lunch and a quick drive over to the Aerodrome for an airshow featuring some planes that were over 100 years old. With a skit that involved throwing a dummy out of an open cockpit and chased by old time Cops (no guns).
Dinner the last night was on the property at Nussy's Bier Garten which was all you could eat with free beer & wine. Well, at least until dark, they didn't want to have any of the old people get lost in the woods. Fire pits were taking the chill out of the air  and added to long tales of previous Porsche gatherings. We all parked in the field together as the Bier Garten was open to the community and they were there too.
All in all a terrific Porsche weekend.  
The story above was written for publication in the National 356 Registry magazine but the real story (back story?) is below.
I actually had two of these Tubs at the event, the Speedster that I drove out and the Puddle Jumper that I loaned to a friend from Seattle who wanted to attend but didn't want to drive 3000 miles to get there.
I had spent a couple of weeks going over the sunroof coupe and in the process had replaced the oil cooler and adjusted the clutch cable twice. I drove the car to Logan Airport and tossed Tom the keys. He seemed pleased with his ride for the week and met a group on the Mass Pike the next day for the trip to the Catskills. I followed the day after, meeting another Speedster owner at the same westbound rest area. It was a perfect day for a Speedster ride until mile number 146 when the car began to lose power and the temperature gauge headed to the red area. I was only a mile from the Lee rest area so I just let it roll in and got out to take a look. The movement on the generator pulley told me that something serious had broken inside the engine and that drive was over.
The Mass Pike has some strange rules about towing a car on the roadway so instead of calling AAA I phoned a friend who was just a ½ hour off the end of the Pike. Adam Wright is in Ravena NY and with his brother, Matt, owns a company called Unobtainium, who we were going to visit on Sat. See above. He dropped everything, jumped in his truck, brought a flatbed trailer and loaded up Blackie for the trip to his shop. He said that he thought he could sell the car pretty quick even with a bad engine. Ha Ha. Adam wouldn't take any money for the help, said he just wanted the help credited to his Karma account. Another member had his 356 fail on the Pike the day before and it cost him almost $800 to get it back to West Newbury, MA. Ouch !  
                       I called friends who had already checked into the Resort and they came and picked me up and I gave Tom the bad news that I was going to need that coupe back. We had other backup choices so that worked out just fine as he was happy to trade the coupe for a little more luxury in a Porsche Cayenne.  
                          That arrangement was looking just fine for a couple of days until the clutch began to adjust itself on Saturday and not in the right way. As I pulled into the Reinbeck municipal parking lot on the way to lunch the clutch cable snapped and I was looking for another tow. Boy, these cars are fun.  
                          AAA was there in less than ½ hour for a trip back to the Resort. My friend Jeff had a spare clutch cable (he carries everything and never needs anything) and the job began as soon I could get it jacked up. I was pretty deep into the job when the troops returned from the air show and then I had lots of help. Only one member, Chris, actually got his hands dirty but I couldn't have done it without him as it is a two man job. Everyone else stood around holding their beer and giving advice that wasn't needed but all in good fun. Everything got buttoned up before the BBQ started and when the Puddle Jumper drove up to the parking area it got a big round of applause.
 The only other glitch was a short one on the ride home. I didn't seem to have enough power to keep up with the 4 car caravan on ride back to Boston on Sunday and though I might have another engine going away. 45 minutes was enough time to over think the problem and I concluded that I had not put the bolt under the gas pedal in far enough and I was only getting ½ throttle. A quick turn with a 10mm wrench and it was back to full power and easy to keep up.
As any reader can see there is always more to the story with these old cars, we just remember the good part.
KTF