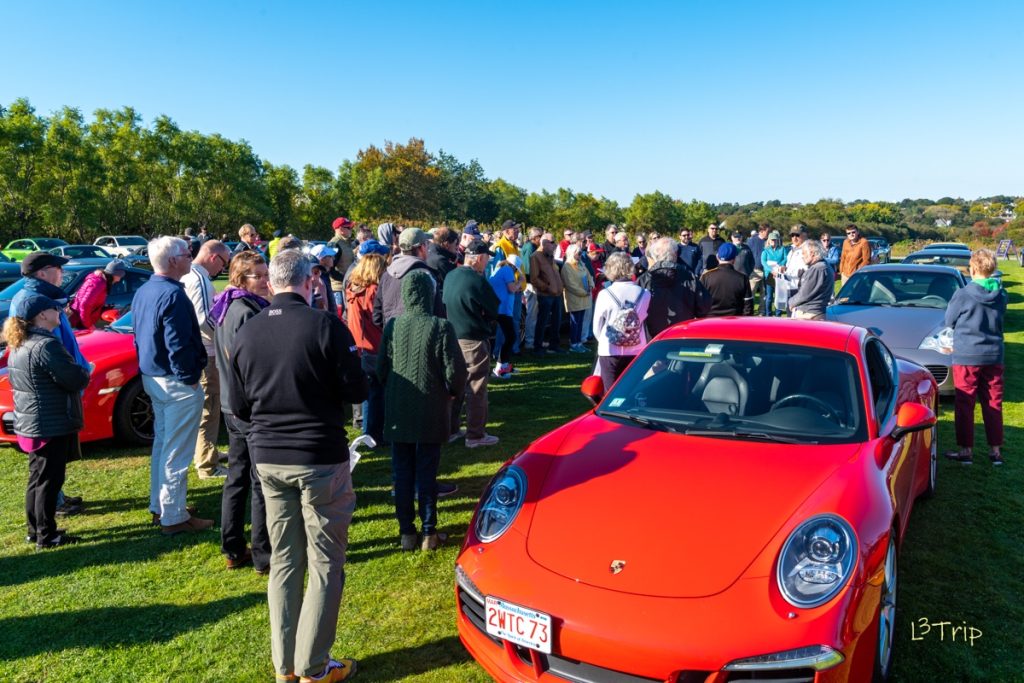 Rosemary and I left our house shortly after 8:30 AM for our short drive to Sweet Berry Farm, arriving shortly before 9AM. Organizers for the Charlie and Martha Dow Memorial Drive were already separating the Porsches that were participating in the drive from those attending the coffee. The temperature was a bit brisk, but sunny and clear.
We had 40 Porsches for the drive and at least 30 additional cars for the coffee. Because my wife and I signed on for the drive, we were parked in the third of about six rows. For those going on the drive, egress from the lot was staggered by roughly 30 seconds. Launch time was 10 AM.
Because (weeks prior) we initially verified the first half of the of the route; we were confidant with the drive beginning on Aquidneck Island. However, we became dependent on following someone when we crossed over the bridge and entered Little Compton.
Little Compton, for the most part, has minimal street signs, and we lost our GPS signal for much of the area during our initial map verification. Therefore, we successfully followed a silver 911 that must have loaded the drive app because they never got lost.
Rachel's Lakeside banquet room was bright, sunny and roomy. A buffet of mixed vegetables, stuffed chicken, fish, pasta, mashed potatoes, and rolls were offered. Certainly, no complaints about the food.
Because we went on the drive I had a brief opportunity to interview Porsche people. In the first row behind the wheel of his son's 2015 Turbo S. was Tom Tate, "getting into the 21st century". Driving his son's Porsche, Tom has recently been doing auto cross and participating in track nights. Tom says that the car did great.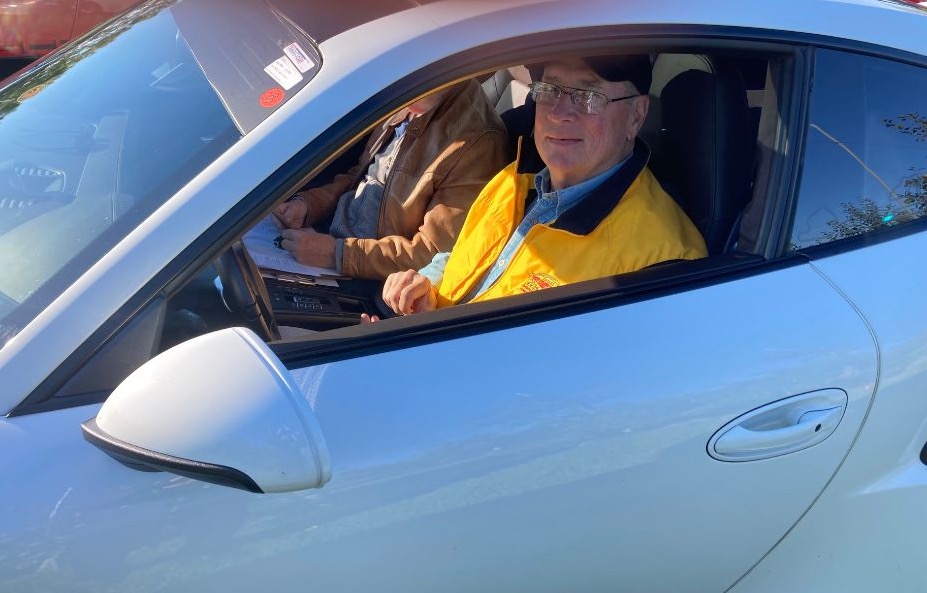 Also in line were Fred and Judy Michel with their red 914. As a youth Fred raced go carts and later, his seemingly fondness for 914s and Porsches. He has owned seven; his first was a 71 914. He was attracted by the Porsche's mechanicals, style and performance. He has had this 914 for three years. Found on-line in Maryland, the car doesn't seem to have any major issue. Initially Fred had to do some restoration to the passenger side of the pan because of corrosion, saying that the inside of the fenders are solid. It appears to be a great driver and that's what it is all about.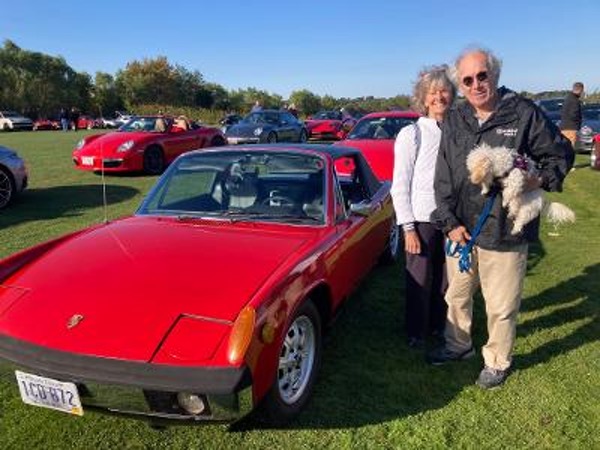 The next car was the flying yellow 2012 Carrera previously driven by Charlie Dow. Pictured is Charlie and Martha's son Eric and children (Daryn and Hannah) and daughter Kristen (Allen) with Eric and Drew. The Dow's first Porsche was a 98 Boxster purchased in 2003.
Across the field was a glimmering white 928 that caught my eye. Matthew Boday is the owner of this 1981, with manual transmission, showing just 81k miles, and it is his first Porsche. Looking for a Porsche for a long time, he drove by a dealer in Massachusetts and ended up purchasing the 928 this past June. Commenting that the dealer didn't know what he had, Matthew implied that it was selling at a good price. Other than performing service components (seals and gaskets), no major parts needed to be repaired or replacd. Although not up to show standards, the resprayed 928 shows no dents or blemishes and the interior appears very good. I am looking forward to seeing this car again next Spring.
Once again Larry Levin was one of the first to arrive but this time in his new red Cayman GTS, and unfortunately I was not aware of his new purchase until we left. PCA Northeast Region is so lucky to have such an enthusiastic volunteer photographer who seems to be at every event. Larry will be the first one selected to be interviewed in April.
Rosemary and I are looking forward to seeing you all in April 2023.
Rog Slocum
127 Center Ave.
Middletown, RI 02842
e-mail: [email protected]