Sometimes the stars align and things just work out fine, sometimes they don't. This is one of the times that the alignment was right on track. Actually three tracks.
 Porsche owners seem to always be looking for places to exercise their cars whether it's running errands, going to a Cars and Coffee gathering or a real Road Trip, the key to enjoyment is doing it with other owners. I found a few events that were fun and  bunched together in late Sept before the days started getting short and put the word out.
 I haven't been up to the Drag races in Epping NH for years and had thought about trying the Launch Control on the, new to me, Turbo S along with one of Rob's friends who had the same car. Bill Sweeney was sure that he had the faster car and this would be a good way to find out. It was mid week in the evening.
 The following day was SCCA Track Night at the Thompson CT track and PCA NCR had an Autocross at Ft Devens two days later. A perfect week. Perfect enough to convince Rob that he should fly in from Arizona and join us.
 New England Dragway allowed anyone to run a car down the ¼ mile strip as long as it looked like it could make it. Helmets were required but nobody checked to see who's car you were driving. There were some cars there that looked like their owners might be away on vacation and the keys were left on the kitchen counter. The Track opened at 3 pm, closed at 8pm and for $30 you could make all the passes you wanted to by just getting back in line.

I haven't run a drag race since I beat a pickup truck with my 356SC with a 17.8 second pass at 75-80 Dragway in Monrovia, MD in 1969. My first and only ¼ mile test. They didn't know what to do with a small foreign car so I got put in with 6 cylinder pickups. I still have the trophy. I have certainly watched them on cable but it never seemed to me that it took a lot of skill to go straight with the pedal down. Boy, was I wrong.
              Going straight with the Turbo S was easy enough although there was some wiggle when 533hp hit the pavement even with four wheel drive. It was the launch that made all the difference and that was tough to get right even with the PDK transmission assisting. Bill outran me every time with better starts but both cars were under 11 seconds, which is what they call a 10 second car. That means that the elapsed time was less than 11 sec. Mine seemed to be faster at the end, 136 mph vs 132 mph but he still got there first. I red lighted twice, meaning I released the Launch Control before that bottom light went green. Like I said, it isn't as easy as it looked on TV.
Bill and I had been to SCCA Track Night back in July and were familiar with the program. Three classes, novice, intermediate and advanced with each given three 20 minute sessions. Like a PCA driver education but no instructors and no passengers. Cars were self teched (take all the loose stuff out), put on your helmet and no passing without a point by. That event was run after a day of heavy rain and while we were cautioned about water running across the track it still caught a few by surprise. Including a novice at the end of the front straight  in a Mustang. He found a tire wall that was protecting the flag station with a NJ barrier behind it. He cleared the tires, going end over end, but not the concrete barrier. He must've ducked because he wasn't hurt.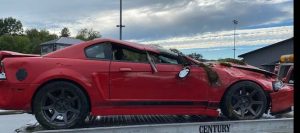 Rob had spun off in the same spot in my car too but missed anything stationary. We looked at the video later (I have a forward looking camera in the Turbo that runs all the time) and he was surprised how close he was to the path the Mustang took. Rob, with wiggles at almost every turn, struggled to stay ahead of Bills car but I was in Pearl, the  Audi RS4, with new turbos installed, Bridgestone R-71's and outran them both. We snagged garage space which made the conditions easier to take but boy did it rain.
 I always contend that everyone learns more in the rain and that was certainly the case on this day at Thompson.
  Two days later we were at Ft Devens with all three cars again for a PCA North Country Region Autocross. Clear, sunny day, the very best conditions for standing on a runway all day. A quick course with a decent straight that both Turbos enjoyed. The four door sedan I was driving, not so much due to a lot of  body roll, but it was fun.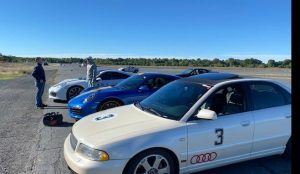 Rob complained about the tires on my car (they were 7 years old), but I wasn't going to replace them until next Spring. Since Bill was on new tires he tossed Rob the keys to his blue bomb (big mistake) and promptly got beat by 2 seconds. Good thing they're friends.
All in all a terrific week where everyone won, we should do it again next year. If anyone wants to join us just give me a shout at [email protected].
KTF