– Story and pictures by Josh Perrault.
If even the casual classic car enthusiast has been paying attention in recent years, it would very difficult to avoid reading the articles, videos and other media without hearing about the Porsche air-cooled craze. The countless YouTube videos and Instagram posts through the years, not to mention classified ads, have brought the demand and obsession to a fever pitch, and if you're reading this piece, I'm not telling you something you haven't already heard. As far as I can gather, no other car meet in this country highlights the air-cooled cars of the Porsche brand to this magnitude and brings owners from all points of the Pacific coastline more than Luftgekühlt. Organized by Porsche guys Howie Idelson and Porsche factory team racer Patrick Long, Luftgekühlt (that's Luft-gek-cult) has grown to a substantial size in four years. Unfortunately, my experience only includes this year, 2017. I first heard about Luftgekühlt in Road and Track magazine last spring. This is the thing though: there is no real advertising for Luftgekühlt. It is as homegrown as anything gets these days. It is a fairly low key gathering, despite the number of attendees, with the only hype existing on the Instagram accounts of car enthusiasts and Porsche guys. Last year this air-cooled Porsche event was held at Modernica, a modern style furniture company in Vernon, California. 2016's turnout was huge and I could only speculate that this year would be even bigger. As with liters of displacement, bigger is not always better, but certainly more Porsche is better than fewer. Still, it makes one wish that he had been in the know and attended the first Luftgekühlt when it was an intimate gathering at the cool little apparel shop, Deus Ex Machina in Venice, California.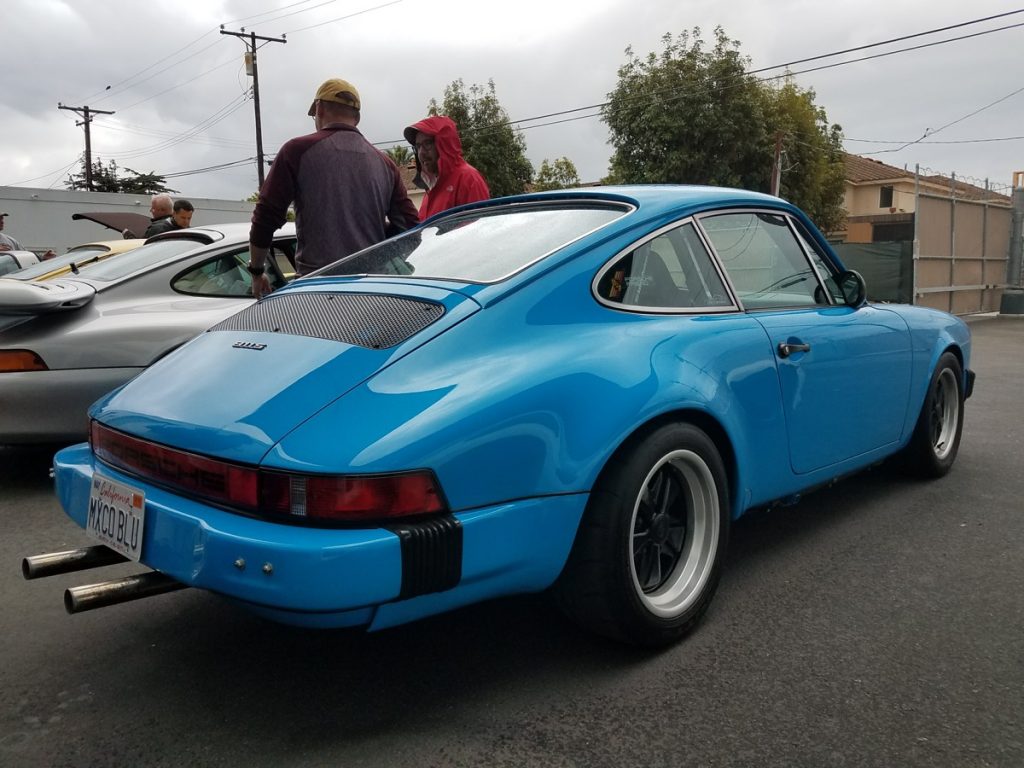 Nevertheless, back to the here and now. Luftgekühlt, the scene: Picture West Coast, older Porsche guys in their 60's and 70's, artist types dressed in black with camera's alongside an odd demographic of 20 or 30 something hipster types in short beards and flannels. In the broad scheme of things, these younger car enthusiasts are a drop in the bucket. However, you can only conclude that all the research data and articles in automotive magazines – lamenting that millennials are about as interested in cars as they are pleated pants – are complete rubbish. Last but not least, the midlife, mid 40's guys who have probably remotely been into cars forever and annoy their wives and kids about the romantic greatness of the air-cooled 911s' and 914s to the point of almost getting kicked out of the house. Guilty as charged.
[ngg_images source="galleries" container_ids="25″ display_type="photocrati-nextgen_basic_thumbnails" override_thumbnail_settings="0″ thumbnail_width="100″ thumbnail_height="75″ thumbnail_crop="1″ number_of_columns="0″ ajax_pagination="1″ show_all_in_lightbox="0″ use_imagebrowser_effect="0″ show_slideshow_link="1″ slideshow_link_text="[Show as slideshow]" slug="Luftgekühlt-4″ order_by="sortorder" order_direction="ASC" returns="included" maximum_entity_count="500″]
This year I decided that, viewing Luftgekühlt through a historic lens, a trip to see it in person was in order. Right now, the last four or five year's feels like a Porsche renaissance of sorts. Porsche's have been around for well over 50 years, but we might be currently living in a high point for these cars and it had to be witnessed. Not long ago, people might have been apprehensive to throw money at a car whose value did not exceed the cost of repairs. With the air-cooled market seemingly red-lined, it now makes sense to restore, refurbish, or just plain sort these cars out. New Porsche-enthusiasts like myself, have become bandwagon-jumpers with a new take on Porsches, in large part due to West Coasters like Magnus Walker and The R Gruppe.
"all the research data and articles in automotive magazines –lamenting that millennials are about as interested in cars as they are pleated pants – are complete rubbish"
With full support from my wife, it was now time to work on my fellow music scene and Porsche friend, Chris Casali. Over the last five years, we both watched, disgruntled, as 911's increased in price while trying to come up with the money to pull the trigger. With some serious luck and some sacrifice, we now both own 911's that are driven frequently. Initially, he shot me down when I brought up a trip out to Luftgekühlt. Then he thought about it, which meant a maybe. Then it was another no. Finally I got the text "ok. I'm in." Is there anything better than an accomplice on a completely irresponsible trip that will only fuel your already full-tilt obsession when you get back home?
With the date and location announced for Luftgekühlt 2017 and, being a logistical genius, Chris did not waste any time purchasing tickets and putting a plan together. This year's version was to be held at Warehouse #10 at 112 E and 22nd st in San Pedro, California and he found a Double Tree hotel just a few miles from the venue. Our plan was to be there at first crack to watch the cars roar in. He also looked into The Peterson Auto Museum in Los Angeles and bought admission for "The Vault" – the downstairs portion of the museum – for Friday afternoon when we were to land at LAX. He also reserved an Audi A4 from Silver Car rental (they only rent silver A4's if you're wondering). To sweeten the deal, I saw that the Costa Mesa shop, Auto Kennel, posted about an open house for that Saturday, a sort of pre-game before Sundays main event. Auto Kennel's owner, Paul, is an R Gruppe member and his shop mostly deals in Older Porsche's.
On the morning of May fifth, I left Barrington RI at 4:15 AM. Arriving in Cumberland 45 minutes later, I picked up Chris at his house in my wife's Ford Fiesta and drove north to Logan airport in Boston and flew out. Getting into LAX after noontime, we picked up our Audi A4 Silver Car rental and headed out toward the Peterson Museum. At mid-afternoon on a Friday, it's all true what they say about L.A traffic. However, the Peterson does not disappoint. The main exhibit was historic Ferraris, amongst other classic and antique cars and motorcycles. The 1963 Ferrari 250 GTO is an outrageously beautiful car. Only 39 were made. The styling reminds me of the Shelby Daytona Coupe. That, and Ferrari's 1965 250 LM, Ferrari's first mid-engined V-12 GT car. Among others, a 600 horsepower 1997 Porsche 911 GT1. If you squint your eyes, it resembles a Porsche 959… I think. Maybe its been a long flight… The majority of our time was spent in the Peterson Museum's Vault. No pictures are allowed in the vault, but I can tell you that there was, in fact, one of the first Teslas and a Porsche 901, not to mention historic west coast custom hot rods, one offs, and the earliest cars ever built. The amount of information our excellent guide provided was ample. A visit to the vault downstairs is well over an hour and well worth the additional twenty dollars.
We turned in early at the Double Tree in San Pedro to get an early start for the hour drive to Auto Kennel in Costa Mesa the next morning. After a comfortable night's sleep and a quick hit of Starbucks, we made it to Auto Kennel early. On the way into town, we spotted a type 2 Volkswagen bus. I thought we must be in the right spot but the air-cooled bus continued on past the address for our destination. "That's right," I thought, "these buses are a regular fixture out here, not a complete rarity at a car show in the North East!"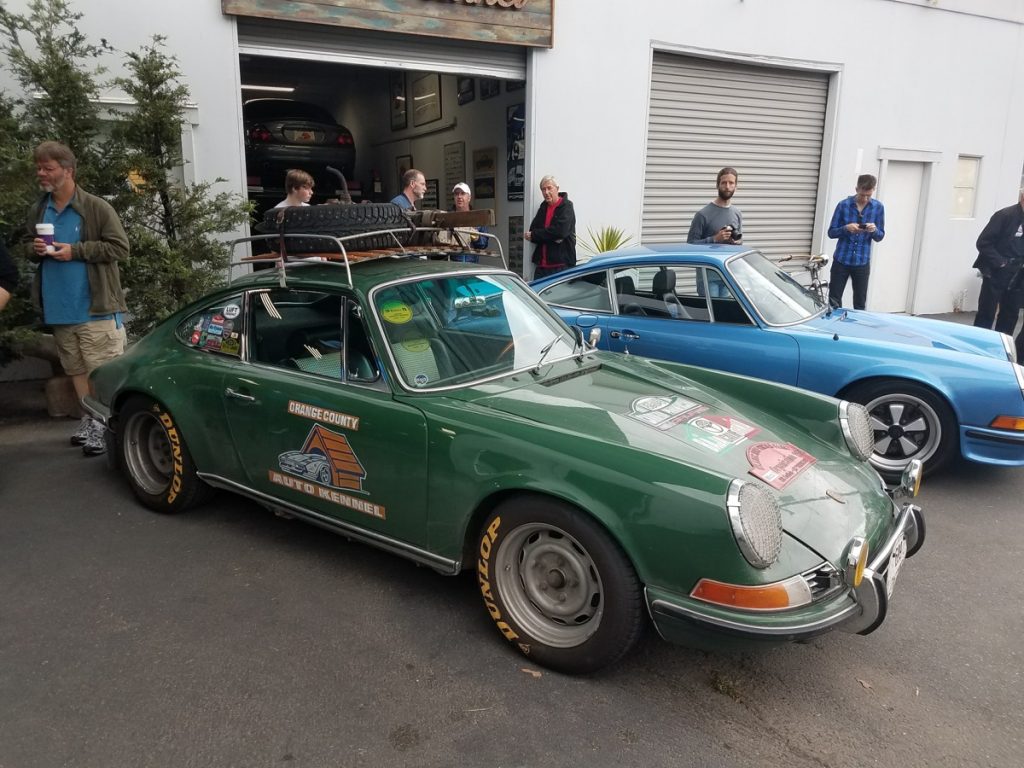 Outside of Auto Kennel, Chris and I hung on the corner like we when we were teenagers waiting for a concert, until we heard the familiar sound of a flat six engine. The Auto Kennel is a bit hidden in a quiet neighborhood but, within five minutes time, cars were starting to pack into the modest parking lot provided by the owners, Paul and Ed Kramer. As the cars came in, it was even more apparent that the West Coast really does have its own unique style. A blue long hood, with Fuchs wheels up front and Mini Lites out back is something you don't see back home, as are the roof racks on the green 911 "Latortuga", an R Gruppe car owned by Paul Kramer himself. A white '72 911 ST tribute, with R Gruppe and Willow Springs stickers on the quarter windows, attracted it's share of attention. Obviously somewhat local, with an Auto Kennel plate frame, it looked like a vario ram engine from a 993 – and you can make a safe bet that there was more to the story. It looked like an extremely serious car. Getting the whole story would have been the smart thing to do, but alas, I was distracted by a large presence of mid-year cars and SC's that had a slight "Outlaw look," which is sometimes seen sometimes seen on The Pelican Parts Forum, but not often.
Rumor was buzzing that they drove cross-country! These guys bring the saying "get out and drive" to an extreme.
Some of these impact bumper cars had dual exhaust, but exiting in the center – a throwback to the old long hood hot rods. Ditching the impact bumperettes and filling the holes was also another aesthetic that was apparent. These '74 and '75 non-sunroof 911S's were so well done, I think if you were to own a water pumper you would want to trade in the modern performance for the vintage feel and look. A group called The G Program from Oyster Bay, NY rumbled up, complete with support vehicle. G Program also had a slightly antique look, ditching the side rocker trim, center fuel caps in the hood, using euro bumperettes, and slightly lowered – these cars looked and sounded serious. Above all, they looked sports-purpose built. Rumor was buzzing that they drove cross-country! These guys bring the saying "get out and drive" to an extreme.
There was an impact bumper 911S from Nevada and a group of great long hoods, a 356 and a type 2 van that drove down from Canada. The green 911E from Alberta Canada might be the most stunning you will ever see. The color, rally lights on the hood and center dual exhaust would stop traffic. Its partner, the red car, with black ducktail and black BBS style wheels was equally stunning. It was a large turn out. Cars parked out on the street and in the small front parking spots. Certainly accepted, and currently sought after, were two super clean 914's. A yellow 2-liter with black Mini Lites. Also on hand – an orange 914-6 ("keys on the left brah"). We met people: Mark and Ken in a 993 that belong to a group that have built a Porsche racecar from the ground up and have been enthusiasts for decades but will still take the time to talk with guys like us who are relatively new to the scene. Bruce Ladd from the Mid-West. We made great friends with Brian and Stephen, just two more of the many friendly people we met that morning. As with most cars-and-coffee, people started filtering out before noon, firing up flat sixes and rumbling out onto the street. Paul and Ed Kramer from Auto Kennel were super friendly and they put together a really nice gathering of great cars, great people, and an awesome food truck with breakfast burritos. And let's not forget the coffee. We started the drive back to San Pedro completely amped for the next day.
The hour drive back went by quickly due to Chris and I blabbering about the cars from that morning – the dark green mid-year non-sunroof 911S with the black wheels possibly the most. About half-way a light bulb went off above my partners head, "We should swing by the venue and see what's going on." Why not?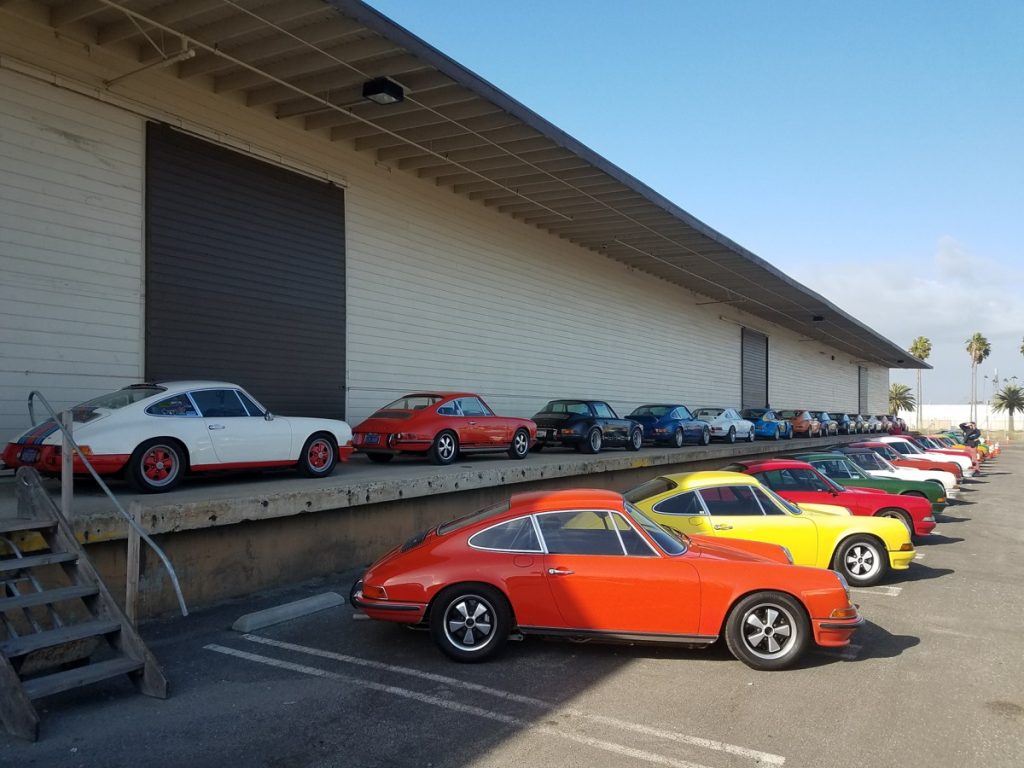 It was an unseasonably cool sixty degrees when we rolled into the adjacent parking lot at Warehouse #10, 112E and 22nd St in San Pedro, and I wish I had my pants on. Crafted at the port of Los Angeles, which is the name of the space where the event was to take place, it is a collection of shops that boast some of the best artisans and craftspeople in SoCal. Its a market/warehouse type atmosphere, there is a brewery, among other shops, and event space. A handful of staff was bustling about and cars were already in the lot, some under plastic sheets due to the heavens that were about to start spitting at us. 356's were lined up at the South end of the lot, with the wind from the ocean only miles away blowing their thin plastic covers. However, up on the loading dock were cars I most certainly recognized from watching a YouTube video called Treffen 2014 (about 75 times over the last three years). Most of them were the infamous R Gruppe cars, and if there was anything I flew across the country to see, these cars were it. Brilliant and fantastic in both color and aesthetic, it was quite a sight to see these cars lined up together in real life. It is like seeing one of your favorite bands up close, larger than life. These cars were all similar in race-purpose look, yet individually quite different. Indeed, Cris Huergas and Freeman Thomas, the founders of R Gruppe, have formed an exclusive group of cars. In this day and age where we're told we should be inclusive in many aspects of life, this is a somewhat refreshing notion to me. Instagrammer Ctansman's car was already there from North Carolina – white with tan deck lid and hood – along with Lisa from Flying L Racing "Oslo " with a blue back-date. After seeing all there was to see, my fingers turning white from the cold, we decided to get back to the hotel, grab some dinner, and hit the sheets. We had arrived, and Luftgekühlt was going to be epic.
At the very least, it sounds like a symphony. The best symphony you have ever heard… one that smells of slightly rich fueled up cars and oil.
The alarm at 4:30 the next morning was not as dreaded as usual. There weren't any school lunches to get ready and no school bus to catch – and there was more than a good reason to get out of bed. We jumped in the A4 and busted out, stopping to fuel up on gas station coffee, and made our way over. Booking a hotel so close to Crafted at the port of Los Angeles was brilliance on Chris's part as it really paid off. The two of us showed up at the same time as the young staff working Luftgekühlt. Still dark with only a crack of light to the East, it was slightly raining. All I could think of was the cars I could hear coming down the road getting wet. Although, it is not nearly as big of a deal out here in sunny southern California. We positioned ourselves at the entrance to the show, not to mention only 100 ft. away from the entrance to the "air-cooled" parking lot. This lot is for people attending that have air-cooled Porsches only. The first two cars that came in were two 914's followed by two long hood 911's. It sounds ridiculous, but a group of flat 6's and 4's is kind of like Christmas, warm sunlight in spring, and sound of the surf all rolled into one. At the very least, it sounds like a symphony. The best symphony you have ever heard… one that smells of slightly rich fueled up cars and oil. Its glorious, man. Glorious.
With the sun just about to creep over the horizon, the clouds were breaking up spectacularly. The rain was lightly coming down and the cars were roaring down the hill with their lights on. Rays of early morning light were coming through the clouds and 356's, 911's, 912's, 914's and 964's, not to mention the blue safari 911 that drove from NY, were buzzing down the hill and around the corner heading for the entrance. Around six-thirty am, a flatbed dropped off a black SC or Carrera 3.2 with a tail that had a hit on the passenger side nose. Someone had said it happened the day before on a canyon run. Brad from 1552's wine-red SC came in, complete with a low stance, ducktail and the gold Outlaw 003 wheels. Walking into Luftgekühlt and getting our wristbands, we moved in among the people and cars, intoxicated by the atmosphere and scene. You could see the cars stretched out as far as the confines of the parking lot would allow. One of the many aspects of these older cars, are the array of special colors – sepia brown, signal orange, Mayan green and sunflower yellow. When put together in massive numbers, you question once again why car companies can't make these colors now. It was quite a colorful Porsche palette of pigment. The R Gruppe cars acquired more company, including Rolly Resos's car – the white, red and black 911 with Shell emblems, came blasting in. There was a long row of 912's. The 912 row started with none other than, Anaheim California's Porsche engine builder, John Benton's "Mein 12". John has owned this 912 for decades, during which he has refined, rebuilt, and refined it again. Unusually understated, with only steel wheels and rally lights, today John has racey decals and the number 64 on it. Mein 12 is hands down one of my favorite cars after watching the short piece on Petrolicious, and it was here in real life! Once the underdog like the 914, the 912's have come into their own, and I suspect some of it is due to John's attention to the plucky little flat four. Less weight in the back means a more balanced vehicle, and Benton builds these flat fours into little powerhouses. Plus, its white. And white is awesome. Also close by was the Benton shop truck – a VW type 1 bus with a bed. Along the fence nearby were some of the best looking 914's you could hope to see. The 914's had defiantly made a showing – yellow with black side script and black Mini Lites, blue with gold wheels… How am I going to convince my wife, Nicole, that I need that 914 2.0 I saw on Craigslist up in Massachusetts?
By now, Chris and I had lost each other in a sea of goodness. The sights, sounds, energy, and enthusiasm were intoxicating. The rain cleared completely and it was shaping up to be an epic weather day. Making my way to the indoor exhibit, I stopped to see Joshy Robots 911T with a box of diapers and case of beer on the roof racks. He has a massive following on Instagram and drives his car without reservation, fighting the urge to cosmetically restore the car. His many fans applaud him for using his car for family duty (he has a baby and wife on board) and also participating in The Pod-casters "Driving While Awesome" Coastal Range Rally they've organized the last few years. Next to Josh's car was a strange, unrestored VW/Porsche that resembled a 356, wait scratch that…rather a Karman Ghia, with a Rhode Island plate! Now if that is not a sign for us to be at Luftgekühlt, I do not know what is. I still do not know what that car was either…
Stepping inside the high-ceilinged, exposed, wooden-trussed, industrial-type building was life-long vintage Porsche builder Rod Emory's slate-grey type color 356 with a 964 drivetrain complete with roof rack, trail bike, and road cycle. Keeping with that theme was a gorgeous marina blue 914 with matching Fuchs, roof rack and surfboard. See, these cars are totally practical, no ? Along the wall of very unique Pirelli art with exposed upright beams was a Turbo Carrera in chiffon white with the more rare, swooping rear quarter Turbo graphic that thins as it extends to the nose of the car. The majority of the cars inside were historically significant – the 904 Carrera GTS, the 550 Spyder, the 1949 Gmund 356 SL that won Le Mans in 1951. Possibly the most popular these days, and most interesting to me, a white 1967 Porsche 911R. I once read that the 911 R was the reason for the obsession of the two founding members of R Gruppe. Followed by a 2.7 RS, SC RS, 964 RS and 933 RS, also all in white – a sight to behold. The Gulf-liveried 917, a green 959… That is something we will probably will never see again. Working on a mural at the far end of the space, Mark Morgan from Triple Espresso was drawing, in real time, with black ink on a huge white wall, a sort of historic Porsche timeline. Portraits of Ferry and Ferdinand Porsche, Steve McQueen, and all the models from the 356 to the last of the air-cooled 911's. This was a highlight, because to me, the mix of car design and art go hand in hand, like Ray Bans and beat up Levi's. Touching upon the subject of art, Singer Vehicle Design had brought three of their cars. These cars are gorgeous and exceed the photos we have seen. The mustard yellow car, white coupe with black side script and the marine blue car with orange Fuchs and deck lid script were all there. The orange Jaegermeister RSR, a perfect Irish green 912, and the list went on…someone actually told me that Mr. Seinfield looked very interested in that green 912.
Walking back outside, I managed to meet up with Chris who had a huge smile on his face looking at the ruby stone 964 over near a yellow '73 Carrera RS. The sun was out, the mist had burned off, and it was warm and nice. Also outside, Patrick Dempsey's Brown '82 SC. Sitting there like a huge cup of French roast coffee with a shot of cream with gold wheels and whale tail. The interior just as rich, with brown leather with white stitching, and tan carpet. Dempsey's car has a Momo Prototipo steering wheel. Chris saw Dempsey drive into the lot, and then watched as members of the female persuasion pursued the brown SC. Dempsey's car was in an area that seemed to be concentrated with colors – a cashmere beige 911S 2.7, a gold 912 with one center exhaust pipe and black cookie cutters, another 912 possibly in signal orange and a white 911 with steel wheels… As we moved toward the front of the building, we noticed Los Angeles clothing-and-style businessman turned car-collector, Magnus Walker. He was hanging out and conversing with a handful of people by his freshly completed Gold right-hand-drive 911 Turbo. As mentioned previously, me being relatively new to these cars, he was a large part of my growing interest. Magnus has changed people's perception of the brand by highlighting the driving aspect of the cars instead of just waxing and showing them off. Wearing patina and dust as a badge of honor and, like R Gruppe, assuming a race-inspired look or aesthetic, his enthusiasm for the cars is infectious. And most of his appeal lies among the younger Porsche fans. Without a doubt, he has been one of the reasons for the recent interest in older Porsches and the cars increasing values over the last 5 years. Magnus and I met briefly, shook hands, and of course, Chris snapped a picture of the two of us. It may be framed and put on the wall somewhere in the house.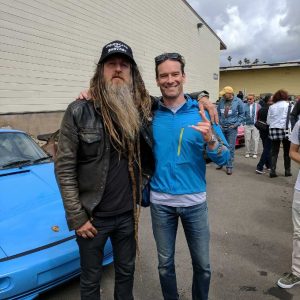 We made our way once again by Mein12 and the line of 912's, the 914's with the fender flares, to the "air-cooled" lot. This is the attendees air cooled parking, but get this, these cars will force you to linger as much as the main show itself! These may be "average cars" for the West Coast, but to two guys from the Northeast, they are mind-blowing. Older long hoods that look mostly stock and factory, hot-rod-looking long hoods, early impact bumpers, SC'S, Carrera 3.2's, 914 2 liter and flat 6, 912's, a group of really low stance 964's, owned by younger gentlemen, some with three piece wheels, and the 993, the last run for the air-cooled cars. Some of these cars had patina that is impossible for someone from the salty and rusty Northeast to fully comprehend. Like the green Euro Carrera, but unbelievably, it had Maryland plates. So much for that theory. Some of the paint on these other cars was flawless. The colors on these cars in the air-cooled lot were just as spectacular as the cars inside the show. Due to the vintage, the mid-years, SC's and Carrera's had tasteful upgrades and small custom touches. No two were alike. Like any other area of car culture, it relies on individual taste and freedom of expression. Different exhaust notes, backdating exhaust, stock ride height, lowered, differently colored body panels, deleting trim and bumpers to lighten the cars etc – and Luftgekühlt highlighted this aspect as I had never seen before. Many of these cars are interesting because some of them you might be able to stretch to obtain. Your $10,000 914, or your $30,000 '75 911S 2.7 for example. And that could be the best part about Luftgekühlt. Sure there are historic race cars, and triple figure 993 C4S's, and triple figure long hoods, and old Turbos, and 964 RS America's… However, most the people who own them will also hang out and talk to you about that 914 2.0. Because they get it. They appreciate everything.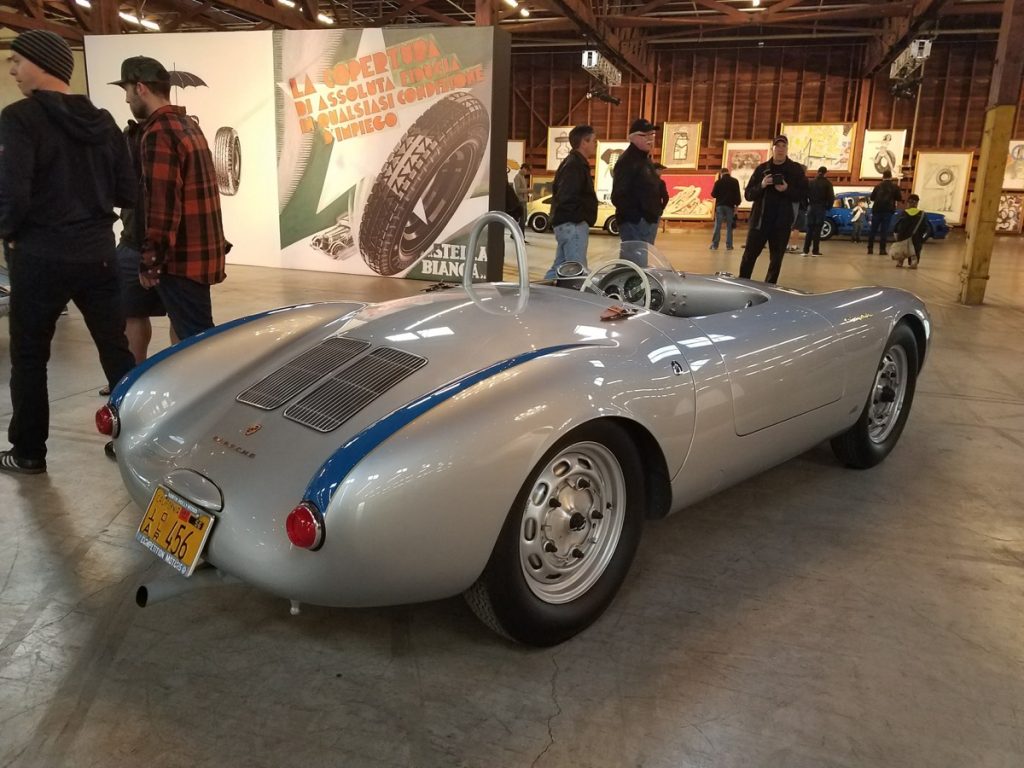 The sheer number of people and cars really made an impression. Just the air-cooled lot alone must have had over 200 0r 300 cars, possibly more, not to mention the curated show itself. People have traveled from all over for this annual air-cooled cars-and-coffee event every year in the Spring. How do they know about it, word of mouth, a friend of a friend ? Here lies something possibly even more beautiful than the sound of a flat six with a throaty exhaust: Idelson and Long do not really advertise for Luftgekühlt. They have a website and they announce the date. People on Instagram spread the word fast like a California forest fire. Maybe faster. But it is still pretty much grassroots. Chris asked me rhetorically why I thought they have not opened it up to vendors or manufacturers of whatever Porsche items or parts etc. I believe that would steal the magic. Luftgekühlt is honest and pure right now. The only things for sale are t-shirts, hats, posters and what not. And I am sure that is to cover some costs. But that is all. Its people hanging out, talking about cars and appreciating Porsche's past. No marketing, no commercialism, and no real hype.
As the sun started to get low in the California sky, Chris, our new friend Brian from the day before, and myself, were almost the last to leave that afternoon. We watched a few transports load up some cars, some of them the real deal racecars from inside the building. We hung out with Lisa, from flying L racing from Yorba Linda California and her two girlfriends, and asked them about their cars. Rod Emory was buzzing out of the lot with a 356. Two red, older hot-rod 911's were just sitting out as if someone had forgotten them. Charles "cstanman" Stanley drove out throwing up the peace sign. We did not want it to end. We did not want to leave. Brian, Chris, and I finally busted out of the parking lot. It was practically empty, as was the air-cooled lot. After some In and Out burgers, we said our goodbyes to Brain and caught the flight out the next day.
If you are planning a trip to So Cal next spring, make sure it includes the first week of May so you can get out to this air-cooled extravaganza. People say it is a bubble and the values will come down, that it is a trend, that it is for hipsters or wanna-be's… But this is an era. It is a period where there is great interest in an older, quirky piece of vehicle history. This show is a place where all sorts of people meet to appreciate an odd piece of engineering and styling. It has sparked a flame in the old and young alike. It's the unique mechanics. It's the styling, it's the look, it's the scene. It has brought together mechanics, enthusiasts, racers and artists. This massive air cooled Porsche show was three weeks now, since returning home I'm still thinking about that weekend in San Pedro…that, and everyone is still posting pictures on Instagram 21 days later! I know we'll be back next year, for sure, to see the 5th year of Luftgekühlt!
Thank you, Josh, for sharing your story with us! Do you have a story to share? Email it to us with pictures (please be sure to add photo credits) and we may be able to use it in the Nor'Easter, the website, or both.