With the recent coverage about modern cars, it's time to renew our attachment to those loveable Tubs, which is the basis for these monthly columns. The very best way to do that is to get back on the road. So let's take a drive to the Catskill Mountains in New York.
 As many know, the 356 Registry has groups all over the world, and many of them have annual events like the TYP356NE, the local New England region. One of the active groups is FOG, or the Florida Owners Group. Every other year they organize what is called the Helen, GA Drive. Helen is a town set up back in the '60s with a German theme to attract tourists after the lumber industry died. Touches of Bavaria are everywhere, and a local road is Rt 356.
 A group of us have made the run down to the north Georgia mountains four times now. There are BBQs, swap meets, and lots of drives on mountain roads (like Tail of the Dragon), all in a low-key, run what you have brung atmosphere.  Collecting more Tubs while passing through NJ, PA, and Maryland made for a great caravan. Over the years, we have talked about having the same sort of event up north on alternate years.
Since 2020 was an open year, a few of us started planning back in 2019 and found a great location near Catskill, NY, a German resort from the '50s that was still operating. It is called Riedlbauers Resort, has over 50 rooms, a banquet hall, and is surrounded by Porsche roads that run all over the Catskills. Brother Bill set about designing drives for the group, and a couple of guys drove over from New Jersey to take an onsite look.  
 It looked like a go, and the wheels started turning, but we all know what happened to the summer of 2020. Everything was put on hold.
This year is the Helen Drive again, but we're gearing up for 2022, which will be called the Catskill Treffen.  Given the time available, it was decided that we should all gather at the Resort in Round Top, NY, to do a recon weekend. The end of July looked good for everyone and a couple of guests, so the Tubs were gassed up and pointed to the woods. By now, one of our group was voted in as a Registry Trustee, so we even had a VIP in our midst.
I decided that – rain or shine – the Speedster was going. The convertible top is still in the garage loft, but as many know, I've been wet before. I've had that car for 45 years, and my brother has had his for 55 years. In all those years, they have only been together a few times. My restoration was finished in 1999 and his in 2010. When he had his car at the last few Helen drives, I had the Puddle Jumper. When he drove his Speedster to the NJ holiday, I took a '65 SC I had at the time. It was time that they got together again. 
The weather forecast looked iffy the first travel day, but the following three days looked perfect, so Jeff Leeds and I took off on the Mass Pike after rush hour. There were only a few sprinkles until we got past the Lee exit, and then the sky opened. Thank goodness for overpasses. The first one available was filled with two large black Suburbans, but just a couple miles further, there was space.
The rain only lasted about 30 minutes and then it was only another hour to the resort. Bill and Bev had come in the day before, so the two Speedsters posed for a photo opportunity in front of the main building.
The resort includes breakfast, but unlike the big chains like Super 8 or Hampton Inn, they serve only sit down, and it starts at 8:30 am. Only. Did I mention it was a family-owned German resort? There are eggs any way you want them, bacon, sausage, and two kinds of cereal. A pitcher of orange juice, coffee, and milk was on each table. They also alternate French toast and pancakes, but they don't serve both on the same day, so if you want pancakes, it better be the right day. Everyone working there seems to really like what they're doing, and the place has a really nice family feel to it. The family owners can be seen clearing tables and serving food when needed.  Dinner is similar, and the menu is posted, so you know what to pick. It's all served family-style with plenty of bread and butter on every table. 
The bar has a great vibe with lots of German beer on tap, and Johnny and Jack are there too, our kind of place. There's even a Juke Box that plays 45 rpm records, period-correct, of course.
We drove two of the tours that Bill had laid out, with the one on Sat ending at a small airfield with an airshow in the afternoon. The Old Rhinebeck Aerodrome has  8-9 operating biplanes that put on a great show. One of the oldest that was flying was a 1911 Curtiss Pusher Model D. 
Short rides are offered in an open cockpit biplane which Bill and I jumped into. It flew at a speed that our Tubs would've seen in third gear and went over the Hudson River, doing a couple of sharp turns to get back to the grassy runway.
The show lasted almost 2 hours, and they do it every weekend in the summer, both Sat and Sun. Big crowd, lots of kids, and great fun. They even had a separate parking spot for us near the runway so we could be part of the show.
Another driving tour took us over some great Porsche roads and to the first round barn I've ever seen. We took a group shot to be used next year to promote the event, but when word gets out what a great area the Catskills are, I don't think we'll have a problem filling all the rooms.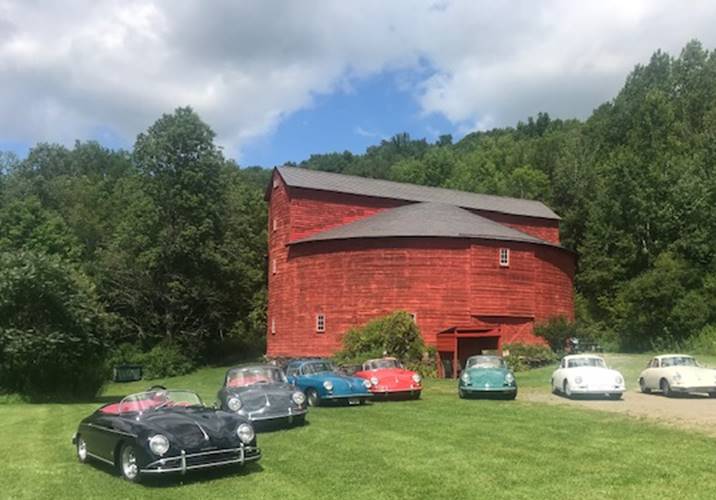 Blackie ran great all weekend, made a lot of noise, and posed for photos when returning home on the Mass Pike. Somewhere around Exit 2 (now Exit 27? What?), one cylinder became part-time and only came to life under full throttle. I, of course, completely overthought the problem and had everything from a clogged main jet to an out-of-time distributor as the cause. I didn't want to stop because it was running well enough to keep up with traffic, and stopping on the Pike has its own set of problems. It is classified as a restricted road and is not covered by AAA. If you must be towed, the State Police will send a tow truck that will tow you to the nearest exit, where you can then call AAA. The State Police contract says the nearest exit is $256 away. No wonder they show up so fast. Don't ask me how I know that.
That ride gave me two hours to worry about what the problem could be. When I got home, it was lunchtime, so I let Blackie cool off, had a bite, and then jumped into the engine bay. I pulled the carb main jets first, they were clean, then checked the timing with a static light, and it was fine. I was going to pull the spark plugs to see if one was faulty, and the first one I reached for was number 3. The plug connector was just lying in the hole near the plug but not connected. I certainly don't know how it came loose because nobody had been in the engine compartment except me, and it ran great all weekend. It also ran strong under full throttle, which doesn't make sense if one plug wire was off.
I can only assume that Blackie was having such a great time in the Catskill Mountains playing with his friends that he didn't want to go home.  These old cars are like that, trust me. The more you drive them, the better they run. Until it's time to go home? – KTF