Thursday, April 14 is to be a day of finally driving real southern roads. 
Up to now it has been all interstates and connecting local roads. Linda and I (well I much more than Linda) have been looking forward to these mountain roads for some time. 
Skyline Drive is about 105 miles long and snakes along the crest of the Blue Ridge Mountains in Shenandoah National Park.  It begins just south of Front Royal and ends at Afton, Virginia.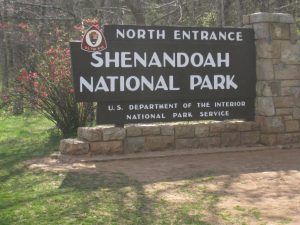 Long before I met Linda, I was into motorcycle touring big time.  One of my dreams was to drive Skyline Drive and the Blue Ridge Mountain Parkway on my Yamaha touring bike.  Now that dream would be fulfilled …. but on 4 wheels not 2.  Driving this ribbon of asphalt should be a real joy in our 911 Porsche. 
Skyline Drive is part of the National Parks System.  Thus, there is a modest $30 charge for admission.  BUT… if you have a National Parks Pass (we have had one for about 10 years) you can just show your card and off you go. 
Since we are driving on a Thursday in April, there was practically NO traffic on the road.  The speed limit is a modest 35 MPH and I need to keep an eye on the speedometer as occasionally I would look down and be hitting 60.  The road is all black top, double yellow line and is in GREAT condition.  You are constantly climbing and then dropping down, negotiating gentle curves and some tight switchbacks.  This is a perfect road for a Porsche.  But I have to remember it is a road for touring, not racing.  We are here for the scenery and by golly there is some great scenery.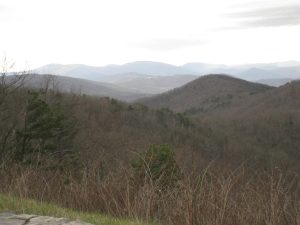 Every couple of miles there are scenic overlooks where you can pull over and take in the view.  Some overlooks will have a marker with a bit of history of the area and/or the spectacle you are gazing at.  Linda and I had planned to spend all day on this section of road.  Since it is 105 miles long and the speed is 35 MPH, we reasoned that it would take us most of the day to complete the task.  We were certainly correct in this calculation.
One fact we discovered the hard way was is that traveling in mid-April has certain disadvantages.  Due to the time of the year many of the rest areas along the drive were closed and locked.  For people of a certain age this can be discouraging.       
Fortunately, about half way along at Mile Marker 53 the Harry F. Bird 
Visitor Center was open.  A bonus for us is that there was a great little museum (no charge) that explained the history of Skyline Drive and how/why it was built.  We spent perhaps 90 minutes here and I personally was struck with the "stories" of the local people who had to sell their land to the government so that the road could be built. 
What was really fascinating (to me at least) is the fact that MANY families lived out here in the mountains of Virginia and the Carolina's.
Their homes could best be described as rustic.  Local roads were in name only being mostly just cart tracks for horse drawn wagons.  Yet families had existed this way for many generations, living off the land and somehow managing to survive.  When the decision was made to construct Skyline Drive and The Blue Ridge Parkway all this land had to be surveyed.  A price for the land and buildings had to be determined, then eventually sold to the Federal Government so that work could begin.   Just the logistical complications of this boggled my rather feeble mind. 
Sometimes a museum can really open your eyes to a fact of life that you had never considered.  This modest but well thought out space was certainly one that gave my brain a nudge. 
Refreshed after our stop we were back in Miss P and touring the second half of Skyline drive.  The weather was gorgeous if a bit chilly and the road was pretty much our own.  We'd pull off at an overlook and gaze for a while and all this time no other car would pass by either north or southbound.  Truly we had this place to ourselves and I must say we and Miss P really enjoyed the trip.  I can't believe it is like this in the summer time, or especially in Autumn during foliage season.  But April seems to be an ideal time for traversing these southern roads
By 4:30 we had finished our Skyline Drive journey and it was time to call it a day.  
Afton is the first town one encounters after the southern exit from Skyline Drive.  Linda had booked a room at the Afton Mountain Bed & Breakfast located the Afton / Waynesboro area.  This was our first B&B in many years.  The house was built about 1855 and had great local history.  It was clean as a whistle, the bed was comfortable, the owners were friendly and the breakfast in the morning was top notch. 
During breakfast we were seated with a nice couple from the Michigan Upper Peninsula.  Linda and I were traveling Skyline / Blue Ridge from north to south.   William and Susan were traveling the same roads but from south to north.  They had been to the Biltmore in Ashville North Carolina (our eventual destination) and gave us some good tips on the what to look for on the house tour. They even suggested we take the "back stairs tour" which they highly recommended.  Unfortunately, when Linda tried to book this section of the tour later that morning it was sold out.  Bummer.
William gave me a heads up, noting that certain sections of the Blue Ridge Parkway were closed and that we should be aware of this.   He commented that they had driven north about 15 miles along one section of the Parkway and came upon a ROAD CLOSED sign.  They could go no further and had to turn around and retrace their steps.  William was NOT impressed. 
As a side note, for our Porsche Taycan drivers, the Afton B&B has an electric charging station for your EV.  I asked and there is no extra cost for this feature.  Like the morning breakfast it is all included in the rather modest nightly fee.
As we depart our overnight abode, we are set to begin our first section of The Blue Ridge Mountain Parkway.  What new experiences will be on tap for today?  Only time … and miles… will tell.
Next Time
The Blue Ridge Mountain Parkway…
-Ray Boyer