A Drive Down Memory Lane
I'm back from the Watkins Glen DE, and it's column time.  After a very wet driving season (no, I don't have rain tires because I have no interest in getting soaked and scaring myself), it was great to have decent weather.  Despite some clouds, I got in all 4 of my runs on Friday and Saturday, and Sunday saw perfect weather and five sessions as Adam combined the final Red, Black, and White run groups.  Plus, I drove a couple of student cars and had a session in Bob/Marcia Binder's 2010 Cayman (almost identical to mine – the blip-shift is a great addition! – thanks!).  Congratulations to the NER DE team for a great event.
I love Watkins Glen – both the track and the area. I have very fond memories of my times there and probably have written about them in some previous column – if you can find it, you should read that one which is probably better than this will be.  But with talk of Porsche returning to F1, let's have a little history lesson – some personal, some Porsche.
While early 356's were successful in racing, the first pure Porsche racecar was the Typ 550 (well known as the James Dean car), which first appeared in 1953.  Like the 356, this had a flat-four air-cooled engine, but, unlike the 356, this had the 4-cam Fuhrmann engine (code 547) in a mid-engine location. It competed successfully in sports car racing, and an updated model raced in F2 races (initially as a two-seater, then as a single-seater).  When F1 changed to a 1.5-liter formula in 1961, the former F2 cars were now eligible.  Labeled Typ 718/2, these cars made 186hp @ 8,000 RPM and, weighing under 1,000 lbs, were capable of 150+ MPH (with drum brakes!).  For the 1961 season, "Porsche System Engineering" campaigned two cars in all 8 Grand Prix for Dan Gurney and Jo Bonnier.  Gurney (Car and Driver Magazine ran a campaign for him to be elected President in 1964) placed second in three races (including Watkins Glen) and finished the season fourth in the Driver Championship while Porsche was third in the Constructors Championship.  Ferraris were dominant, winning the Constructor Championship and Phil Hill winning the Driver Championship (after his teammate Wolfgang von Trips was killed in the next to last race).
For the 1962 season, Porsche introduced a new model, the Typ 804, which was similar in appearance to the Typ 718 but built to accommodate a flat-eight air-cooled engine (code 753).  Although slightly heavier and with no more power it was narrower, lower and smoother, which contributed to a higher top speed (167 MPH).  It was the first Porsche to use disc brakes and rack and pinion steering.
The 1962 F1 season saw a complete reversal from 1961:  the British constructors were ascendant with new V-8 engines, and Ferrari struggled with labor woes.  BRM won four races (Graham Hill), Lotus three (Jim Clark), and Cooper one (Bruce McLaren).  Porsche again campaigned two cars for Gurney and Bonnier, and Dan won the French Grand Prix – Porsche's only F1 win (until 2025?).
1962 was the fourth year that the U.S. hosted an F1 race:  Sebring in 1959 and Riverside CA in 1960.  But those events were unprofitable, and Watkins Glen got the race for 1961.  (Attendance was 60,000, and the race continued to be at Watkins Glen until 1980.)  The course was very different from what we drive.  While somewhat similar to the current NASCAR layout (which omits "the boot"), there was no front straight as we now know it.  It was 2.35 miles long. 
Since Ferrari was totally out of contention, they didn't bother to come to the Glen in 1962 (they also skipped 1961 because they had already won the Championship).  With one race left after Watkins Glen (the South African Grand Prix), Hill could win the Championship if he finished ahead of rivals Clark and McLaren. 
The race weather was dry but overcast. Ask me how I know.  My Dad and I had packed beer, a cookstove, and sleeping bags (no tent or anything useful like that – we were not a camping family) and headed to the race.  On the way out, I drove the 356 for the first time (underage, of course).  My Dad pulled over on the N.Y. Thruway and turned it over to me.  As I carefully matched the speed limit, he prodded, "if you are going to drive, then drive it," and I was probably around 80 as we passed a State Cop in the median.  I saw my life flash before my eyes.  But he stayed put, and I pulled over as soon as we were out of sight.
We arrived the day before the race, parked in the infield, and set about cooking a steak.  After dinner, we wandered around and then attempted to sleep despite some fairly rowdy and drunken neighbors.  Although not cold by October Watkins Glen standards, it was pretty chilly on the ground in a crappy sleeping bag, so we retreated to the 356, reclined the seats, and spent an uncomfortable night.
Qualifying was different in 1962 than it is now:  practice and qualifying were combined, and there were sessions on Friday and Saturday afternoons.  Clark, in his Lotus-Climax, set a new course record of 1:15.8 (averaging 111 MPH with ~185 HP on skinny tires!) on Friday, and this held up due to rain on Saturday.  He started on the pole among a total of 18 cars.  Gurney qualified fourth.
Without a cell phone and Race Hero or big scoreboards, it was pretty difficult to follow the race.  The report which follows is based on web research, not my teenage memory.  (And actually, I had always thought I went to the 1961 race.  It was only in researching for this column that I noticed the number on Gurney's car, which meant it was 1962.)  Clark and Graham Hill ran away with the race, swapping the lead a couple of times, but Clark winning by 9 seconds.  No other cars were on the same lap, and only 13 cars were running at the end.  Gurney ran as high as third, but his car fell off at the end, and he finished fifth.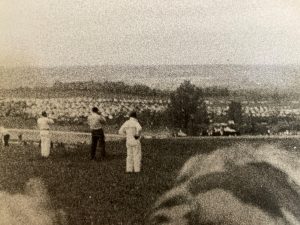 In the final race of the 1962 season, two months later, Clark was leading easily before an oil leak ended his day. Graham Hill won the race and the Championship. 
Back to the Glen story, my Dad and I packed up and headed home.  He drove the whole way.  I later went to one other WGI F1 race with my Dad when I was in college.  That was the first time I ever had a beer in the morning to combat a hangover. 
Everyone needs to go to the Glen! And make sure you drive the old original road course.  Here is a nice article about the history of the courses used.
Interesting note: the really crappy pictures that I took were done with the camera that is shown in one of the pictures, which was a pretty weird little camera – not a common one. It was a half-frame 16mm thing, and the pictures always sucked. I don't know why my father used it.
– Bill Seymour