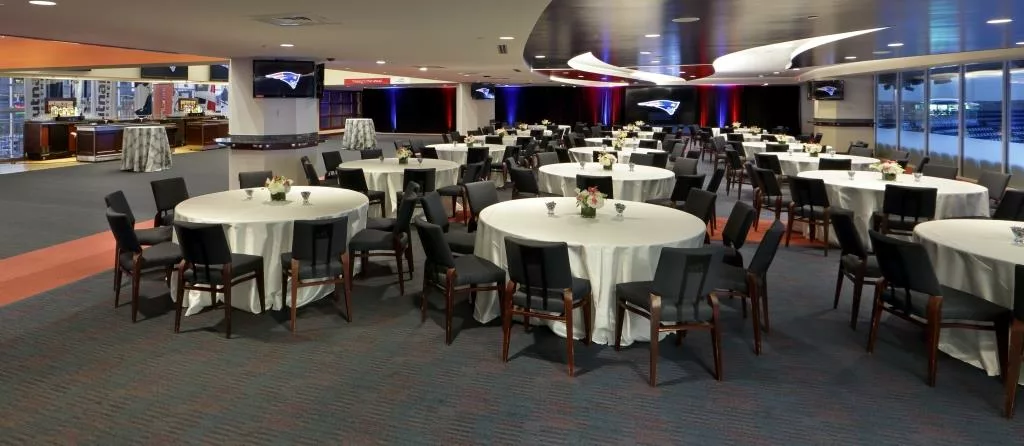 Join us for the annual NER PCA Gala being hosted at Gillette Stadium on MARCH 26th in Foxboro, MA.
Enjoy off-season cocktails and a delicious dinner with your PCA friends while you re-live some of your favorite memories from 2021 on the big screens inside the Putnam Club Lounge. There will also be a live auction to benefit Homes For Our Troops and special awards honoring a few of our outstanding club members.
If you haven't been to Gillette in a while, the area offers many activities nearby for those who want to make a full weekend getaway out of it, and we will have a block of hotel rooms at the Hilton Garden Inn within walking distance of the banquet for (TBD) per night Friday and Saturday. Not only is the Patriots Hall of Fame next door to the venue and plenty of opportunity for shopping at Patriot Place, but one of New England's best indoor go-kart facilities is also a mile down the road.
We can arrange for a tour of the stadium before or during the event for an additional $15 per person if enough people are interested.
Tickets are $75 per person and include dinner + 1 beverage.
Hotel rooms are available for $(169)/night must be booked using this link no later than February 24th: Hilton Garden Inn NER PCA group
We have also added the option to purchase tickets for a brief tour of the stadium at the start of the event. 
Dinner options include:
 Slow Cooked Boneless Beef Short Ribs: Served with Buttery Mashed Potatoes and Chef's Selected Seasonal Vegetable
 Basil Seared Salmon: over Garlic Smashed Potatoes and Chef's Selected Seasonal Vegetable Finished with a Lemon Butter Sauce and Grilled Artichokes
 Penne Pasta (vegetarian): Served with Roasted Garlic, Cremini Mushrooms, Sautéed Spinach, Basil, Grilled Zucchini, Roasted Pepper Wedges, Roma Tomatoes and Marinara Sauce with Alfredo Drizzle
PLEASE NOTE: Tickets will NOT be sold at the door. This is a catered event and we cannot add to the headcount after the ticket sales close on March 21 so please make sure to order your tickets before the deadline.