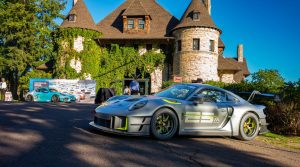 Larz Anderson Automobile Museum
Brookline Massachusetts
January 7, 2023
SOLD OUT!
If you wish to put on a waiting list, please contact Glenn Champagne at [email protected]
Enjoy off-season cocktails and a delicious dinner with your PCA friends while you re-live some of your favorite memories from 2022. As usual, we will present special awards honoring a few of our outstanding club members and introduce our 2023 board members!  Catch up with friends from autocross, DE, and the many social events while our cars hibernate.  In addition, we will have the opportunity to support our charity of choice Homes for our Troops via a silent auction and a few items via a Live auction hosted by NER's own Tom Tate!
The Larz Anderson Auto Museum is not only one of the premier auto museums in New England, but also home to "America's Oldest Car Collection".  For more than 85 years the Larz Anderson Auto Museum has been supporting the community through a variety of educational programs, exhibits, and lectures.
If you've had the pleasure of visiting before, you'll surely want to return. Most of us have attended lawn events and car shows outdoors on the great lawn.  Members & visitors from across the country have enjoyed the fabulous collection of cars past and present at numerous exhibitions over the years. If you attended The Car Show in September sponsored by our friends at The Boston Cup and The Cayman Islands Department of Tourism, you've experienced the stunning room in its grandeur.
Tickets are $95 per person and include dinner + 2 beverages.
Attire:  Men, jackets required.  Suits and tuxedos are welcome.
About our chef, Chef Anthony Ambrose was formally trained by local and French Michelin multi-star  chefs. Esquire Magazine named him chef of the year and his television appearances include the Food TV Network, the Nantucket Food & Wine Festival, The Discovery Channel, CNN, and guest celebrity chef for the James Beard Foundation Great Regional Chefs of America Series.
Dinner options include:
 Roasted Short Rib: Sweet Garlic Fingerlings with Ginger, Port, Lime Leaf Glaze & Miso Carrot Puree
Pan Seared Halibut: with Shiitake Scallion & Truffle Risotto
 Roasted Hen in Garlic Chive oil: Honey Roasted Root Veg with Pineau Des Charentes Sauce
Crispy Garlic Fried Tofu (Vegetarian), Red Quinoa, Braised Fennel Golden Beets and Roasted Fingerling Potatoes
Registration Note: Please enter your Guest Names and Their Meal Choice in the Guest Names & Meal Choice field when registering.
Other special dietary needs, please email Betty Mosley [email protected]
PLEASE NOTE: Tickets will NOT be sold at the door. This is a catered event, and we cannot add to the headcount after the ticket sales close on December 27th, so please make sure to order your tickets before the deadline.