NER's first Driver Education event of the season took place on Sunday April 24th at Palmer Motorsports Park.  No, this wasn't your usual DE, rather it was the annual Ground School – held at a racetrack (rather than the usual location at HMS Motorsports in Danvers).  And a great idea is was as it allowed those attending to do parade laps and see what a really cool racetrack looks like.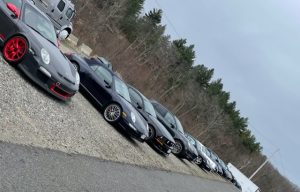 There was an excellent turnout:  40 registered and 37 of them showed up plus there were 24 "day of" drop-ins for a total of 61 Green student wannabees.  The day started with coffee and pastries (courtesy of David Peterman and Panera) served in the main Palmer garage. Once all were settled we were greeted by co-Track Chair Charlie Kenney (Adam Schwartz stayed home so we wouldn't catch anything bad) followed by a series of presentations that explained what DE is, how to sign up, how to prepare for an event and then what to expect at an actual DE event.  Driving tips (apexes, friction circle, flags, etc.) were NOT explained – that will come at the events themselves. What the attendees DID learn about were…
Dave Berman explained the instruction process and instructor/student pairings
Paul Skinner explained how to register, car numbers, etc.
Aaron Murphy detailed the car tech form and tech line process
Cody from HMS talked about the required safety equipment
Judi Mansing promised wonderful social hours once the track is cold
Ed Mansing described how NER's program fits with our sister region NCR's parallel program
Mike Woodward talked about what goes on in a typical track day and how to get the most out of it.
Charlie highlighted the tracks we visit
With all of that good stuff in mind, attendees were then sent out to do some parade laps so they could get totally psyched up. The laps continued until the "meatball" flag was shown which signaled that pizza (courtesy of HMS Motorsports) had arrived (they should have shown the "pepperoni" flag but that apparently was at the F1 race in Imola that weekend). Good pizza, some soft drinks, some more chat and everyone went home happy and newly knowledgeable.
In my role as DE Crier I made sure to chat up some of those attending. While most were clearly there with the intent to do DE there were also some who saw this as an opportunity to meet some PCA folks, see the Palmer race track and MAYBE get talked into doing a DE. I suspect some will indeed start down the slippery slope. One such was Joanne Young of New Braintree who showed up in a very pristine 2005 Boxster.  I was her right seat passenger for a few parade laps and then took the wheel to better demonstrate the Palmer "line."  Great fun.  During pizza time I had another nice chat with mother and daughter combo Nita and Jenna Moton.  Nita recently moved from Los Angeles to be closer to her daughter and her 911 is in the process of being shipped here. I forgot to tell them that it's OK to share a car at DE (although difficult if both are Green novices).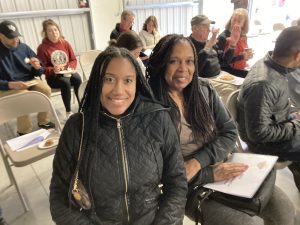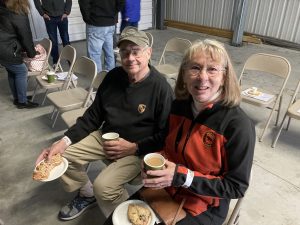 So all in all it was great day with good learning and the fun of parade laps. If you were there I know you will agree.  But let's end with this note:  if you haven't done a DE, would like to, but missed the Ground School, YOU CAN STILL SIGN UP FOR ANY OF OUR DE'S. See you at the track – and come and tell me a good story.
And thanks again to Panera, HMS Motorsports and hosts Palmer Motorsport Park!