It became a glorious day for our Porsches and Coffee at our first meet of the season at Sweet Berry Farm.  More than 60 cars parked on the newly mowed lawn bounded by blooming apple trees.  The island, cooled by Narragansett Bay kept the temperature in the 70s, while inland temperatures were in the 90s.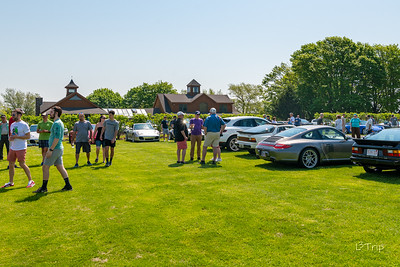 I must mention the recent service on my 911 C4. I noticed that the black paint on the radiator's air diverter below the bumper had worn off; the leading edges were now grey, and there was a small hole in the plastic probably from a stone. I asked the service advisor if we could just paint it; he replied "No". I said "I suppose the replacement costs is around $700.00". He said "actually it's around $720". Although I didn't try it, my advice to you is try the paint.
That leads me to another story: My one and only Navy shore duty assignment in 20 years was my last three years assigned to the Navy Underwater Systems Center, Newport RI as the Junior Project Engineer for the Mk 117 Fire Control System (the first digital submarine combat control system). For those of you that remember the blizzard of 78, I was the base duty officer the next day and had to drive on the base and relieve another guy. As I approached West Main's 2 Mile Corner I saw a pile of snow nearly two feet high across the road. At that time, I had my 65 356C and was confident driving in the snow. I hit the snow square on; the Porsche's bottom pan acted like a ski and slid right over the top and I resumed driving the last mile or so to the base; no dents or bruises.

I was reminded of my 356C pan story when I interviewed newcomer Daniel Smith who arrived in his first Porsche. I believe he was the one that told me that the panels beneath the car were missing because the previous owner removed them believing that the engine would run cooler, thereby easier wear on the engine, an incorrect belief. Removing the panels really does negatively affect the car's handling, especially when passing through 100. On my 996 the panels have to be installed from rear to front, ensuring that the panels correctly overlap.
Meeting a retired ex fast attack submariner like myself, it was fun to reminisce not only about our careers but also our Porsches. This was Daniel Smith, who along with his children Elan and Eden, arrived in his first Porsche, a 95 993 with just 75k miles. Purchased in Omaha he enjoyed the drive back home. Daniel had a poster of a Porsche in his room as a kid, and in his neighborhood there were three Porsches. Daniel enjoys working on his Porsche, loves the ride and the sound of the door closing, "sounds like a bank vault".
---
Sterling Vernon parked his 86 944, exterior Grand Prix White with a Burgundy interior and wood inlays, with about 120k on odometer. Owner of 6 Porsches, Sterling has always been a Porsche Guy. When he was about 8 years old his uncle took him to his first ball game at Fenway in his 1970 911 S. Sterling's first Porsche was a used 99 Boxster, then in 2003 a new Boxster. Additionally, Sterling enjoys wrenching his Porsches saying "It's the pleasure of the drive".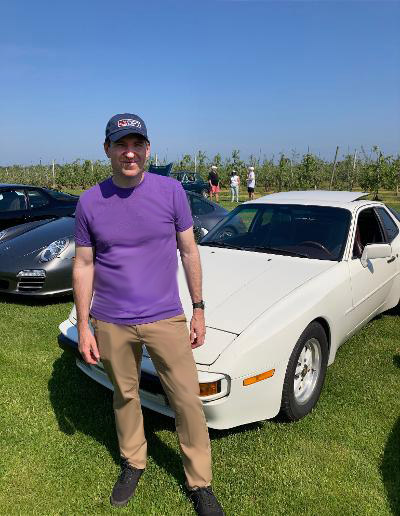 ---
Chris Casali arrived with Letitia Wallace in his stunning Maritime Blue 91 C2 with RS suspension. The engine was rebuilt by EPE after purchase a year and a half ago, odometer displays 135k. Chris's first Porsche was a 91 C4 two years ago. For the last 10 years Chris has had an affection for Porsches. The C2's attraction is that it is modern enough, but air cooled. "The drive is raw and engaging". I asked Letitia what is the fastest she has been in the car, she replied "120".
---
Colin Patterson parked his 2022 GT Silver 718 Spyder, with PDK. Purchased new, this is his eleventh Porsche. Colin says, "the newer the Porsche the better is the Porsche". The only negative to his current Porsche is the sound compared to his older Porsches, the sport exhaust has an additional CAT. He just purchased it in January and has already driven it 1200 miles. When he was 16 or 17 years old, living in Jamaica, he saw a banker driving a Porsche; the rest is history.
---
Eddie and Mari Lopez parked their 2018 Cayman 718. Purchased used less than a year ago this Porsche has a carbon fiber kit. Eddie has two additional Porsches; his first, five years ago, was a 97 Boxster. Eddie always loved Porsches and Ferraris saying, "I can afford Porsches".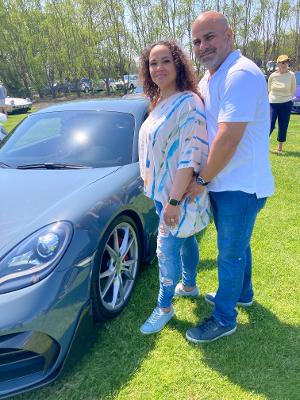 ---
The next SoBo is scheduled for 12 June (10-Noon) at Sweet Berry Farm, 915 Mitchell's Ln, Middletown, RI. The event as always is FREE, and no pre-registration is necessary. The only requirement to park on the grass is your Porsche. A Porsche logo sign should be in place directing you to the parking area.  Sweet Berry Farm is child friendly, encouraging small children to enjoy a working farm, so when entering and exiting, drive carefully. And, as always, for any SoBo related questions, please email me at:  [email protected]
Rog Slocum
127 Center Ave.
Middletown, RI 02842
e-mail:  [email protected]