We missed you! Yes, I'm talking to you.  You didn't go to the Watkins Glen 3-day DE in August and you missed a helluva good event.  (OK, you over there.  You did go – I saw you – and I know you agree with me.)  First and foremost we had fantastic weather:  nice dry high 70's and cool at night.  (Perhaps we can thank Buzz Bean for his non-directed kidney donation that brought incredible karma. Kidding aside, that's one magnificent gesture!)  Then we had an incident free weekend with only a couple of significant car problems.  One was Paul Skinner's attempt at mosquito control on the front straight. The other was Gary Hebner's car failure which led to another very nice act:  Larry and Laura Tambascio drove their track car home so that Gary's car could ride on their trailer back to Providence, well out of their way!
Then there was the BBQ.  Thanks to Judy Mansing and Pam Mascetta for their continued excellence in running our social events.  The food was provided by Dinosaur BBQ and included some of the best ribs and brisket over which your reporter has ever smacked lips – and there was a lot of it – leftovers at the track the next day! And held at a really cool place:  Iroquois Lodge in the State Park where we could spread out, enjoy a huge lawn and then have nice covered seating.  And did I mention the wine and beer selection (Judy is in the business and knows her stuff)? The featured beer for IPA fans was a NY beer aptly named Wrench – 7.1 percent and a 16-ouncer.  So good I'll have another, thanks. How about a third?  All gone but there are still Lagunitas.  (The DE Crier – not driving that evening – was not so happy the following morning.  However, let the record show no sessions were missed.)
We also had a little special entertainment in the form of fancy race car drivers visiting us on Friday.  Our lunch break was extended an hour so that 4 NASCAR drivers could do orientation laps in advance of participating in the Watkins Glen event on August 21st.  Most notable among them was Kimi Raikkonen (ex-F1 champion) who was joined by Ross Chastain and Daniel Saurez and Trackhouse Racing owner and former racer, Justin Marks. By NASCAR rules they couldn't be on the track within a week of the event (dictating Friday) nor could they use regular NASCAR racers – so they drove Camaro ZL1's, identical except for color.  Without knowing which driver was in which car you had a choice of rooting for White, Black, Maroon or Silver.  Our informal timing had them at 1:18's on the NASCAR layout (a good NASCAR Cup Car time is 1:10) so they were going pretty good, but there was not the "racing is rubbing" that I expect from NASCAR, nor were they totally over the curbing in Turn 1.  But still entertaining.  I don't know who won but Silver had a problem and had to retire.
And speaking of Turn 1, please see the recent article by Br1anna Croteau with a nice tale of exuberance leading to a good learning experience.
The DE dog report showed the usual attendance by Hank and Silver (who have been nominated as co-mascots).  They were joined by newbie Skipper (whose person is Bobby Jacobsen's sister).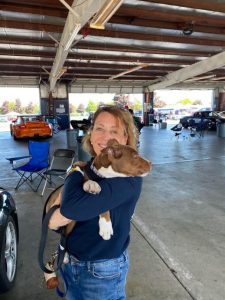 And, almost finally, thanks to Adam Schwartz for his years of service as Track Chair (including some very trying times during the Covid).  He officially turned the reins over to Charlie Kenney who will continue the strong leadership we have enjoyed.
And, really finally, here are the promotions during the event.  Congratulations and thanks to the instructors who made them happen…
Placement in Blue
Scott Schermerhorn (new to us so we had an instructor ride with him to determine where he belongs)
Green to Yellow
Ryan Cataldo
Melanie Randall
Yellow to Blue
Nicolas Renaud (went from green to blue)
Gregory Cheshier
Olivia Bostian
Brandon George (went from green to blue)
Blue to White
Yutong Duan
Larry Tambascio
Chris Necchi
Rob Kuebel
White to Black
Gary Hebner
Yun Ling
Fernando Presser
By: Bill Seymour