We have an amazing few days in front of us at the end of September 2021. The Audrain folks are again holding Motorweek – a celebration of the automobile – with an event of national import right here in our backyard – Newport, RI. Starting on Wed 9/29 and running through Sunday 10/3, it's a non-stop tap right into the carotid of everyone who has petrol flowing in their veins.
Wednesday 9/29
This is the big setup day for Motorweek with most of the action happening in the International Tennis Hall of Fame (ITHOF) on Bellevue Avenue. The great part is that parking is pretty easy, things are in motion so you get a behind-the-scenes look at much of the greatness to come. Last time, I saw new C8 Corvettes coming off trucks…auction cars set up without the crowds on the grass tennis courts…and many of the vendor booths getting set up. If you have tickets, you can get them on this day. Motorsports members will meet and greet with Porsche driver, David Donohue. And the excitement will be palpable.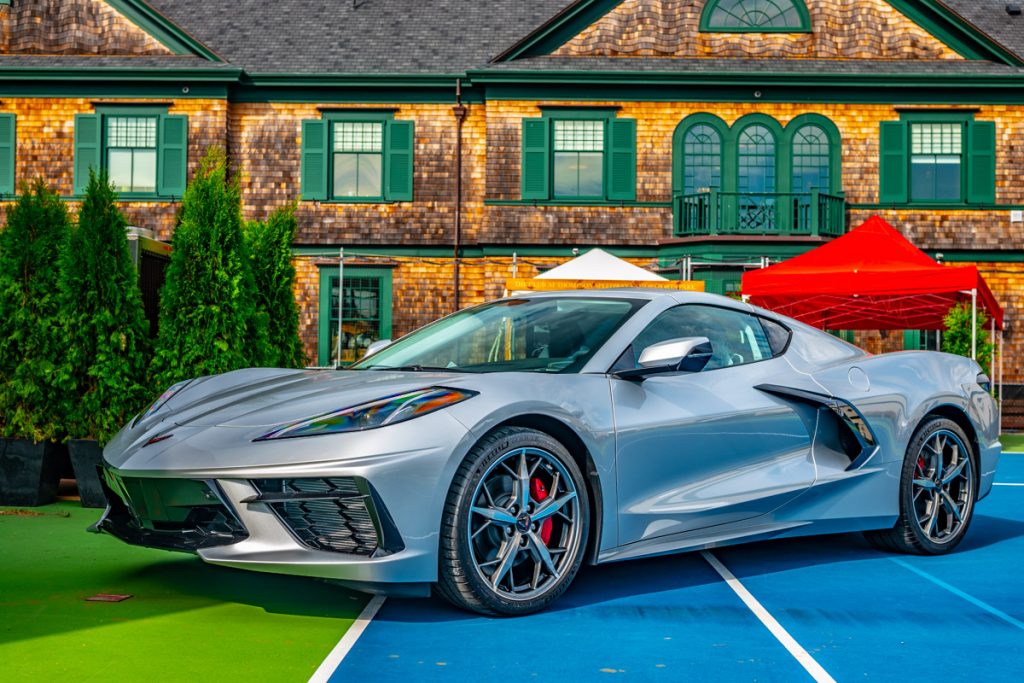 Thursday 9/30
This is the official first day of Motorweek with lots of seminars happening and the ITHOF Concours Village fully setup and running. The McLaren racing team seminar looks stellar. There is a wine event at 41 North (ticketed).
Friday 10/1
Friday might be my favorite "sleeper" day of Motorweek where you can relax and take it in. The Gathering is the main event, held over at Rough Point, Doris Duke's place. It's a who's who of the car world showcase among jaw-dropping machines strewn across the rolling lawns of the estate. The food is excellent, the drinks flow, the merch is on display. And guys like Rod Emory, Justin Bell, and Jay Leno have some spare time to hang and chat. There will likely be something special with a cover to be pulled off at some point. As if a Jesko and some Chirons aren't enough to call it a party!
Saturday 10/2
I hope you got some rest Friday night. This one is a joyously grueling day. It starts crazy early with some options. Do you have a car in the Sunday concours? Then drive around in a huge parade with closed roads on Saturday morning in the Tour d'Elegance. Regular cool car or want to drool? Head to Fort Adams for the cars and coffee 8am-10am. Do you have a Porsche? Of course you do. So scrap those events and come to the Elms starting at 9am for our annual NER Porsche Concours event. Rod Emory hangs out with us there, Rob Sass from Panorama, and we'll try to get a skiff out to Matt Farah, Spike Ferestein, and Jonny Lieberman who will like be hung over out on a boat in the harbor that morning. Prizes awarded at 12:30pm. When that's all done, take in more cool seminars and then change into your tux for the Gala back over at the ITHOF. The ticketed prices…well…it's for charity! And Kenny Loggins will play Highway To The Danger Zone a few times so you won't miss out on hearing it, don't worry! Now go to bed!
Sunday 10/3
That alarm clock is going to hurt! 6:30am kicks off coffee and dawn patrol over at the Breakers for the main event, the big concours. Word is that there are both the crazy Pebble-beach type cars and also an innovative 30-under-30 class showcasing folks under 30yo with under $30k into their car. Rumor is that there will be 944s! This is your chance to meet Sandra Button from Pebble, Donald Osbourne, Jay Leno, you-name-it. All the heavy hitters will be at this one. And the cars are some of the best of the best. I'll bet the Begovich 904, a nearly perfect specimen with 1,200 miles on it will be on display and will take home a trophy. Our own Lee Hower isn't saying what he's bringing, but you can bet it will be very impressive. It's a car-person's day of the year. So come on down to Newport and enjoy it all!
For more info: https://www.audrainconcours.com/2021-concours-week-at-a-glance
Tell us about your favorite parts of Motorweek!