Another nicely run NCR event at Tamworth, this time with really nice weather and thus no excuses for my sorry driving.  My fastest session of the weekend was the first of the event – on a damp track – and I never improved from there. It seemed like I was pushing fairly hard, sliding around quite a bit, and I was quick to blame my tires.  Mr. Frugality believes he can go a whole season on one set of tires (the car is so light they don't cord), but I thought perhaps they go off after a lot of heat cycles (I was up to 35 or so).  But data don't lie. When I got home and compared that event to my previous better runs, there was no evidence of a lack of grip and a lot of evidence of not braking late enough or hard enough. I continue to struggle with not using braking markers, and I was giving up almost a second in Turn 1. You can't teach an old dog new tricks, so I'm lucky that I'm just a pup and will obviously get better.
Speaking of pups, please enjoy Part Two of the Dogs of Tamworth.  I know that cute kitties might be better clickbait, but I couldn't find any at the track.  Note in particular that Misty and Butzi are the pets of Kristin Larson's Mom (and you know why Butzi is named Butzi!).
On to less happy tails (tales), let's wander into the Jamaican Bakin' Team garage and see how the Mustang is coming along.  In case you missed previous episodes, I'll remind my reader that Sally's motor blew up at the Watkins Glen American Endurance Racing event.  At considerable expense, we bought a replacement motor and have been slowly doing the swap (Nick is at race tracks all over America, and Chip has been struggling to relocate his machine shop).  Dave, in his role as Coroner, performed an autopsy on the victim and the picture shows the corpse.  Still not clear why the connecting rod let go, but the results are unattractive. The new Sally fired up right away, and so now we just need to get it to the dyno and put the snout back on.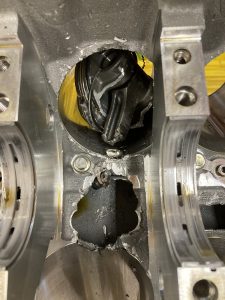 However, the bad news is that AER is changing their rules and for 2022 will not allow a car to run with a power to weight ratio below 9.  The Mustang, svelte thing that she is, weighs in at 3,200 pounds, and the old motor put out 400 hp at the rear wheels.  The new motor, with the fancy intake, is good for over 500 hp. Even the most math-challenged will agree that we've got a problem. We are advised that with a restrictor plate we can detune down to the necessary ~360 hp, but the car would then need to be short-shifted at around 4,000 rpm to stay in the torque band. This on a car that could put out over 500 hp and rev to close to 8,000 rpm.  What a waste!  And our experts pointed out that we would be better off driving a lighter car with less horsepower.  A zoom meeting was arranged to discuss options, and the decision was reached to move to a new car. Once the car is dyno'ed (we'll have the specs to use in the sales brochure) and tested (at a Thompson club day) we'll post it on Racing Junk and see what happens.  If anyone is interested in a roaring beast, just let me know!  (Use code "PCANER" for a 5% discount.  Buyers' commissions are offered.  Driven on a closed track by a professional driver.  Do not try this at home.  Etc.)
So what is next?  Prior to the Mustang purchase, we had been looking at E36 or E46 BMW's, and those certainly are candidates. Some of the JB team have a Boxster or Cayman that could be pressed into service, perhaps. Dave is a big fan of Acura Integras (front-wheel-drive car? C'mon!).  Or perhaps the answer is, as always, "Miata?" (With the Acura motor swap.)  Gives us something to do over the winter.
-Bill Seymour