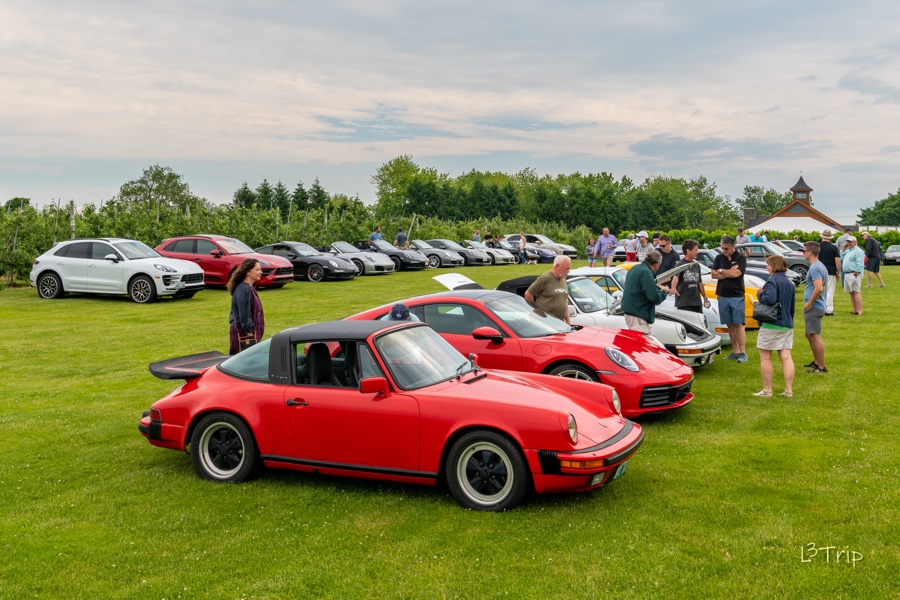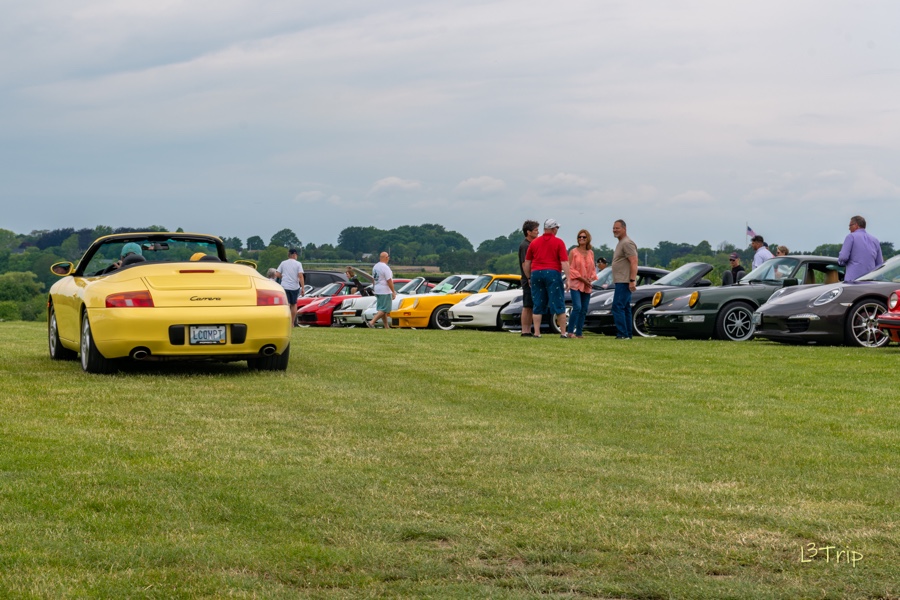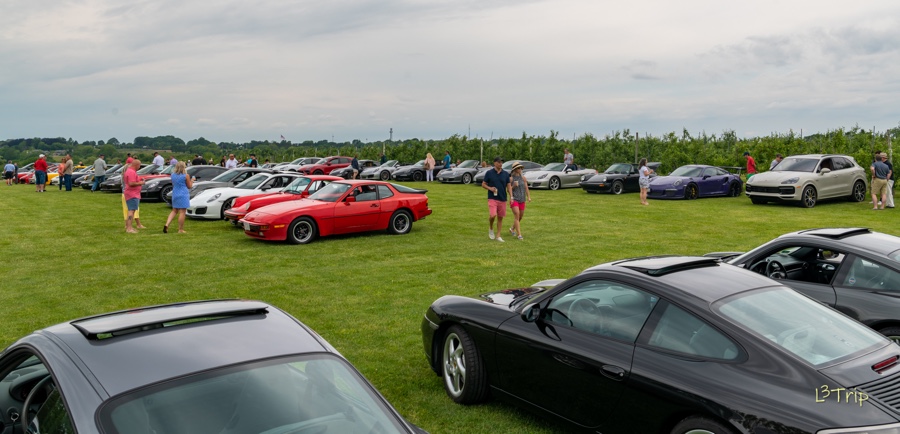 With many attending other events scheduled today (DE and Porsche Parade at the Poconos) I was surprised that we had nearly 60 Porsches on the freshly cut lawn at Sweet Berry Farm. The guy helping to park the cars was my younger brother Lou, a California PCA member owning (since new) a 2008 Cayman S. Lou and his friend Sandi dropped in for about a week after a month in Europe (5 days at the races in Monte Carlo).
Don Baily got my attention (liked the stance) with his 1982 911 SC. This Porsche has an 87 3.2 Dual Plug with DTS engine Management, and Elephant Racing suspension. Kind of a "sleeper". This is a euro version export and is Don's first and only Porsche found on Craig's List and purchased from a dealer in Boston area about five years ago. His first Porsche sensation was the feel of driving. Don has lightened the car by removing some items such as the large whale tail and the A/C unit.
Another first-time owner of a Porsche was Shanay Patel (known as Sunney) parking his 1983 Guards Red 944. Purchased from Luis Rivera, he has done substantial wrenching, including clutch, top end rebuild and lots of small stuff. When I asked, "why a Porsche", he replied, "its Iconic". His first impression was the drive; "it handles perfectly". With 167k on the odometer the original paint shows wear. Looking at the interior, all the gauges appear to be a pale yellow.
Marilyn Shan Scott Krick received her 2022 911 Carrera in December 2021, although it was scheduled to arrive in February (sinking of the freighter). Fortunate her order arrived early; this is her first Porsche. Her husband had first drive; she followed the next day. The driving experience is excellent, getting, so far, to 80-90 mph. The interior's dash gauges are in red, as well as the seat belts.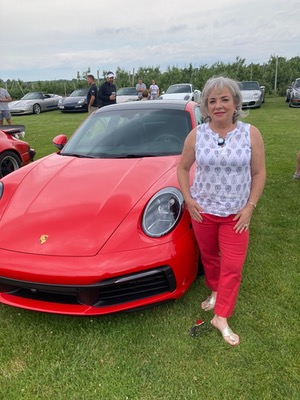 John Barros parked his awesome 2022 agate grey GT3 touring with carbon roof and mirrors. Additionally, it has PCCB brakes and Neodyme wheels, with a Mojave Beige and exclusive manufacturer interior with deviated stitching. This is John's second Porsche; his first was a chalk 2017 GT3 with a manual transmission. Asked why a Porsche, he replied, " the engineering and the way it drives". Driven near the edge, John has come close to bending the needle at 165 MPH.
Haley Dantas and family arrived in their Charcoal 2022 Cayenne Hybrid with black interior. Previously, they purchased a new Taycan Turbo S that did not have much range (just 165 miles) and had to press a button to lower car to load and off load the four kids. Also, the Taycan was too quiet and fast, causing undesirable speeds of 140 MPH. And today, with high gas prices, they are pleased getting 46 MPG in this 3.5L Hybrid.
Mel and Patty Cowher parked their Aventurine Green 2021 Carrera S. This Porsche is highly optioned with Sport Package, Tek seats, stripe package, red gauges (Patty said the red seat belt option was too much), walnut interior with aluminum trim and retro mag wheels. Mel's first Porsche was a 1973 911 S when he was just 18 years old that he restored himself.. Later he owned a grey market 85 Carrera 3.0, followed by a 2011 Boxster, and then Patty's 2016 Macan. Currently Patty drives a 2017 Cayenne. Mel says that the fastest he has driven a Porsche is about 160 MPH.
How Mel obtained his current Porsche is quite a tale: He entered a diabetes sponsored raffle and won a new Porsche. Then he traded in the new Porsche and his 2013 Carrera S to the upgraded 2021 Porsche that was parked on the lawn.
The next SoBo is scheduled for 10 July (10-Noon) at Sweet Berry Farm, 915 Mitchell's Ln, Middletown, RI. The event as always is FREE, and no pre-registration is necessary. The only requirement to park on the grass is your Porsche. A Porsche logo sign should be in place directing you to the parking area. Sweet Berry Farm is child friendly, encouraging small children to enjoy a working farm, so when entering and exiting, drive carefully. And, as always, for any SoBo related questions, please email me at: [email protected]
Rog Slocum
127 Center Ave.
Middletown, RI 02842
e-mail: [email protected]