I joined a group of 356 owners who were treated to a great weekend hosted by Cliff and Jean Murray in Lancaster PA. We shared some perfect Porsche roads with the Amish in their horse and buggies. Passing was allowed and extra power wasn't needed as we followed routes set up to see the best of the PA countryside.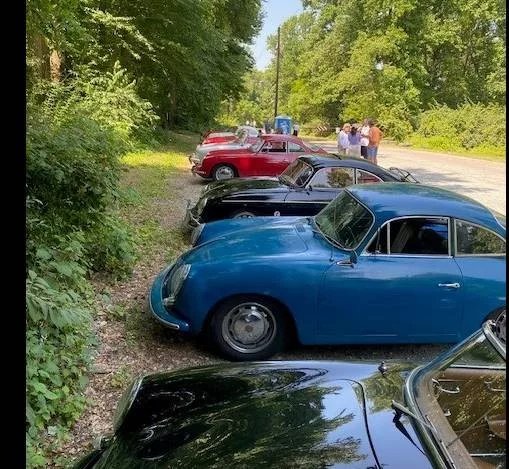 The first day had the group passing through 6 covered bridges with leisurely stops along the way.
We rolled past many one room schoolhouses and Amish fields and gardens so perfect that they would make a Concours Judge gasp.  We learned why there is always clothes hanging out to dry (with 6-12 kids every day except Sunday is wash day) and spotted solar panels on farms that are not connected to the PA electrical grid.  
Local restaurants were a joy with low prices and excellent food. The produce was from the nearby farms and had spent no travel time getting  to our plates.  
The second day was more of the same but with even better views of the Susquehanna River valley and even more covered bridges.
Dinner on Saturday night was in Mount Joy, PA at Bube's Brewery just a short drive from the hotel. Some diners were treated to dinner in the Catacombs 46 feet below the street level, the rest of us were upstairs next to the 5000 gallon barrels used to store beer since 1876 when the Brewery was started.
Breakfast Sunday morning was provided free by our hosts (did I mention that they did it every morning?) as we set off onto the Interstate to do battle with modern day traffic. A big difference from the welcoming roads in Amish country. All in all a terrific, relaxing weekend drive without a single breakdown by our Tubs.  
 Nice report, huh? That was the one for publication on the 356 Registry site. Of course there was a little more to it than that.
 I took the '57 sunroof coupe since the engine hasn't been completed for the Speedster. Besides, some weather was predicted and the coupe is more weather tight. Especially for a 800 mile drive.
Faithful readers will remember that this is the 356 that snapped a clutch cable in NY last Fall on another drive and was repaired in a parking lot. It got me home and I did put it on the Winter Projects List since the clutch needed additional adjustment but I didn't get to it. A week before leaving for PA I did get a chance to pull up the cocoa mats, floor mats and floorboards and tighten the cable but didn't have time for a  test drive. How bad could it be? It felt OK up on the lift with its wheels in the air.
 As I rolled down the driveway I did detect a slight chatter in the clutch but it was only in first gear and how often do you use first gear on an 800 mile road trip? I knew what the problem was so it really didn't bother me. There is a heavy cable covering called a Bowden Tube that protects the clutch cable and requires a bit of a bow in it to reduce chatter when the clutch is released. I had adjusted the cable but not the tube. I figured I could put up with it since I knew what the problem was. It's amazing what you can put up with if you know what the problem is.
 I had the Puddle Jumper on a trickle charger all winter but somewhere in March the little light came on that said it wasn't taking a charge. I tried the lights and horn, they were fine and it started up just fine so I figured that the connection to the charger was just corroded. It wasn't until I was in Lancaster PA the second day that the starter went click, click, click instead of vroom, vroom. I had a jump box along so I just jumped it and drove over to the local Tractor Supply store.
 I keeping with the good experience I've had with the '72 911 I just bought another garden tractor battery for $30 and off I went. I knew the expired battery was old but it wasn't until I got home that I found the 2011 receipt. Great service.  Car batteries have doubled in cost the last 5 years and a regular car battery was $130 so it was good to be able get away for cheap, and it fit in perfectly.
 The return trip on a Sunday afternoon was smooth until Waze told me to take the GW Bridge to get home.  I have tried to outwit Waze before and have never been right but the GW Bridge in Sunday afternoon? There had to be bigger problems on the Tappen Zee or Newberg route so I followed instructions. Remember when I said the clutch chatter wouldn't be a problem on a road trip? This was not a road trip now. It was a walking trip that went across the bridge one car length at a time, stopping every 17 feet and starting again. An hour and 20 minutes later I went into second gear. I wasn't easy but I made it. The 5 hour ride down was a 7 hour ride back.
 Two  days later I pulled off the left rear wheel, adjusted the Bowden Tube and we're friends again. No trace of a chatter. Live and learn (again), test drives are important.
-Tom Tate